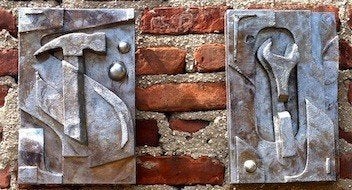 I happened upon the Crest Hardware Show on a hot Saturday afternoon while slugging up Metropolitan Avenue on my way home. I'd heard of the novel art show while working at El Puente in the Southside and seen promotions for the Crest Fest launch party around town. But it was by chance that I caught the kick off for this innovative synergy of art lovers and hardware happy patrons.
I was immediately interested and excited by the idea of a hardware store art show. Having grown up in a family with zip ties to True Value and hardware running like PVC pipe through my veins, the thought of such an art show seemed somewhat natural to me. I quickly fell in love with the idea and approached the Crest Art Show T-shirt wearer closest to me to inquire further about the project.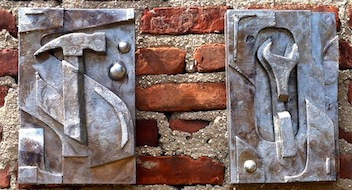 Artwork by Elliot Shields
Liz, a friendly Crest Fest volunteer informed me that all of the proceeds for the art show are channeled to the local community museum/reliquary, located just passed the BQE. Liz was kind enough to pass on the contact information of Crest Art Show Director and Partial Crest Hardware owner, Joe Franquinha.
Joe, son to long-time owner Manny Franquinha, has worked in his father's hardware store since he was a young boy. But it was not until 2004, after graduating from Fordham University and rejoining his family's business that he revitalized the creative energy that was once alive at Crest Hardware.
Interestingly enough, the situation I find myself in now is similar to Joe's in 2004. I recently graduated from NYU Tisch in arts politics and, to my surprise, have begun to consider how I can contribute to the family business in ways that benefit my father and brother's hardware stores, while catering to my passion for art, community, and curatorial practice. If you haven't guessed already, this article is as much a feature on Crest Art Show as it is my fieldwork should I venture into a similar project at Altadena Hardware and Newland Hardware in Los Angeles, California.
Joe shared with me the genesis story of the Crest Art Show, starting with artist and once neighborhood resident, Gene Pool. In 1994 the artist requested the use of Crest's front windows to display his artwork. Joe explains:
My father saw it as an opportunity to draw a new customer base or, at the very least, have people look at our windows. Gene took that inch and ran a mile, quickly obtaining the 2nd window for display and suddenly taking over the whole store along with many other artists. That is the birth of the Crest Hardware Art Show (C.H.A.S.).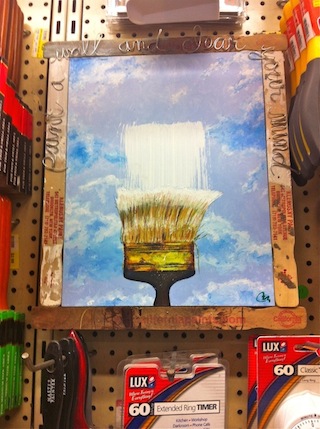 "Paint a Wall and Clear Your Mind" by Bernadette Scelta
Perhaps one of Crest Art Show's most attractive qualities is its ability to reach a wide audience. Having worked in a hardware store since I was 12, I am aware of the varieties of people who slide into their local hardware stores for AC filters and sandpaper. When I asked if the Crest Art Show team has a particular audience they're hoping to attract, Joe identified no such specific group. "The good news, is that our fan base is as broad as our customer base," Joe said. "No one has bulbs that last forever or an unbreakable toilet flap, no one is immune to making a fix. Same way there is something for everyone at the show. Multiple mediums and disciplines are represented and there are many beholders of every age checking out the works. We purposely put some artwork below eye level for kids to learn to appreciate as well."
Although the Crest Art Show is a unique opportunity to engage with creative people and creative work, Crest above all else, is a hardware store and a business at that. Interested in how the art show has helped build Crest's customer base, I asked Joe if such an undertaking has given the store any financial boost during a time when small businesses, hardware stores alike, are struggling in our current economy. Joe answered honestly:
I'd be lying through my teeth if I said I wasn't aware of the marketing benefits with an event of this magnitude... but create an event with an inclusionary mindset, that can make everyone in Brooklyn and beyond feel welcome and you'll end up with thousands of new people standing in your aisles looking at the art, but subconsciously remembering that it's a fantastic hardware store and urban garden center as well.
Hoping to gain another perspective on the inner-workings of the hardware store art show, I also contacted Liza Shields, one of the three producers of Crest Fest. I specifically asked Liza what made this year's art show different from those passed. Liza explained, "You could really see the following for the event growing, especially once we did the numbers." She continued to explain how Crest's visitorship steadily increased from 2,000 people with 160 works of art on display in 2009, to the 6,000 people and 275 pieces in this year's Crest Fest and Art Show.
"I also see the neighborhood embracing the event more," Liza continued. "In 2012 we saw a lot more babies on the dance floor and a lot of the people who have lived around here for 40 years-plus pop in to take a peek rather than just rite us off as 'the new kids in the area stirring up trouble.'"
The Crest Art Show will be open until August 31st and Crest invites all residents of New York City and beyond to join in their celebration of another successful year of good ol' fashioned hardware store art. The closing reception is Saturday, September 1st. Don't miss your chance to experience unique works of art, while taking the opportunity to buy that wall plate you've been meaning to pick up for the past month.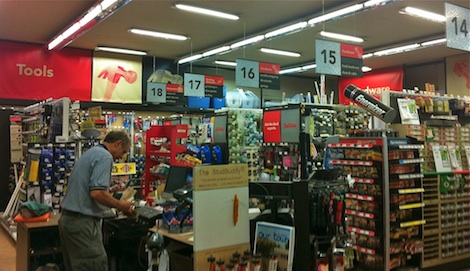 Jim Orlandini, hard at work in Newland True Value Hardware
This article is dedicated to my hardworking father, Jim Orlandini. Today he kicks off the reopening of Newland Hardware, the store that was his father's before him and remains a staple in East Los Angeles and landmark in our family's history.
(All photos courtesy of Tina Orlandini)
Calling all HuffPost superfans!
Sign up for membership to become a founding member and help shape HuffPost's next chapter