If you called in at St John's Episcopal Church in downtown Yonkers last Friday night, you would have been confronted with some unexpected sights. A teen boy dancing by the altar in a flowing white dress. Another teenager standing near the pulpit wearing a silver fake nose, which replaced the real one he'd lost due to syphilis. You also would have heard a young woman telling the story of how her buttock was eaten off by cannibals and an eighty-two year old man with a snowy white beard singing about the joy of watching people hang in the Portuguese Inquisition.
This wasn't just an unexpected get-together of quirky Yonkers strangers on a balmy June night. This is what happened when a New York church allowed a group of homeschooling families and their friends to stage, in its sanctuary, a production of Leonard Bernstein's Candide: a satirical and sometimes outrageous and bawdy operetta based on Voltaire's equally satirical, outrageous, and bawdy classic novel from 1759.
Built four years before the publication of Voltaire's book, St John's has always been an open-minded church and so hosting a show that lampoons, among other things, religious intolerance and hypocrisy is not too surprising. According to Father John M. Hamilton, the current pastor, the church's original congregation was made up of "people who had traveled to the New World in part to seek religious freedom." Today it's values haven't changed. Father John believes that asking questions, even difficult questions like those raised by Voltaire, is "an important part of a healthy spiritual life."
What is more unique about the production of Candide that took place last week is not so much the venue but the show itself. Bernstein's operetta is complex, with songs that are challenging to even the most seasoned performers. But this did not deter this group of homeschooling families and their friends. With a healthy dose chutzpah and a whole lot of collaboration and energy, they made the show happen and proved that do-it-yourself, community opera with a young principal cast and multi-generational chorus is not only possible but inspirational too.
Voltaire would have been proud. After all, his original novel is not only a satire about the church. It is also famously a satire about a philosophy of optimism popular in Voltaire's day. The story follows Candide, a naïve young man who grows up in a heavenly province of Germany where his tutor Pangloss teaches him that their world is "the best of all possible worlds." But the optimistic tutor's notion that "everything is for the best" is soon ridiculed when Candide is kicked out of home and finds himself on a disastrous journey amidst earthquakes, disease, Inquisitions, wars, pirate invasions, and shipwrecks. At the end of the book, Candide finally reunites with his true love Cunégonde and settles on a farm where he trades Panglossian optimism with a more pragmatic philosophy: "We must cultivate our garden."
Cultivating one's garden, taking one's life into one's own hands, especially in the face of our not-so-perfect and sometimes tough, competitive world, is a fitting motif for last Friday's production of Bernstein's Candide. To tweak Voltaire's words, this group of folks of all ages and backgrounds cultivated their own, quite beautiful, opera garden.
The show was the brainchild of musical director Renée Guerrero. "My daughter Sydney was just finishing her senior homeschooling year. She's been training in opera singing for a number of years and so together we thought, 'Let's put on an show,' both as a way to mark her graduation but also to offer the homeschool community and other friends a chance to come together and do something unique."
Renée is just the person who can come up with such an idea and pull it off. Born into a family of musicians, she is an award-winning pianist and member of the teaching faculty at The Westchester Conservatory of Music. Last year, Renée and her husband - famed baritone Lawrence Harris - received a Record of the Year honor at the Native American Music Awards for their album, Romanze: Songs of Tosti. Renée also acted as musical director for two recent New York homeschool productions: Oliver and Yeast Nation.
Once Renée and Sydney decided they wanted to put on a show, they had to decide which one. "We needed something economical, with lot of roles that wouldn't require huge sets or a big budget. It also had to allow for young and changing voices." Candide was suggested and Sydney already knew and loved the song "Glitter and be Gay," Cunégonde's aria that is a favorite for many sopranos like Sydney.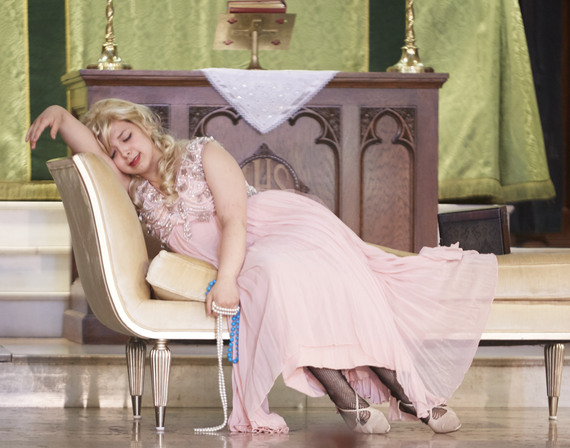 Sydney during the aria "Glitter and Be Gay" (Photo: Brian Edwards)
Mother and daughter settled on Bernstein's operetta and pretty soon Sydney's fifteen-year old brother (and baritone-in-training) Quintin Harris was onboard to play Maximillian, the gloriously vain brother of Cunégonde. Renée secured the venue with Father John and then reached out to her various communities to build a creative team. Ben Watts, who worked with Renée on Yeast Nation and Oliver, agreed to direct. "He's a dynamic director and I knew he'd do a great job working with the young cast in this pretty bizarre space."
Renée also reached out to her friend, colleague, and esteemed maestro, Scott Jackson Wiley. Scott is the conductor at Long Island opera, as well as music director of the South Shore Symphony. Although used to working with older principals and professionals, Scott was "more than happy" to conduct the show: "It's wonderful to see young people taking on such a complex and involved piece and to see their energy and talent channeled in this way."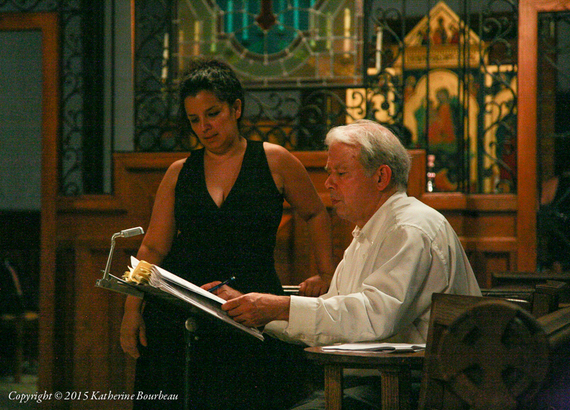 Renée Guerrero and Scott Wiley Jackson (Photo: Katherine Bourbeau)
After holding auditions, Renée assembled a cast of young principals, many of whom are teens from the homeschool community in and around New York. Sixteen-year old Thomas Pflanz was happy to be cast as Baron Thunder-den-Tronck, particularly because Candide is his favorite book (tied with Slaughterhouse-Five): "I love how Voltaire writes with such abandon and brilliant satire."
Mary Albert, an eighteen-year old recent homeschool graduate from White Plains, was cast as the floozy maidservant Paquette. "There are pretty limited opportunities for young people to take on complex and principal roles like the ones in this show," she said. The production provided an "invaluable experience" for teens, like herself, who want to pursue a career in music and theater.
Some of the cast came from outside of the homeschool community too. The role of Candide was played by Dante Zuccaro, a twenty-four year tenor from Manhattan. Like Mary, he was happy to take on the role because, as a "young artist starting out" in New York's competitive music world, it offered him the opportunity of a role he'd always wanted to play. Similarly, the show gave twenty-four year old soprano Kelly Perez, who played the Old Lady (with one buttock!), a chance to get back into the performance world after a number of years working behind the scenes in the theater business. And fifteen-year old Bryce Edwards, who has been in many professional productions in New York, enjoyed this "very different" opportunity to a play the "zany Dr. Pangloss."
For the chorus, Renée managed to assemble an even more diverse group. The ages ranged from eleven to eighty-two years old and included people who had never sung in a chorus before to seasoned choristers, such as sixteen-year old Daniel Zuzworsky, who sings with NY's Young People's Chorus, and homeschooling dads, David Wees and Joseph Hatem, who have both sung in a number or choirs over the years. Some of the choristers came from far afield, including sixteen-year old soprano Grace Fisher who commuted from Virginia and my own father-in-law Alan Lewis who was "delighted" to fly in from Tennessee and join his grandson, and my son, Benny Lewis Rendell in the chorus.
Alan and Benny weren't the only family performing together. Fourteen-year old Iossy Freud, who played Isaachar, and thirteen-year old Blake Fischer, a pirate, also sang alongside their mothers in the chorus. "Imagine that," said Blake's mom, Eve Fischer, "getting to enjoy and learn alongside my teenage son." Fellow chorister and homeschooling mom Angie Pflanz had two children in the cast: Thomas and fourteen year old Isabelle Pflanz who played the Grand Inquisitor. "Usually I drop them off at rehearsals, but being so close to the process and seeing them work, I really understood their skills much better." Angie, who had never sung in a chorus before, said this was "a chance for my kids to be experts to me."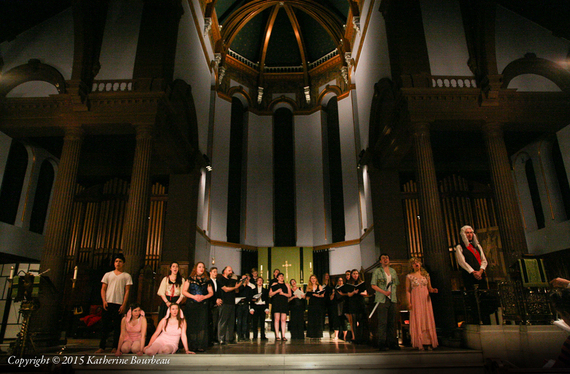 The chorus (Photo: Katherine Bourbeau)
The production was a learning experience for everyone involved. Isabelle was able to stretch her soprano range under Renée's careful guidance. Olivia Kruger, a sixteen-year old from Manhattan who played a French sailor, appreciated working with a conductor for the first time. Jeremy Brauser and Angi Benton, also both sixteen and from Manhattan, found grappling with Bernstein's complex music a fun challenge (not to mention the challenge of the MTA train timetables to Yonkers!). Fourteen-year old Michael Scuotto was cast in role very unlike himself: a sleazy Governor of Cartagena. But on his long commute from Pennsylvania, he spent his time working on his character and perfecting "My Love," his comic serenade.
Community was built too. Olga Terlitsky, mother to Iossy and violinist and chorister in the show, enjoyed meeting more homeschoolers as she is relatively new to the community. Maria Lissandrello, a soprano opened her New York City apartment for chorus rehearsals, loved working with such a mixed group of people from all ages, backgrounds, and places: "It's been a true New York experience."
"Renée is very daring," said chorister Tiina Dohrmann, who has known Renée for years and always admired her commitment to the "experienced and inexperienced alike." And it seems Renée's daring paid off. The company had "cultivated their own garden" and the show last Friday came together perfectly. Sydney's "Glitter and be Gay" raised the vaulted roof of St. John's beautiful sanctuary. Dr. Pangloss led Candide, Maximillian, and Cunégonde down the main aisle singing "The Best of all Possible Worlds" to a laughing full house. And true to Voltairian satire, the scene where poor Candide finds himself caught up in an auto-da-fé (a ritual where supposed heretics were flogged and hanged during the Inquisition), the chorus joyfully sang, "What a day what a day, for an auto-da-fé, it's a lovely day for drinking and watching people fry!"
As the performance came to a close, the cast and chorus moved to the front of the church's sanctuary. Together, in a beautiful complex harmony sung by beginners and professionals and which blended young and older voices, basses to high sopranos, they sang the operetta's final lines: "And let our garden grow."
This is my second article highlighting what is going on in NYC's growing homeschool community. See my first piece about an entirely teen-produced off-Broadway production of Alice's Adventures in Wonderland here.
Related
Popular in the Community