 A man stands at the top of some steps and begins to sing a mournful tune. A wrist turns in on itself, fingers splayed like bird wings. Arms round high overhead, chest high, hips steady. First a heel, then a toe, then a whole foot set down on a small floor in one, lightening fast motion as a lone woman in black begins her buleria in response to the song.
Does this sound like a political action? We know dance can be many things: graceful, exotic, ethnic or just a way to relax after a long week. Lately for many of us it has come to mean warmed-over stars in tiny costumes trying for a comeback on TV.
But back in May, in response to the ongoing banking crisis in Europe, a small group of dancers did reclaim political protest as part of their brief.
A "dance-up" at a Bankia branch in Madrid, Spain earlier this year
Bankia is the fourth largest bank in Spain and currently the government is its biggest shareholder. This weak bank was nationalized in the spring but not before it had written plenty of bad personal property and commercial loans and sold its stock to unsuspecting investors. Though depositors have been assured they will get their money back, many have lost up to 60 percent of their holdings.
There have been protests in the streets. But the flamencas in Madrid had another thought in mind. Big bankers have come to mean faceless debt aggregators or insider traders. What is wonderful in the "dance up" (as I prefer to call it instead of a flash mob, which tends to be more of a publicity stunt for building openings and marriage proposals) YouTube pictured above is that this action occurred at a small, local bank branch. The manager is clearly destabilized by the dance invasion and immediately picks up the phone, presumably to call a superior. The other customers are startled at first and then sit down to enjoy the interaction. It makes this protest personal: it's impossible to look away.
Dance has had a history of being conjoined with politics. In earlier times, dance was an official social construct -- balls cemented alliances between families or kingdoms. During the reigns of the Louis in France, dance was an adjunct to court politics and intrigue.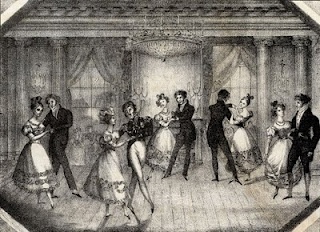 A dance in the 1820s
Jennifer Homans, author of Apollo's Angels which exhaustively catalogs the development of ballet, writes Stalin even had his own box at the Bolshoi. Krushchev complained his dreams were haunted by "white tutus and tanks all mixed up together." Homans explains that despite state restrictiveness, many dancers were nevertheless intensely loyal, part of an elite which produced few political dissidents. (There are famous exceptions, among them Nureyev and Baryshnikov, who were also largely motivated by the need for personal freedom).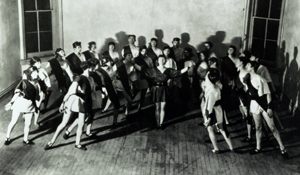 Edith Segal, "Red Dancers" Courtesy of Paul C. Mishler, Victoria Phillips Collection, Music Division, Library of Congress
In America dance became a tool to raise consciousness or encourage protest. Agnes de Mille made it historical (Fall River Legend) while Balanchine made it patriotic (Stars and Stripes). The U.S. government toured Martha Graham and other dancers to cement our status as a world power much as they tout the Olympics today. Communist and anti-Communists alike seized on dance as a non-verbal way to make points, a cold war of pirouettes. (A Library of Congress traveling exhibit opens end of August in Los Angeles which explores these themes in depth)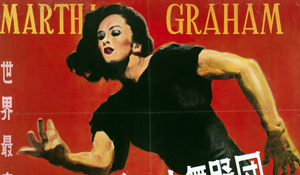 Martha Graham Poster Ethel Winter and Charles Hyman Collection, Music Division, Library of Congress
Though many dancers have ceded to performance artists any overt agendas, unlike ballet, the roots of flamenco are egalitarian and populist; it's bottom up and not top down. Its outsider, often gypsy, status confers a natural rebelliousness. You don't have to be young and thin to be a flamenca, it's even assumed that older dancers bring needed life experience to the emotion of their work. My inspiring flamenco teacher is always telling us to have more "attitude" something my ballet teachers warned me away from. I'm supposed to be fiery, smoldering, and in your face, a sexy, black cauldron not a modest white swan tucking fearfully under her wings.
So far, just Occupying space has not made much headway with the bankers. We need to do something else to capture their attention. I can envision a group of flamencas at the massive new Goldman Sachs headquarters or at the Capitol rotunda facing down Paul Ryan and his budget. Who knows what a dose of flamenco might bring.
Translation of flamenco song (courtesy of C. Ovando):
Character and will -- you have changed, my friend, your character and will. Ay, ever since you got money, we simply can't stand you. These are the ways of the newly rich/nouveau riche.

You've lowered my salary, you've raised all the prices, you've raised prices on it all. In order to defend myself, I've even pawned the parrot, I've even sold my house.

Don't mess with me anymore, Rodrigo. [i.e., Rodrigo Rato, former Spanish Economy Minister, IMF Director and Pres. of Bankia until its bankruptcy, indicted July 2012] Thanks to your reckless little head, we'll end up as furtive poachers. Thanks to your reckless head, Rodrigo, we'll all become thieves.

I've looked for two jobs to pay the mortgage, to pay the mortgage. Yet you get in trouble, you dump me onto the streets, because there's no dough. I've looked for two jobs to pay the mortgage, to pay the mortgage.

Ay Bankia (x6) For you 6 lungs, for me not even a gill. For you 6 lungs, for me not even a gill.

I'm not gonna love you, not gonna want you, not even if you take my interest rate away, not even if you lower my interest. I don't love you, Bankia. I don't love you, no way! Ay Bankia Bankia...
Calling all HuffPost superfans!
Sign up for membership to become a founding member and help shape HuffPost's next chapter