A group of friends, family and staff grasp hands in a circle and dance as if their lives depended on it. Candles illuminate the two gleaming burled wood pedestal dining tables set sumptuously with silver and porcelain as the musicians play a feverish tune. The old way of life is passing.
Is this a party at the Madoffs, or the Fulds or the Wagoners ?
No, this is The Cherry Orchard in its new, streetwise, adaptation by Tom Stoppard, directed by Sam Mendes (husband of Kate Winslet, who looked so post-Golden Globes glow-y at the opening that all one could think was that maybe Stoppard should be re-writing her meandering acceptance speeches) at the Brooklyn Academy of Music.
It's the first Bridge Project effort , a UK (Old Vic)/US (BAM) intermingling of splendid actors and repertory, a caravan of itinerant talents and projects (Next up: Winter's Tale).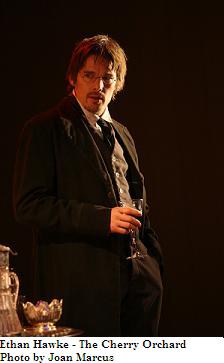 Stoppard has obviously not got Russia out of his system yet (his 06-07 Coast of Utopia trilogy at Lincoln Center seems only yesterday) and even one of the same actors is helping him work through this obsession (Ethan Hawke along with Rebecca Hall, Simon Russell Beale et al) but this adaptation veers even wider from the original Chekhov than others. Yet I mostly loved its contemporary quality.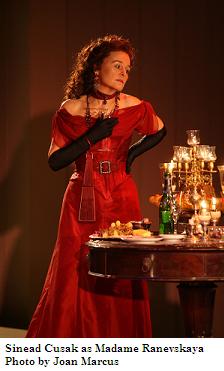 Sinead Cusack (another famous spouse--Jeremy Irons was sitting just a few rows away from Kate W) is a fine, but not exciting Madame Ranevskaya, the spendthrifty lady whose orchard is being sold off for debts (I'm afraid my last Madame was the alluring Annette Bening at the Mark Taper Forum in LA).
The merchant Lopakhin (Beale), who not only convinces the family to sell the orchard at auction but also buys it (sounds like a version of mortgage-based credit default swaps, no?), is supposed to marry Madame's adopted daughter Varya (Hall) but he doesn't quite get around to proposing, so she hires herself out as a housekeeper and the rest of the family decamps to Paris with the rubles they've gotten for the Orchard, which is going to be cut down and subdivided in a turn-of-the-century version of what sounds like KB tract homes.
They're not selling their Cherry Orchard, the Fulds, just the art collection of works on paper at Christies (which yesterday announced major cutbacks as little of the art consigned in the fall sales went at its guaranteed prices). But the de-accessioning is sure to continue as the banks continue to be restrictive.
As soon as the family gathers its belongings, Lopakhin, now in possession of the ring of keys, locks up the house; we hear the sound of the trees being felled in the near distance as they begin to clear the land.
The Cherry Orchard turns out to be a perfect economic and environmental parable for our times. The Cherry Orchard, BAM Harvey Theater through March 8th, then in London May 22-Aug 15, and Singapore, Auckland, Madrid, Germany, Greece, (you should be so lucky)
Popular in the Community