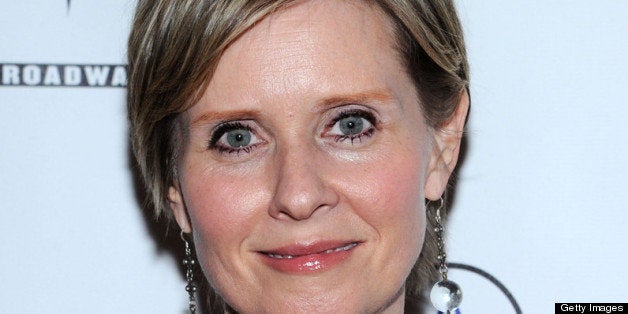 On May 13th, Cynthia Nixon will host A Celebration of Courage, the annual human rights award ceremony and benefit for the International Gay and Lesbian Human Rights Commission. This is not her first time around the activist block. Since she was a teenager, Cynthia has been a voice for change at home -- from education, to marriage equality, to HIV/AIDS -- and now she's taking her fight global.

Most know you from your on-camera work and not your long history of going to bat for issues off-camera. What drives your activism?
My activism has always come from a personal connection -- issues that touch me personally as a woman, as a mother and as a New Yorker. I guess it started when I was 15 and did my first political event, which was a fundraiser/performance for the National Abortion Rights Action League. A woman's right to choose was the first cause I got behind publicly and it only grows more important to me as time goes on. As a parent, I've fought for funding for New York's public schools. I'm a NYC public school graduate myself, got a terrific education here, and always knew I wanted my children to go to public school in NYC when they were old enough. I was even arrested during protests organized by the Alliance for Quality Education over severe budget cuts to the public schools. Recently I hosted a major fundraiser for the Gay Men's Health Crisis, an organization formed in the '80s in the crucible of the AIDS crisis in NYC. I lost close friends to AIDS, and my recognition of the global pandemic naturally draws me to activism in the global sphere.

In our immediate surroundings, there are so many needs and demands. Why do you think it's important to bring attention to international issues related to LGBT people?
LGBT rights work in our own backyard is far from finished, but we're having ongoing successes. In our position of strength, we can extend our knowledge and our focus to other parts of the world where movements are growing and much of the work is about basic survival -- about basic human rights. I have read again and again about the horrifying acts of violence against women and LGBT people abroad -- acts stunning in their brutality -- and been viscerally repulsed. Women are consistently targets of violence around the world, and LGBT people are also being targeted with extreme violence for their sexual orientation. I think this is an even harder nut to crack. Many people have an unfounded fear of homosexuality and when that's bolstered by religious and political animus which encourages violence, it can threaten the safety and very right to existence for LGBT people. If we want to see change for women and LGBT people, we simply have to get involved.

You've been supportive in the marriage equality campaigns here at home. How do you see that as relevant to the fight of LGBT activists in other countries?
The marriage fight seems to me to be a perfect microcosm of the struggle for LGBT equality across the board. When society's laws say there are two different kinds of people: one that deserves human rights and one that doesn't, it opens the queer community up to government-sanctioned discrimination and even violence. It's important for governments to start by recognizing LGBT people equally under the law in every way possible and to affirm that we are real people and entitled to the full range of human rights. Here at home, Obama has taken a leadership role by rescinding Don't Ask, Don't Tell, by supporting same-sex marriage as an idea and not defending DOMA in the courts. He's also taken a proactive stand on LGBT human rights in foreign policy. Leadership from the very top of government on these issues is crucial -- when a government leader says "these people are equal and entitled to full rights," the power of that cannot be overestimated.

What do you think will change the conditions LGBT people facing violence around the world?
We need to have a country's leadership, government, and courts to acknowledge that discrimination and violence against LGBT people is illegal and unacceptable whether it's in the U.S., Uganda, or Singapore. When a government looks away, it more or less condones violence against LGBT people and makes them outlaws, solely for being who they are and loving who they love. We also have to support what brave activists are already doing in their countries -- in building their movements, becoming more visible, and bringing global attention to the violations of their rights. One way we can do this is by supporting the work of organizations like the International Gay and Lesbian Human Rights Commission.

How did you get involved in hosting this year's Celebration of Courage for the International Gay and Lesbian Human Rights Commission?

I first learned about IGLHRC from Alan Cumming, a true ambassador for IGLHRC's work. Now there is a person who cannot say no to a good cause! I'm constantly inspired by his seemingly boundless capacity to pitch in and give of himself when he thinks an issue merits it. It encourages me to give more of my time and energy to causes I care about. Alan's been working with IGLHRC over a number of years and he takes an important worldview: none of us can fully enjoy our human rights until we all fully enjoy human rights. And this is what IGLHRC's work is all about -- strategically supporting the work of activists around the world by supporting their local efforts for equality, helping them to document abuses and bring them to the international community. I'm proud to support this organization which is headquartered in NYC and whose mission is to advance human rights for everyone, everywhere, regardless of sexual orientation and gender identity.

I am excited to be hosting A Celebration of Courage the annual human rights award ceremony and benefit for the International Gay and Lesbian Human Rights Commission on May 13, and hope everyone who can, will join us.
Question and Answer with Cynthia Nixon by Roberta Sklar, Communications Director, International Gay and Lesbian Human Rights Commission
Support HuffPost
Every Voice Matters
Popular in the Community