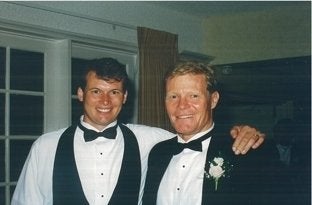 Solana Beach, CA April 25, 2008 2:00 PM - - The City of Solana Beach emergency crews were called to respond to a possible shark attack at approximately 7 a.m. this morning. Both Fire and Lifeguard Rescue Services arrived at Tide Park to assist a 66-year-old male victim, Dr. David Martin, who was pulled from the surf by fellow swimmers and transported to Fletcher Cove Park Lifeguard station for emergency treatment.

"We are all stunned and deeply saddened by this rare accident," said Joe Kellejian, Mayor of Solana Beach. "Dr. Martin was a good man, an expert swimmer and one who knew these waters well. We wish his family well during this difficult time."

Longtime Solana Beach resident, since 1970, and triathlete, Dr. David Martin succumbed to injuries brought about by a shark bite and was pronounced dead at the scene at 7:49 a.m. His injuries were reported to be several deep wounds to the legs. Dr. Martin was a retired veterinarian and expert swimmer who has been training with the Triathlon Club of San Diego (TCSD) out of Solana Beach for the past three years. There were nine swimmers in training, and Dr. Martin was in the middle of the group.

TCSD, comprised of expert swimmers, has been training on the same four mile route for the past four years. They usually swim in groups at approximately 150 yards off shore, using a buddy system whereby if a swimmer needed to go back to shore for safety, another swimmer would accompany them. TCSD have never experienced a shark attack.

Photos of Martin's family: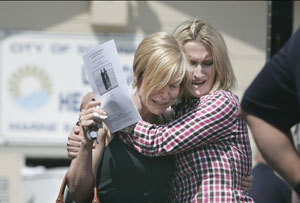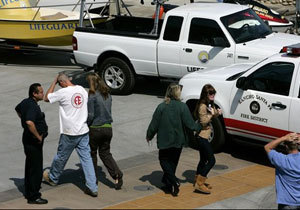 Shark attack victim Dave Martin was a retired veterinarian training for a triathlon off the coast of Southern California was killed by a great white shark today in the state's first fatal attack in almost four years.

Dave Martin, 66, was with a group of swimmers from a local triathlon training group when he was attacked at about 7 a.m. local time in the waters off Tide Beach, in the city of Solana Beach, officials said. Solana Beach, with a population of about 13,000, is about 30 minutes north of San Diego by car.
``We're all shocked and dismayed at the event that happened here this morning,'' Solana Beach Mayor Joe Kellejian said in a televised news conference.