The art critic David Sylvester once said that, "art has no greater enemy than architecture." It's one of Sir David Chipperfield's favorite quotes. The British architect is more well-known for his consistent philosophical approach to design rather than a definitive visual aesthetic. His continued exploration of traditional architectural philosophy has garnered him a considerable amount of recognition, including a CBE and knighthood. With a repertoire that ranges from fashion stores to coveted historical rebuilds and his company, David Chipperfield Architects, having various international offices, there's no doubt of his significance in the architectural world. In a recent interview with Crane.tv he discussed the redevelopment of Berlin's Neues Museum.
In a departure from his various international projects, last year saw the unveiling of two British art galleries. The design of The Hepworth Wakefield is unconventional, reviving Brutalism in an already fairly bleak Northern landscape. The resulting structure, consisting of smooth purplish concrete blocks set on the River Calder, resembles a modern castle. The unusual beauty of the building is mimetic of its purpose, primarily housing sculptures.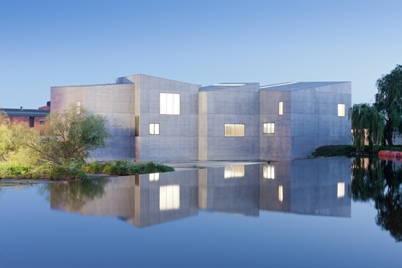 So what's next for this architectural legend? David Chipperfield was recently appointed Director of the Architecture Sector at the 13th International Architecture Exhibition in Venice. His chosen theme is 'Common Ground,' a title that has wide connotations allowing the exploration of shared practices and experiences of architects themselves but also the physical sense of the space that buildings share. It is clear that Chipperfield is an innovator of our time and we should continue to watch his spaces.
Crane.tv App now available for Nokia devices from the OVI Store
Popular in the Community