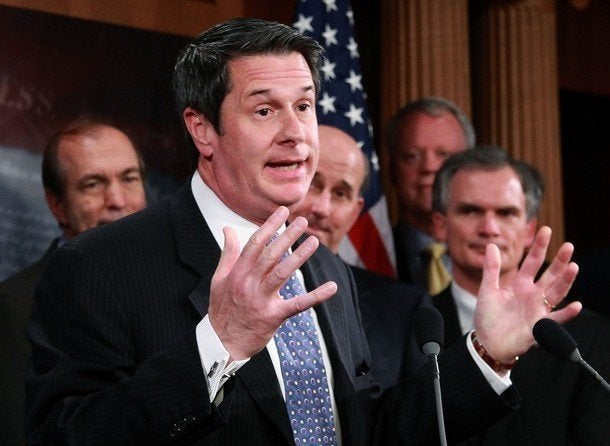 The Transportation Security Administration said Tuesday that Louisiana Sen. David Vitter "did not pose a security threat" when he set off an alarm at Dulles International Airport earlier this month.

"TSA worked with local partners to review the incident and determined the actions of the individual did not pose a security threat," TSA spokesman Greg Soule said in a statement. "The individual caused a door to alarm but did not proceed into a restricted area."

Soule noted that the "review of the incident is not complete."
UPDATE 7:02PM Hotline reports that the TSA is investigating the incident in which Vitter is alleged to have opened an alarmed security door:
"We will be reviewing the alleged incident," Lauren Gaches, a TSA spokeswoman, told On Call this evening.
Hotline also highlights this snipe from Eric Shultz, communications director for the Democratic Senatorial Campaign Committee: "Sooner or later, Sen. Vitter should learn how to control himself."
"After being delayed on the Senate floor ensuring a vote on my anti-pay-raise amendment and in a rush to make my flight home for town hall meetings the next day, I accidentally went through a wrong door at the gate," Vitter said in a statement. "I did have a conversation with an airline employee, but it was certainly not like this silly gossip column made it out to be."
Louisiana Senator David Vitter screamed at a United Airlines employee last week after arriving 20 minutes too late for a flight from Dulles to New Orleans, Roll Call reports (subscription required).
According to Raw Story, when Vitter learned he didn't make the flight, he tried to open an alarmed security door.
After setting off the security alarm, the Louisiana senator proceeded to dress down an airline employee who told him entering the restricted area was forbidden. He invoked his standing as a senator, delivering a "do-you-know-who-I-am" tirade, the paper said.
Vitter wouldn't calm down, even after the employee threatened to call security.
"Vitter, according to the witness, remained defiant, yelling that the employee could call the police if he wanted to and their supervisors, who, presumably, might be more impressed with his Senator's pin," the paper's Heard on the Hill column noted. "But after talking a huffy big game, Vitter apparently thought better of pushing the confrontation any further. When the gate attendant left to find a security guard, Vitter turned tail and simply fled the scene."
Calling all HuffPost superfans!
Sign up for membership to become a founding member and help shape HuffPost's next chapter