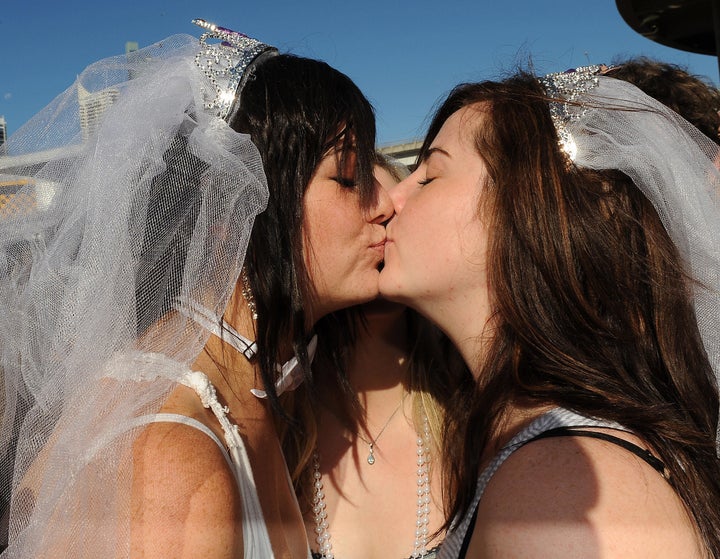 Joining Catania in introducing the bill were Council Members Muriel Bowser (D-Ward 4), Michael Brown (I-At large), Kwame Brown (D-At large), Mary Cheh (D-Ward 3), Jack Evans (D-Ward 2), Jim Graham (D-Ward 1), Phil Mendelson (D-At large), Tommy Wells (D-Ward 6) and Chairman Vincent Gray (D-At large). With ten of thirteen members of the City Council introducing the bill, it is assured of passage. Mayor Adrian Fenty has promised to sign the below once it has passed the Council.
Here's video of the bill's introduction:
Disclosure: I am chair of DC for Marriage, a grassroots group building support for marriage equality in the District.
The bill will pass the Council, but that doesn't mean we are free and clear yet. Two challenges remain: attempts by anti-equality activists to use racial division to whip up an anti-gay frenzy. and possible intervention by Congress.
On October 26, a hearing will be held before the Board of Elections and Ethics (BOEE) on Jackson's request for an initiative in 2010 to block marriage equality. It is likely that the BOEE will deny Jackson's request for a ballot initiative using the rationale that the issue is not a proper subject for an initiative because it would violate the DC Human Rights Ordinance which prohibits discrimination based on sexual orientation. A request in June by Jackson for a referendum to overturn the DC law recognizing marriages from other jurisdictions was denied using that logic.

[I]t is clear that the Referendum's Proposers would, in contravention of the [Human Rights Act], strip same-sex couples of the rights and responsibilities of marriage that they were afforded by virtue of entering into valid marriages elsewhere....Because the Referendum would authorize discrimination prohibited by the [Human Rights Act], it is not a proper subject for referendum, and may not be accepted by the Board.
Soon there will be a hearing on the marriage bill before the Committee on Public Safety and the Judiciary chaired by the LGBT community's strongest straight ally on the Council, Phil Mendelson. Fan DC for Marriage on Facebook for more details about the hearing and a training being organized to prepare people wanting to testify in support of the bill.
Because DC is not a state and does not have legislative autonomy, laws passed by the City Council are subject to a thirty day congressional review period. The review period is thirty legislative days rather than calendar days, meaning the review period will likely last about two months depending on when the bill is sent to Congress. During the review period, Congress does not have to approve the bill. They don't even have to discuss it. If they take no action, the bill will become law.
In an interview, Del. Eleanor Holmes Norton (D-D.C.) said she had received assurances from House Democratic leaders that she doesn't need to worry about congressional intervention.
"The House and Senate have their plates really full," Norton said. "I don't think this is anything that is going to somehow scramble over into that."
Even Rep. Jason Chaffetz (R-Utah) who tried unsuccessfully to stop the marriage recognition law during its congressional review period, acknowledges that Republicans would not have the weight to stop marriage equality in DC. That's not going to stop him from trying though.
Chaffetz said he plans to fight the council's bill, but he also said the issue could become entangled in a debate among Republicans on Capitol Hill over how far the party should go in speaking out against same-sex marriage.
Its clear that while things are looking good, we have a lot of work to do to win marriage equality in DC. DC for Marriage and other groups are continuing an aggressive community outreach and public education effort focused on increasing support for marriage equality across the city particularly among communities of color and communities of faith.
DC Clergy United for Marriage Equality, a marriage equality group led by faith leaders, has been doing amazing work with clergy and have a declaration of support for marriage equality that has been signed by more than 200 faith leaders of all races, from all wards of DC. Its that kind of committed face-to-face outreach that we must now engage in.
We not only have a strong chance of winning marriage equality in DC. We have the chance to strengthen our local community, build better relationships with our neighbor, and change hearts and minds about gay people and our families.
Below is a list of the members of the DC Council with their phone numbers. Please call members of the Council and express your support for marriage equality in DC.
Gray, Vincent C. - (202) 724-8032
Brown, Michael - (202) 724-8105
Catania, David - (202) 724-7772
Mendelson, Phil - (202) 724-8064
Brown, Kwame R. - (202) 724-8174
Graham, Jim - (202) 724-8181
Evans, Jack - (202) 724-8058
Cheh, Mary - (202) 724-8062
Bowser, Muriel - (202) 724-8052
Thomas Jr., Harry (Tommy) - (202) 724-8028
Wells, Tommy - (202) 724-8072
Alexander, Yvette M. - (202) 724-8068
Barry, Marion - (202) 724-8045
REAL LIFE. REAL NEWS. REAL VOICES.
Help us tell more of the stories that matter from voices that too often remain unheard.