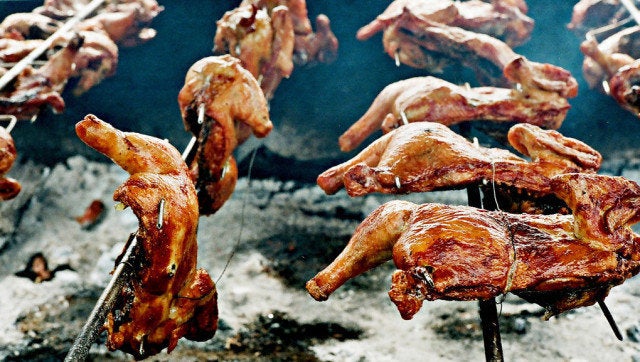 WASHINGTON -- For the past four years barbecue lovers in the District have spent the week before the Super Bowl celebrating another American classic: the consuming of meat.
There's six nights left of Meat Week 2013. The schedule includes trips to Arlington and Alexandria, several stops in D.C. proper and a barbecue food truck cook-off being hosted by LivingSocial:
PHOTO GALLERY
DC Meat Week 2013 Schedule
HuffPost DC attended the second night of D.C.'s Meat Week. Monday night, more than 100 hungry, flesh-loving souls filled the basement level of Hill Country Barbecue. Founder Mike Bober greeted participants, handed out shirts and played the role of a friendly ringleader. We spoke to the foodie about Meat Week, BBQ and owning a smoker.
The Huffington Post: What's your affiliation with Meat Week?
Mike Bober: I am the founder of the D.C. chapter. I was the captain the first two years and this year I'm one of the two first-mates.
HuffPost: What is the goal of Meat Week?
Bober: It's really just a a way to get people who love barbecue togeter and share that love over some of the best barbecue in D.C.
HuffPost: How has the event grown?
Bober: For the past four years we've made it a point to try to put something new on the calendar each year, something that would give people a reason to pay more attention.
I would say we're getting bigger and better. Our newest addition is a D.C. Food Truck Face-Off taking place at the Living Social space. It'll bring D.C. based babecue food trucks BBQ Bus, Carnivore BBQ, Curley's Q and PORC together. All four will be competing in categories of pork, beef and sides. We're going to crown a D.C. Food Truck Face-Off Champion based on feedback from the audience. Hopefully it becomes and annual competition.
If you want to get the yin and the yang, also join us Sunday afternoon in a parking lot of a shopping plaza on Rhode Island in Northeast for a taste of old school barbecue at Mr. P's. Thirty years of barbecue served from a converted school bus. It's probably the exact opposite of the Living Social event but it's no different than any other authentic barbecue experience.
HuffPost: Are there any vegetarian nights?
Bober: There are no vegetarian nights in Meat Week. D.C., to my knowledge, is the only chapter of Meat Week, of all 26 around the world, that has spawned an equal and opposite Vegetarian Week in response. I have to give credit to Amber McDonald and the other folks that organized D.C. Meat Free Week. They're also going into their fourth year. They always do it the week immediately after Meat Week.
Click through for night two of D.C. Meat Week 2013 at Hill Country. Story continues below.
PHOTO GALLERY
DC Meat Week 2013
HuffPost: How often will you eat barbecue when it's not Meat Week?
Bober: I'm actually a Kansas City Barbeque Society Certified Judge, along with the captain and co-first-mate. We always try to judge at least one competition in the area every year. Beyond that I have a smoker at home and will smoke anything from chicken to brisket. I make my own bacon. I wouldn't say that I eat barbecue all the time, but in the warm months, I would say I get a lot of use from my smoker.
HuffPost: Do the neighbors every complain from the smell?
Bober: Oh no. Most ask to come over.
HuffPost: Are there any tips for the virgin Meat Week eater?
Bober: I would say that there are three. The first is pace yourself. Don't feel like you have to eat all of everything. The second is to be strategic. Look at the calendar. I don't know if there's ever been anyone that has been to all eight Meat Week nights, at least not in D.C. If you see that there's one night that's particularly appealing to you, make it a point to go to that one and take off the nights before and after. The third is bring a friend, at least one. Frankly, barbecue is best when it's shared.
Calling all HuffPost superfans!
Sign up for membership to become a founding member and help shape HuffPost's next chapter
BEFORE YOU GO