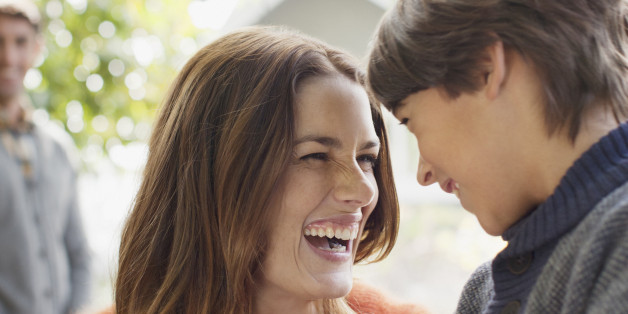 Dear Family Whisperer,
I know you're trying to encourage us to let others who care for our children (like fathers, grandparents, other parents) do it their own way. But how do you manage the impact on your own parenting? For example, my husband and others often let my 6-year-old stay up late, feed him junk food or give him whatever he wants. Sometimes, I want to "spoil" my child, too, and have that lovely time where he gets "special" treatment, but I also need make sure he gets enough rest and a generally healthy diet. So I'm always the "bad guy," which means I miss out on the times where I can give my son a treat or let him stay up late and cuddle with me on the couch, which is good for our relationship. How do I balance things out?
--Beleaguered Mom
Dear Beleaguered Mom,
Take a step back. Getting enough sleep and eating well are critical for your child's growth and development. However, a few sugary treats and the occasional late night won't compromise his health in the long run. Also, remind yourself that the people "spoiling" your son care about both of you. Keeping a calm head and working with them will help you start to "balance things out."
Look in the mirror. Acknowledge what's going on inside you. Many women resent being "the heavy." But it's not healthy (for you or your son) to get stuck there. If you tell yourself the truth, it will help you move on. Are you contributing to the problem in some way? If so, what can you do to change, even if others don't?
Put your needs out there. Letting others do it "their" way doesn't mean turning a blind eye. Start with your husband. You two won't ever parent alike -- you're two different people. But you probably both want the same thing for your son: that he is healthy, has a good head on his shoulders and cares about others. You need to figure out together how to help him get there.
Ask, instead of making assumptions. For example, you might think that your husband is taking the "easy" route by offering your son junk food. But perhaps time is the problem, or maybe Dad doesn't feel comfortable in the kitchen. If he feels rushed or "can't" cook, offer to help him add a few dinners to his repertoire. Work as a team to stock the freezer with healthy choices. Include your son in the preparation, so his future wife won't have the same problem!
Confer with "the village." Your son's destiny, as you wisely point out, is affected by everyone he knows, not just you and Dad. Focus on improving how you interact with the other players in your family drama, including other parents. Listen; share your opinion, make suggestions, but don't preach. They want the best for their kids, too.
Carve out special times with your son. Plan instead of hoping. But don't go over overboard. Kids tend to remember snuggling and special late nights more than costly outings. One mom, a vegetarian herself and very particular about food, allowed junk food only on Friday -- and discovered that the other six days of the week her son could not have cared less about soda or sweets.
Build your kind of "fun" into family time. Be a trend-setter. Show your husband (and son), extended family members and friends how to have safe, healthful good times. Weather permitting, spend time outdoors, learn about nature together, and see how much fun can be had for free. Make healthful holiday dinners and offer to share recipes with the extended family. Throw a birthday party that stresses meaning over munchies.

Don't expect miracles. They are who they are, and so are you. The above steps won't fundamentally change them. However, putting forth your own values and being respectful of -- and not threatened by -- their choices will make others' transgressions a little easier to take. And who knows? They also might listen to you!
Have a family question for Melinda Blau? Tweet #DearFamilyWhisperer or email DearFamilyWhisperer@familywhispering.com. Check back next week to see if your question is featured! Real names will not be used, no topics off limits. Adults and children welcome. These columns are brief. You'll find more on this topic in FAMILY WHISPERING, co authored by Melinda and (the late) Tracy Hogg. Also check out the website: FamilyWhispering.com and follow @MelindaBlau.
REAL LIFE. REAL NEWS. REAL VOICES.
Help us tell more of the stories that matter from voices that too often remain unheard.