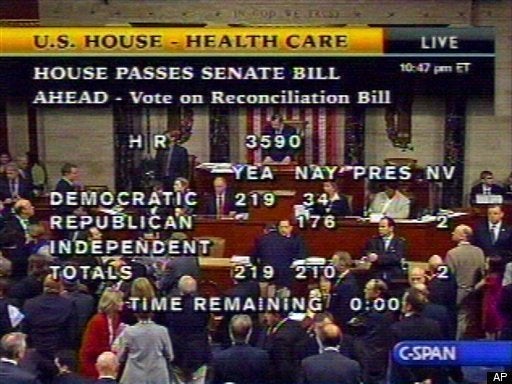 House Democrats led the way to passing comprehensive health care reform Sunday night, but there were 34 Democrats who voted against the health care bill.
Congress passed two pieces of legislation: (1) a reform package previously passed by the Senate, which now goes to President Obama for his signature, passed the House 219-212; (2) fixes to that measure which go to Senate for a final vote passed 220-211.
Of the "yay" votes for the health care bill, none came from the Republican party. Thirty-four no votes could be attributed to Democrats.
Democrats who voted against the health care bill included the following Congressmen and Congresswomen:
Rep. John Adler (N.J.)
Rep. Jason Altmire (Pa.)
Rep. Michael Arcuri (N.Y.)
Rep. John Barrow (Ga.)
Rep. Marion Berry (Ark.)
Rep. Dan Boren (Okla.)
Rep. Rick Boucher (Va.)
Rep. Bobby Bright (Ala.)
Rep. Ben Chandler (Ky.)
Rep. Travis Childers (Miss.)
Rep. Artur Davis (Ala.)
Rep. Lincoln Davis (Tenn.)
Rep. Chet Edwards (Texas)
Rep. Stephanie Herseth Sandlin (S.D.)
Rep. Tim Holden (Pa.)
Rep. Larry Kissell (N.C.)
Rep. Frank Kratovil (Md.)
Rep. Dan Lipinski (Ill.)
Rep. Stephen Lynch (Mass.)
Rep. Jim Marshall (Ga.)
Rep. Jim Matheson (Utah)
Rep. Mike McIntyre (N.C.)
Rep. Mike McMahon (N.Y.)
Rep. Charlie Melancon (La.)
Rep. Walt Minnick (Idaho)
Rep. Glenn Nye (Va.)
Rep. Collin Peterson (Minn.)
Rep. Mike Ross (Ark.)
Rep. Heath Shuler (N.C.)
Rep. Ike Skelton (Mo.)
Rep. Zack Space (Ohio)
Rep. John Tanner (Tenn.)
Rep. Gene Taylor (Miss.)
Rep. Harry Teague (N.M.)
Popular in the Community