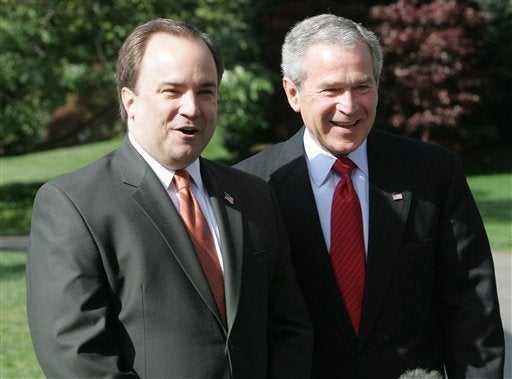 The Democratic presidential candidates lashed out today over revelations that President Bush and other high ranking administration officials misled the public about their direct involvement in leaking CIA operative Valerie Plame's name.
Senator Chris Dodd, D-CT, was the first to weigh in on the matter, which was disclosed by former White House press secretary Scott McClellan in his upcoming book. Noting that the president deliberately kept McClellan in the dark so that the spokesman could unknowingly lie about the White House's involvement in the leak, the Senator implored newly appointed Attorney General Michael Mukasey to investigate.
"During his confirmation process, Attorney General Mukasey said he would act independently," the Senator said in a statement. "Accordingly, today, I call on the Attorney General to live up to his word and launch an immediate investigation to determine the facts of this case, the extent of any cover up and determine what the President knew and when he knew it."
Dodd's primary opponents were not far behind him in condemning the Bush administration's actions.
"The President should immediately come forward and explain any action taken by him or his administration to mislead the American public. The American people deserve the truth," said Sen. Joe Biden, D-DE. "President Bush himself said that he would take action against anyone who leaked the name of an American agent. Far from punishing anyone, it appears from McClellan's account that the President himself was "involved" in spreading false information. That is outrageous."
Added Governor Bill Richardson of New Mexico: "It is a low point in our history when the leader of the free world fights to deceive the American public. Rather than defend the Constitution, President Bush has bamboozled the country. Whether it is outing a CIA operative, illegally spying on Americans, or advocating the use of torture, the Bush administration has made a mockery of our legal system."
Sens. Barack Obama, D-IL, Hillary Clinton, D-NY, and former Sen. John Edwards, D-NC, were all contacted for comment. Among Republican presidential candidates only Arkansas Governor Mike Huckabee has publicly weighed in on the McClellan revelation.
In an excerpt from his forthcoming book - entitled "What Happened" - McClellan details how he was set up to lie to reporters in 2003 news conference, in which he told reporters that Karl Rove and I. Lewis "Scooter" Libby were "not involved" in the leak involving operative Valerie Plame.
"There was one problem. It was not true," McClellan writes. "I had unknowingly passed along false information. And five of the highest-ranking officials in the administration were involved in my doing so: Rove, Libby, the vice president, the president's chief of staff and the president himself."
Calling all HuffPost superfans!
Sign up for membership to become a founding member and help shape HuffPost's next chapter