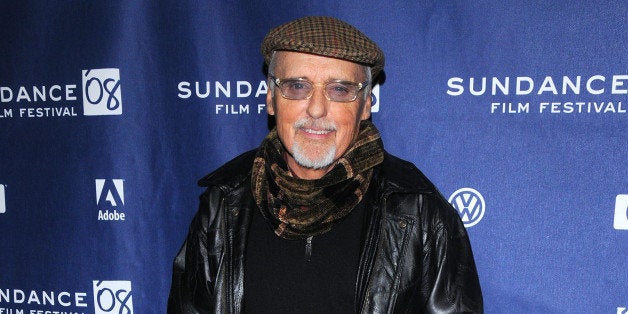 Dennis Hopper died in 2010, but he had one more movie in the can. If a new Kickstarter campaign proves successful, we will finally lay eyes on the actor's last project.
"The Last Film Festival" cast Hopper as a top-tier Hollywood producer whose latest movie has been rejected by every film festival except one in the tiny town of O'Hi. Desperate, the producer and his eccentric cast and crew travel to the low-profile event in hopes of seeking distribution for their film.
Directed by Linda Yellen ("Northern Lights," "The Simian Line"), who is managing the Kickstarter efforts, "The Last Film Festival" finds Hopper starring alongside Jacqueline Bisset, Joseph Cross, JoBeth Williams, Donnell Rawlings, Chris Kattan and Leelee Sobieski. Yellen is hoping to raise $90,000 to finish postproduction in time to release the satirical movie in May, which marks five years since Hopper's death from prostate cancer.
"We are reaching out to film fans over Kickstarter, as other investment offers have come with a number of unwelcome demands, including cutting certain scenes, altering the film's score and even changing Dennis Hopper's voice," Yellen said in a press release. "Dennis saw a rough cut of the movie before he died and loved it. We want everyone to see the same film that Dennis and I envisioned. This is an opportunity for fans of Dennis Hopper, fans of comedy and fans of independent cinema, to help get this film over the finish line."
Calling all HuffPost superfans!
Sign up for membership to become a founding member and help shape HuffPost's next chapter