As a young medical student who had often played in pick up bands in his off hours, Denny Zeitlin made his recording debut when he broke onto the scene in 1963 on an album with the late flautist Jeremy Steig titled Flute Fever. It was no mean feat to distinguish himself while accompanying the audacious Stieg, but the insight and daring of his playing could not be denied. Later his trio with Charlie Haden and Jerry Granelli became a surprising hit at the 1965 Monterey Jazz Festival, where Downbeat noted "Zeitlin's piano is impeccable... filled with joy, bitingly mocking, always intelligent and emotional."
Perhaps his "day" job as a psychiatrist-a career choice that has run parallel to his musical career for over fifty years-has only served to make his playing more emotionally raw and intellectually insightful. Of course it doesn't hurt that his command of the instrument is virtuosic or that his idiosyncratic approach to improvisation pushes the music in delightfully unexpected ways.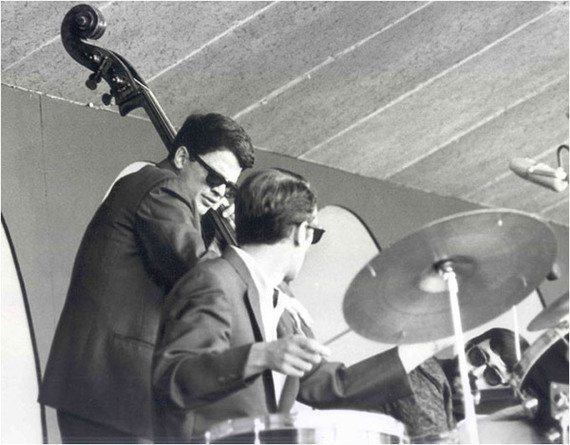 Charlie Haden (b), Jerry Granelli (d) and Denny Zeitlin (p) at Monterey in 1965
Photo credit Jerry Blankfort
Now with over thirty-five recordings in his repertoire, Zeitlin has released his latest album Early Wayne: Exploration of Classic Wayne Shorter Compositions. This solo album focuses on Zeitlin's admiration for Mr. Shorter's compositional acumen, bringing the pianist's own sensibilities to these marvelous songs. Mr. Shorter's music has always been a source of inspiration for Zeitlin and he has recorded many of the maestro's songs in the past, but the concept of making an album of all Shorter tunes and using them as a springboard for improvisational exploration was an intriguing idea that Zeitlin wanted to realize. Mr. Zeitlin considers Mr. Shorter jazz's greatest living composer.
As the title suggests, the album concentrates on the earlier Shorter compositions, mostly from the period of 1964-1968. The only outlier being "Anna Maria," which was first recorded on Shorter's seminal Native Dancer from 1974.
Mr. Zeitlin chose to record this solo album in front of a live audience at a performance at the Piedmont Piano Company in Oakland on December 5, 2014 so there is no net under his acrobatics.
Right from the first probing notes of the opening, to the walking bass line of his left hand, as he gets into the rhythmic possibilities of "Speak No Evil," we are taken on an excursion into Zeitlin's world of possibilities and it's a wonderful world indeed. His facility is flawless, but the joy one feels has more to do with the inventiveness of his ideas than with his execution.
The beautiful "Nefertiti' is another Shorter classic made famous by the 1968 Miles Davis album of the same name. Here Zeitlin's gentle approach to the melody is like the open arms of a lover's embrace; warm, sensitive and heartfelt. But the ever inquisitive Zeitlin is never content to leave it at that. He deconstructs the thematic core of the song into ever increasing obscurity, reassembling the music into his own distinct version of the original, almost leaving it behind as but a memory, until he inevitably reprises it in later passages.
The rumbling introduction to "Ju Ju" cascades into the familiar melody with a boisterous attack that utilizes an expansive approach across the entire keyboard. Zeitlin proves that in his hands the piano can be a symphonic instrument. His use of dynamics is exquisite. His playing can be extremely forceful in one moment and then morph seamlessly into moments of whisper-like intimacy. As a listener you are like a passenger on an excursion that has no road map; sometimes disconcerting but ultimately thrilling.

Zeitlin works his magic on several other compositions, like his gorgeous take on the wistful "Teru" from Shorter's 1967 album Adam's Apple; the playful "Toy Tune" from the 1965 album Et Cetera and "Paraphernalia" from Miles Davis' 1968 album Miles in the Sky where he utilizes a rumbling percussive technique with the brushing of the piano's inner strings.
As with so many of Shorter's compositions "Infant Eyes" from the 1965 album Speak No Evil, has a lasting permanence that makes it a perennial favorite among jazz musicians. Zeitlin explores the repeating ascending and descending lines of the melody, stretching out in between the steps with a sense of grandeur and expansiveness.
One of my favorite Shorter albums is Native Dancer from 1974 and from here Zeitlin plucks the beautiful "Ana Maria." He chooses to play the opening bars of the song with a deep sensitivity and a filigreed beauty, but at about the four-minute mark Zeitlin explores a deep groove on the changes that sends him into unknown territory. He has veered off the road here relishing the scenery until he ends it with a flourish of single notes that resolve beautifully at the coda.
"E.S.P. " is a Shorter composition from another Miles album from 1965 of the same name. Here Zeitlin offers a series of rapid fired notes that he delivers in a staccato fashion with sniper like accuracy. The low rumblings of his left hand giving a platform on which his darting right hand can launch into a fusillade of ideas. Zeitlin at times gets lost in the twists and turns of his own inventions, but he inevitably returns to the composition with an unerring sense of time and space. He leaves the listener with just enough of a safety line to feel that they have not lost their way completely.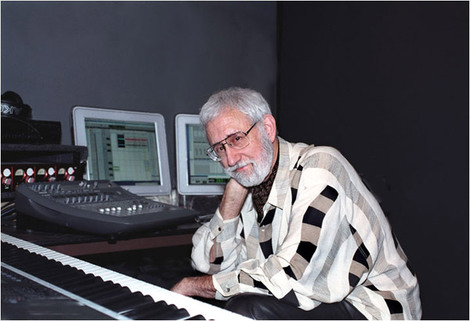 Zeitlin ends the album with Shorter's serene "Miyako' from the 1967 Schizophrenia. After all the combustion, exuberance and bombast of some of the other Shorter compositions, this one most reminds me of the sensitivity and grace that this pianist can command when he wishes to do so. It is like a page from the playbook of one of his great influences Bill Evans, and a reminder that Zeitlin is one of the greatest living practitioners of that style of deeply introspective pianism.
Here's an earlier version of 'Speak No Evil' from Denny Zeitlin & David Friesen "In Concert" (1992)
Calling all HuffPost superfans!
Sign up for membership to become a founding member and help shape HuffPost's next chapter