A pair of Detroit natives have decided to combat neighborhood blight in a pretty sweet way — by transforming abandoned vacant lots in their city into honeybee farms.
Detroit Hives, a nonprofit organization founded by Timothy Paule and Nicole Lindsey in 2017, purchases vacant properties and remodels them into fully functioning bee farms.
"These properties are left abandoned and serve as a dumping ground in most cases," Paule told HuffPost. "The area can be a breeding ground for environmental hazards, which creates a stigma around the city."
Paule, a photographer, and Lindsey, a staff member for the health care provider Henry Ford OptimEyes, had been dating for some time before launching the nonprofit. Paule attributes their inspiration to a cold that he just couldn't get rid of.
"I went to the local market that I normally go to, and he suggested that I try some local honey for my cough," Paule said. "He said you consume local honey because it has medicinal properties."
After he started to feel better, the couple also began to think about how urban blight contributed to allergies through overgrown ragweeds in abandoned areas. They put producing local honey and erasing urban blight together, and Detroit Hives was born.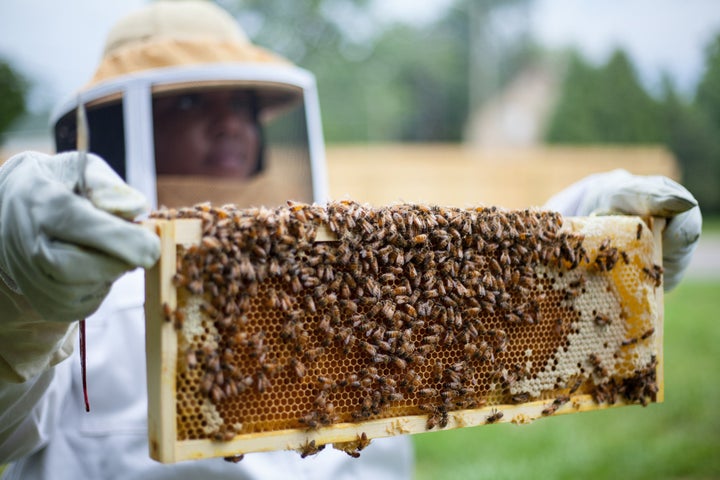 "The land bank offers a community partnership program for nonprofits and faith-based organizations to purchase structures or vacant land from the land bank to put back to productive use," Darnell Adams, director of inventory at the land bank, told HuffPost. "We encourage them to bring their visions and their proposals to the land bank so that we can give them access to land to implement them."
Currently, Detroit Hives owns just the one farm, but they're looking to expand in 2018.
Besides raising honeybees, the nonprofit aims to spread awareness about bees by hosting public tours of the farm ― they encourage community members to schedule an appointment ― and by traveling to schools in the Detroit area to speak with students.
"It was a little hard at first because most high-schoolers are afraid of bees or they really don't care," Paule said. "So I had to find a unique way to introduce bees to them. One thing they found intriguing is how each honeybee had a unique job."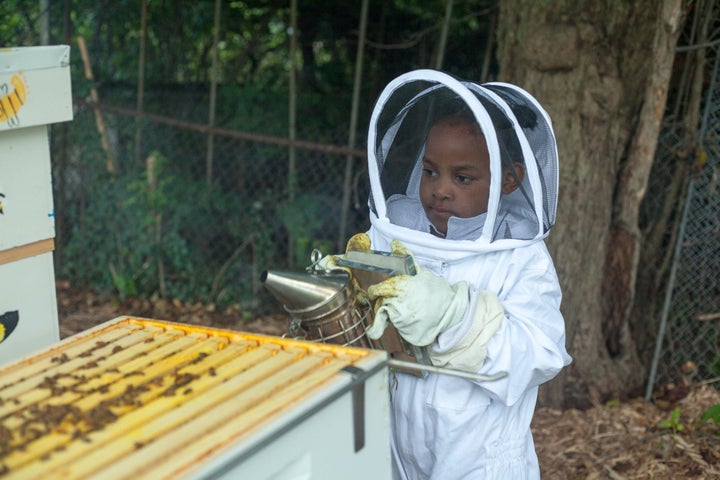 And of course, Detroit Hives sells honey to the public and to local vendors that use it to create products such as handcrafted beer and sauces. They've even created Bee Moji, an emoji sticker app.
While you'd think people would be concerned about thousands of bees in the area, the local community loves the bee farm, according to Paule and Lindsey.
"The neighbors love it. They say they wish we were there 10, 20 years ago," Lindsey said. "That area has always been a place where people dump trash, so when we came there, we gave that area a sense of purpose. The neighbors keep an eye on the area to make sure that people aren't dumping anymore."
Detroit Hives' tagline is "Work Hard, Stay Bumble," fitting for a city that knows all about perseverance.
"We're hustlers, innovators and thinkers," Paule said. "Bees work really hard, and they're humble. In Detroit, you have to work hard and be humble. It'll take you far."
Support HuffPost
Every Voice Matters
Popular in the Community