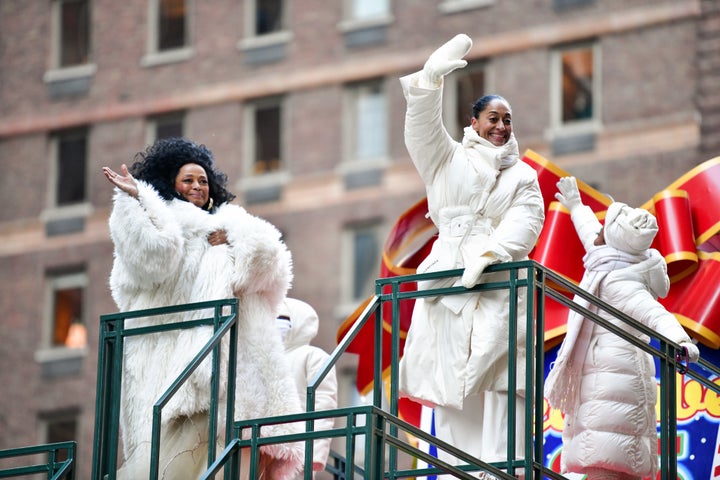 Diana Ross sparkled at the Macy's Thanksgiving Day Parade in New York City this year, and she didn't do it alone.
Ross was joined by her family, who were all in coordinated white stylish ensembles on Thursday. The Ross children joined their mom on a float during the parade, and the pictures and videos capturing those moments are pure gold.
"Black-ish" star Tracee Ellis Ross shared moments of the experience on Instagram, writing that her mom encouraged her family to wear white for the holiday parade.
"WHEN ITS COLD... and my mom says wear white," she wrote in a caption for a photo. "Don't give me a reason to shop."
Other images from the day showed Diana Ross with her children and grandchildren all smiles enjoying the festivities. The music icon posed in photos with her children Tracee Ellis Ross, Rhonda Ross, Chudney Ross, Ross Naess and Evan Ross.
"Truly blessed and extremely thankful for time spent with family, love and laughter," Chudney Ross wrote on Instagram.
In another adorable post, Diana Ross, Tracee Ellis Ross, Rhonda Ross and Naess' wife, Kimberly Ryan Naess, can be heard singing, "I Do," a song by Evan Ross and his wife, singer Ashlee Simpson Ross.
On Instagram, Tracee Ellis Ross thanked her mom for teaching her "the meaning of family" and that "love is action."
"I love my family, I love being with everyone so much," she wrote. "We have so much fun and no one shies away from a good 'moment.' But the biggest shout out of all always goes to my mom for always thinking of everybody, including everybody, and making sure that we're all comfortable and happy."