Diasporal Rhythms is a predominantly African-American group of art collectors, predominantly on the South Side of Chicago, who collect African-American Art. Unlike other collector groups they are unaffiliated. They are not about supporting a museum. Their mission is to complete the communication initiated by artists. They see it as there Responsibility to support artists and culture and to democratize the cultural experience. They are as amazing as they are unique. This show is a celebration of their 10th anniversary.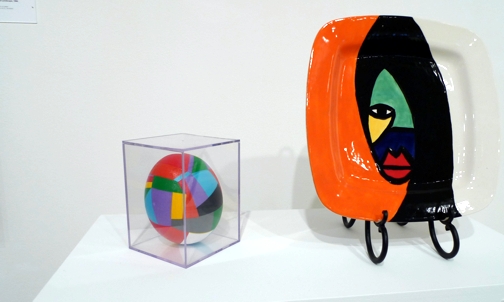 As collectors, Diasporal Rhythms believes in art and artists. I think it's safe to say most collectors believe in art, and often don't complete the equation to also expand the appreciation of the artists' work. Hopefully, more collectors here, and other collectors in other cities, with take note.
This is the Logan Center's first year of existence. This is a thoughtful and insightful interaction with their extended community.
The show is notable because of the high number and percentage of impressive pieces, often because they were previously unfamiliar, and are outstanding. They're unfamiliar because the artists are African-American, I'm not and I don't see their art enough. This exhibit expands my knowledge.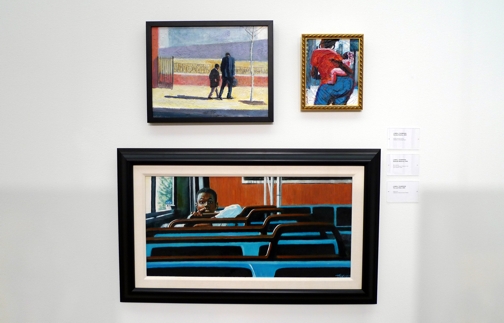 As I've learned teaching my Klein Artist Works course there is not a singular art world, but many art villages. The dominant, New York centric, hyperbolic, high-priced, art village is but one of many. Quite a few African-American artists have a different heritage, different life experiences, different agenda and correspondingly tend to have a different aesthetic; one with more and brighter colors (often primary), more figuration, and more references to Africa instead of Europe.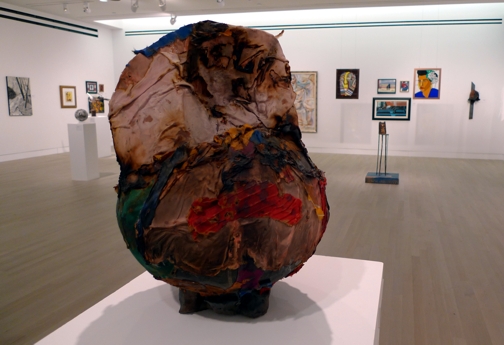 It's wonderful to encounter art and culture we are insufficiently familiar with. We can look at art for the quality and significance it has without being swayed by the reputation or hyperbole that precedes it. A return to visual purity. You have no idea the joy I get from seeing a handful of pieces that are truly memorable. It doesn't happen often enough.

Thanks very much,
Paul Klein
Image with 2 pieces; G.L Smothers.
Image with 2 mostly b & w pieces; Joyce Owens
Image with sculpture; Faheem Majeed
Image with boy in bus; Lowell Thompson
Image with sculpture; Marva Lee Pitchford Jolly
Image with multiple pieces; Malika Jackson
Calling all HuffPost superfans!
Sign up for membership to become a founding member and help shape HuffPost's next chapter