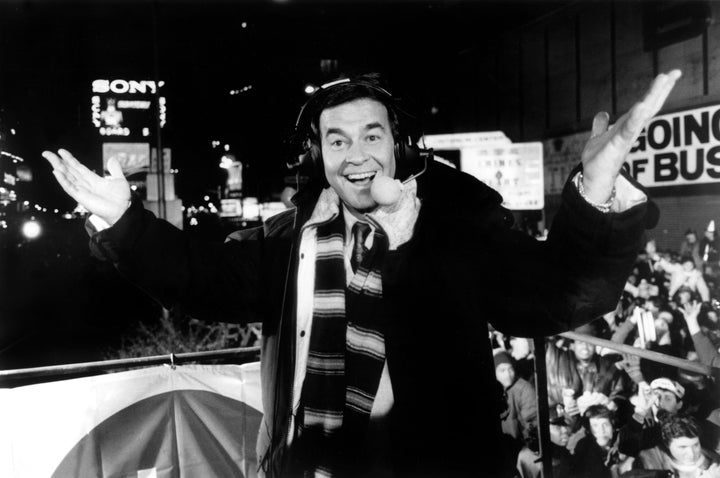 Today we mourn the loss of a dog-lover extraordinaire: Dick Clark. He was 574. In dog years.
Clark was a big-time dog person. He designed his Malibu home so that it could accommodate all his dogs -- he sometimes had as many as five at a time. The showers were extra large so that he could wash the pups himself, he told LA's Pet Press in 2001. It was even his dog, he'd said years earlier, who'd picked out the place: His lab, Mort, got loose one afternoon on the beach, and Clark found him on a beautiful piece of beachfront property. He liked it as much as Mort did, so he called the owners and arranged the sale. There, he and his wife Kari celebrated each dog's birthday with plates of meatballs with candles in them. Kari was in charge of the party hats. He would take photos.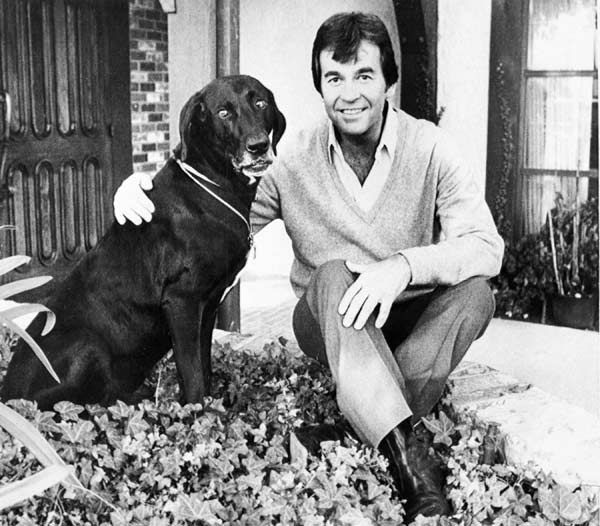 Photo credit: AP Photo/ LENNOX MCLENDON
In recent years the Clarks had a pug named Mrs. Jones, and Henry VIII, a 110-pound Weimaraner. There was also Lucille, a Dalmatian who was a gift from Gloria and Emilio Estefan -- they flew her to him via private jet. Bernardo was a Dachshund mix the Clarks found on the streets of San Bernadino. They dropped him off at the pound and then made a U-turn and picked him up. (He would become their fourth Dachshund.) Many of the Clarks' dogs were named for songs: Maybelline was a pup birthed by Mort's girlfriend, Molly; Eleanor Rigby was a stray who the Clarks took in.
In the office of Dick Clark Productions in Burbank, dogs roamed as they pleased. They took the elevators rather than the stairs; they trained human staffers to push the buttons for them. They also convinced all Clark's employees to feed them leftovers, leading Clark to affix "Don't Feed Me" signs to his charges when they made the rounds in the office.
"There are a few people that don't like dogs, so they don't pay any attention to them. But for the most part people pet them, feed them, bring them presents, and talk to them. It has a nice effect on a place that tends to have a lot of tension," he told The Pet Press' Lori Golden. "When the dogs enter, it breaks the ice. I'll say sorry, we're in a meeting, and they'll turn around and leave. But everybody sort of laughs and it loosens up the meeting."

"They're pressure relievers," he continued. "You'll be on the phone at work dealing with something stressful and they'll just walk up and want a pat."
As his health began to decline in 2004, Clark told the Associated Press that he didn't think that he'd had a stroke; when he awoke partially numb one morning, it was a feeling he was familiar with: He thought a dog had slept on his side.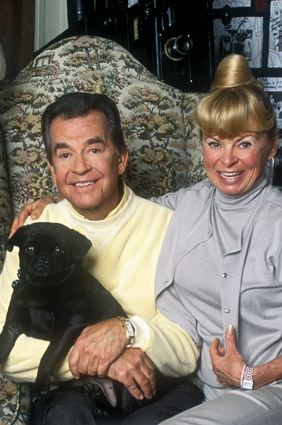 Photo from Healthy Pet U
In the 1980s, a then seemingly unaging Clark had several popular TV programs. Although he tended to keep his own brood off camera, he occasionally invited other people's dogs on his shows. Here, on Live! Dick Clark Presents he interviews Spuds Mackenzie, Bud Light's Bullterrier mascot. He asks his pretty (and very '80s) handlers about a vicious rumor he'd heard: Spuds was really a woman. The ladies deny it, but Clark was actually correct -- "his" real name was Honey Tree Evil Eye.
On his Friday Night Surprise show in 1989, Clark orchestrated one of the most charming kid/dog segments I've ever seen on the boob or YouTube. Witness Dick Clark's Surprise Talking Basset Hound.
This post originally appeared on TheDogs.
Calling all HuffPost superfans!
Sign up for membership to become a founding member and help shape HuffPost's next chapter