If you haven't had the opportunity to watch The Internet Ruined My Life, you may want to take the time to do so. If you have teens, I would encourage you watch it with them. The show, airing on Wednesday nights, is an eye-opener to how your virtual life can virtually destroy your real life when you least expect it.
Common Sense Media, a leader in reviewing family television shows, gave the show 3-stars (out of 5) stating in their review:
"It's a good conversation starting point, but the overall show sends mixed messages about taking personal responsibility for what you post online."
That is why, after being approached by Syfy representatives to provide "expert tips" for the show, I wanted to use the opportunity to bring education and information to viewers. But how?
That's when I turned to Diana Graber and Cynthia Lieberman, founders of Cyberwise (aka, No Grownup Left Behind) to develop The Cyberwise Chat #Aftershows. Every Thursday, the day after each episode airs at noon ET, we bring in experts to discuss the segment and provide cyber-education. Every expert is a high-profile professional in his or her field who understands the importance of giving viewers the information they need to make better decisions online and off.
Show reviews and Tweets alike have been reporting that "The Internet Ruined My Life" seems "too dramatic." However, the fact is, unless you have been a victim of a cyber-attack or the on the receiving end of e-venge, you honestly can't know the fear and hopelessness we feel.
Yes, we. Over a decade ago I went through this myself. It's something you never forget, which is why I'm so passionate about helping others today. When I was attacked online, the resources we have today did not exist. The support, or even people who understood the feelings of helplessness that those of us on the receiving end of online cruelty experience, were just not there. Thankfully, that is changing.
The Internet Ruined My Life is reality for many of us. That's why, along with Cyberwise and others, I decided to speak up after each episode.

The media is listening.
Recently Nightline featured one of the stories from The Internet Ruined My Life with Nicole Crowther, the former Glee extra who leaked a spoiler online.
What's the Twitterverse saying?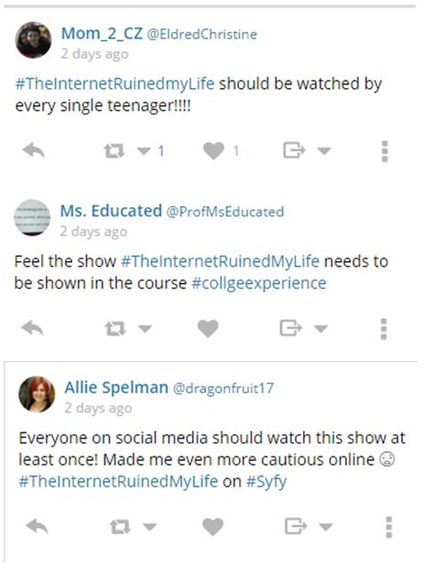 No one is immune to becoming click-bait and people of all ages need to be aware of the digital consequences. Of course some of the victims on the show displayed naïveté. But unfortunately we are living in a time when people with a keypad don't have a problem firing insults and shaming others without a thought as to how it makes the target feel.
Where has the empathy gone in our world?

"Today's teens are 40 percent less empathetic than they were just a generation ago; narcissism has increased 58 percent. But empathy can be cultivated. Research is clear that bullying is a learned behavior and can be unlearned."
Digital shaming is not caused by the Internet. It's human behavior. We must start by being accountable for our own keystrokes, as well as being a proactive digital warrior. If you see someone being cyber-slammed online, reach out with a virtual hug or kind word. It can be a very lonely when you are being digitally demolished. The fear is real. The hopelessness can be overwhelming. But there are also so many kind people online that can be there for you. I'm living proof you can rise above an online disaster.
As Annmarie Chiarini said in one of the episodes she was profiled in, she lived in fear. Then she got angry! YES! That's the first step. Allow yourself to be angry -- you're entitled to be mad! When she reached her lowest point, she sincerely thought about ending her life. Thankfully she didn't - with the help and support of friends and family, she found her voice. She fought to change laws in her state and continues to be a voice of change online.
•The Internet is an amazing tool; don't confuse it with bad human behavior.
•Being a digital upstander is as important as being a good neighbor.
•Cyberwise Chat's on Blab.im are continuing education. Dr. Michele Borba joins them in June to discuss UnSelfie. Empathy is key to combat cruelty.
Related