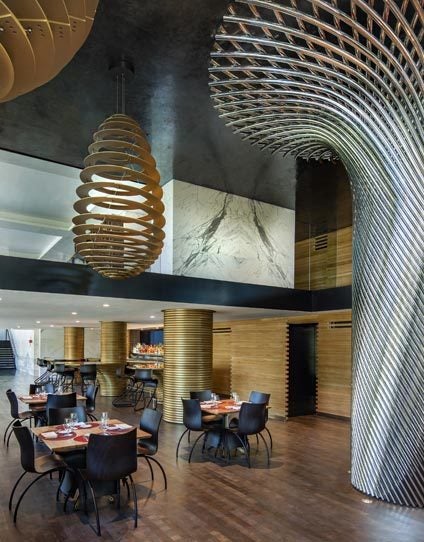 Kingbird Restaurant at The Watergate Hotel
I make annual visits to the Capital to check out what's new, re-configured and still as good as ever. Here's this year's report.
KINGBIRD The Watergate Hotel 2650 Virginia Avenue NW 202-827-1600
It had been a very long time—1986 to be exact—since I'd stepped foot into The Watergate Hotel, which at that time was home to the illustrious Jean-Louis restaurant headed, until 1996, by the late master chef Jean-Louis Palladin. For all those years since, the hotel never made much of an effort to come even close to that level of fine dining.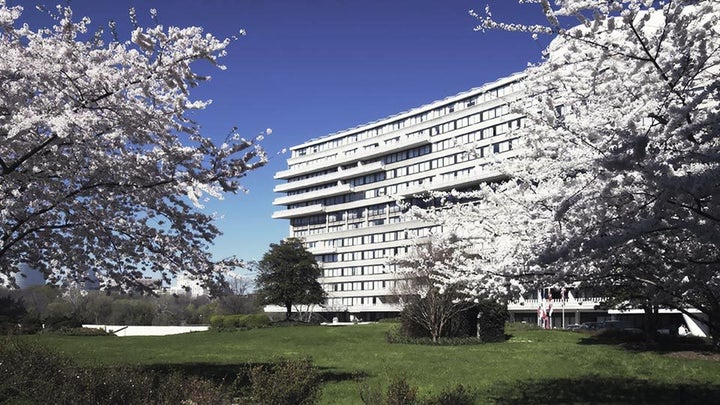 Fortunately, however, the new restaurant Kingbird, if not trying to serve haute cuisine, has, under Chef Michael Santoro, restored a good deal of luster to a property that has always had a troubled history going back to the Nixon days, when its very name became synonymous with political shenanigans, even to the point of pundits attaching "-Gate" to practically any scandal.
Even today the current management offers a tour of "The Room Where It Happened - Scandal Room 214," containing items from the era. After several ownership changes, the hotel, now owned by Euro Capital Properties, has kept its original brutish, toothy exterior by Luigi Moretti, has had an amazing transformation inside by Ron Arad. Today it has a futuristic spaceship look—more Forbidden Planet than Space Odyssey or Star Wars—done in many shades of white and gray and using Slinky toy-like chrome spirals from floor to ceiling as leitmotifs, beginning at the gleaming reception desk.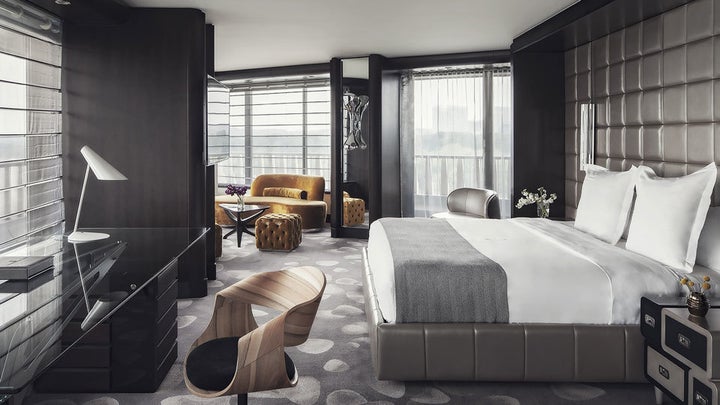 The very spacious bedrooms benefit from the sweeping curvature of the building overlooking the Potomac, and the décor of the rooms mirrors a minimalist look brightened by rich leather fabrics and plum-colored carpets.
The restaurant, which serves breakfast, lunch and dinner, uses the same motifs, with those soaring columns and hanging metal beehive lighting, and whose colors mimic that of the local kingbird. There is a glam bar on the way to the main dining room.
Executive Chef Michael Santoro (below), who had experience at the experimental restaurants The Fat Duck outside London and Mugaritz in Spain, then as chef de cuisine at the Blue Duck Tavern in D.C., is crafting a menu that seems highly personalized, with plenty that might be called sophisticated comfort food and much else that is artfully composed around the seasons.
At my recent meal I began with a very good warm heirloom tomato with sheep's milk ricotta, basil and candied olives ($16) and excellent Madai snapper crudo with a mosaic of avocado, radish and kalamansi ($20), whose textures were melded both sweetly and sensibly. Best of all was a warm summer tart of eggplant caponata and edible flowers ($13). That evening the seven-herb ravioli in an olive and capers sauce vierge and basil pesto ($15) had rather dry, chewy pasta dough and not much flavor.
For main courses, the Elysian Field saddle of lamb was a fine piece of meat, served in a Mediterranean style with smoked couscous, charred eggplant and cucumber variations ($48), every component complementary to boost flavors. A bouillabaisse for two ($104) was a lavish production but it didn't achieve what a simpler, ruddy and traditional bouillabaisse does when the broth itself is deeply flavored by the seafood.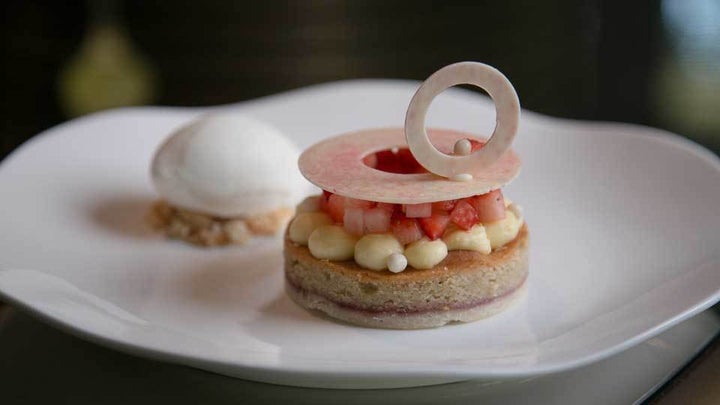 Barbecued veal cheek was lusciously rendered, with grilled binchotan fresh beans, pickled sea beans and tomato ($34), while an eight-ounce beef tenderloin with cabbage, Shiraz wine and maître d'hotel butter ($48) had all the classic complexity it should. For dessert there was a bountiful serving of ripe, sweet peaches and cream with vanilla ice cream and an enrichment of brown butter. The restaurant is very proud of its stacked-up milkshakes, which are hefty desserts but sheer fun.
Kingbird stocks an impressive wine cellar, with a good selection of bottles under $50 but way too many wines above $150.
With its décor, its bar and its serious menu and wine list, Kingbird has more than shattered its lackluster image as a mere hotel dining room and restored it to The Watergate. Now, with its outdoor terrace, panorama on the river and the city, and its shiny new look, there are plenty of reasons to dine well here.
RISTORANTE I RICCHI 1220 19th Street NW 202-835-0459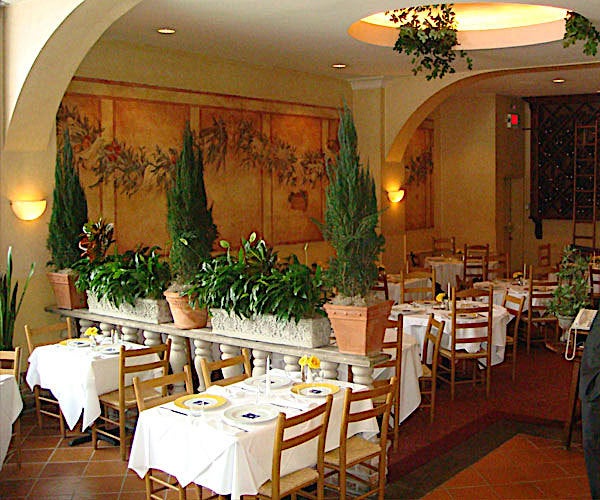 Now three decades in business, I Ricchi in Dupont Circle has never been better, and owner Christianne Ricchi will probably never be satisfied tightening, refining and tweaking the food and wine. The beautiful, rustic Tuscan décor with its terracotta floors and wood-burning hearth looks as inviting as ever, and Ricchi herself seems to know everyone at every table, as well she should, for her regulars, who are legion, are assured that no one in D.C. will take better care of them. No one in the business gets more of an earful of political gossip than Ricchi. In addition, she's been a champion of women in the culinary world and has the awards to prove it. Twenty-eight years ago Christianne (below) opened the restaurant with her husband, Francesco Ricchi, from whom she parted ways after 17 years. He now owns Cesco in Bethesda; she has full ownership of I Ricchi.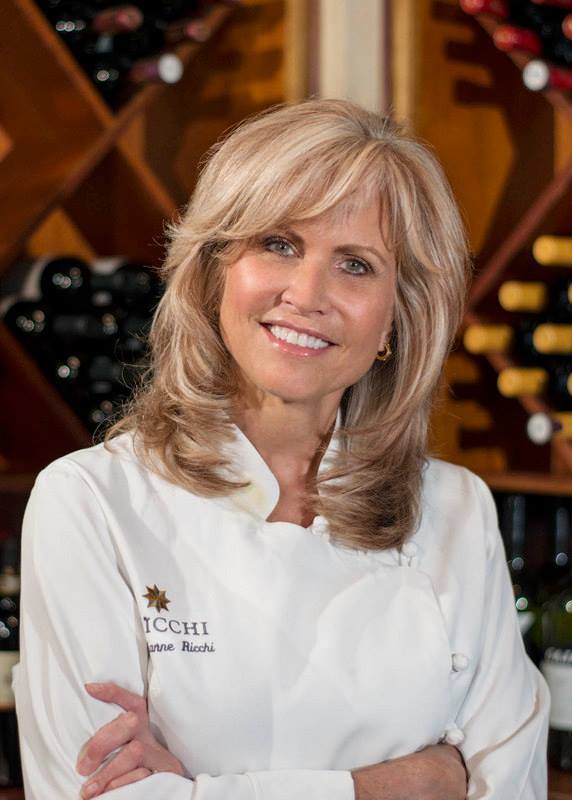 I had the good fortune to dine and reminisce with Christianne a few weeks ago, and we blew through a good portion of the menu, both its classics and its seasonal dishes. Thus, as antipasti we had grilled Mediterranean octopus with cucumber, tomato, arugula and balsamic vinegar ($18) and crisply fried, golden calamari with pomorola tomato dipping sauce, lemon and fried parsley ($16)—a very tough dish not to polish off, especially knowing what else was in the offing. I sampled three different pastas and a risotto, all impeccably cooked, like the rigatoni with a lustrous and deeply flavorful strasciate meat sauce cooked for 12 hours ($20 as a main course). Fat tortelloni stuffed with ricotta and spinach needed nothing more than a gloss of sage butter ($18), and the cavatelli shells made with squid ink, housemade fennel sausage, Gulf shrimp and roasted tomato ($26) was one of those rare pasta dishes involving squid ink—so often out of a bottle—that had the true freshness and taste of the sea in it. There is always a risotto of the day (market price); that night, late in summer, it was tenderly cooked with fresh corn, mascarpone cheese and a dash of fresh thyme.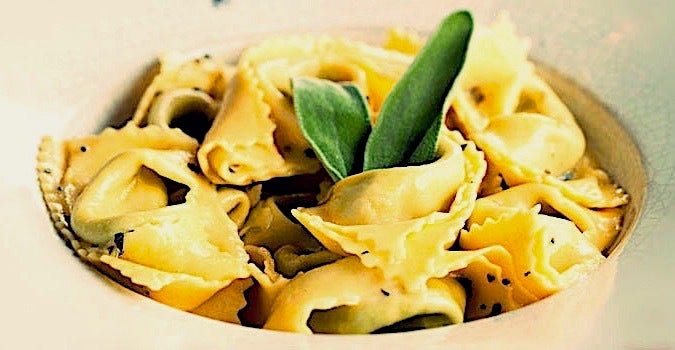 Largely, I Ricchi is a Tuscan ristorante and grill, so the kitchen does very well by dishes like orange marinated chicken with a rich balsamic reduction and roasted rosemary speckled potatoes ($29). And if you can't decide among meat dishes, go for the splendid mixed grill of marinated lamb chop, prosciutto-stuffed baby quail, Tuscan sausage on skewers and bay leaf scented crostini ($39).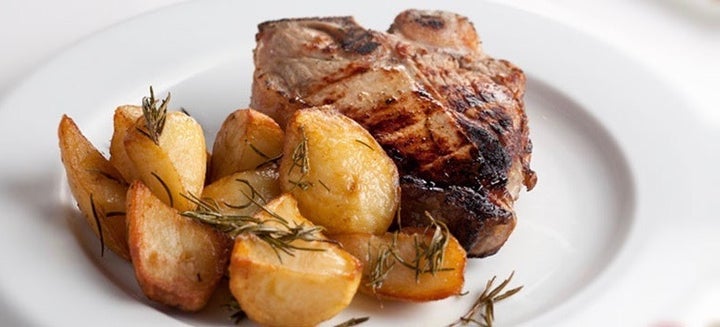 I wish I could say I just picked over dessert, but they were too wonderful not to gorge on—a chocolate meringue torta with whipped cream and frozen chocolate mousse; a walnut-crusted mascarpone cheese cake; and a semi-freddo with strawberry cream and vanilla gelato (all $9). The wine list at I Ricchi is, properly, wholly Italian, largely from small wineries whose owners are well known to Christianne. Prices are not unreasonably hiked up. I Ricchi is a celebratory place, and Washington could use something to celebrate these days. More important, it's a place anyone who loves Tuscan cuisine can go back to again and again and expect the same care, attention and quality every time. Having Christianne Ricchi there to welcome you adds immeasurably to the ambiance.
Popular in the Community