Four years ago I sat across my boyfriend in our New York City apartment and told him I was so sick and tired of living in the city that I needed to make a serious change in my life. "Maybe we should sell everything we own and travel the world now, before we have kids?" He asked me. Of course, I loved his idea; traveling has always been one of my greatest passions. But I just didn't think we would actually have the guts to do it. It turns out, I was wrong. We booked one way tickets to Portland the very next day, and couple weeks later left New York for good.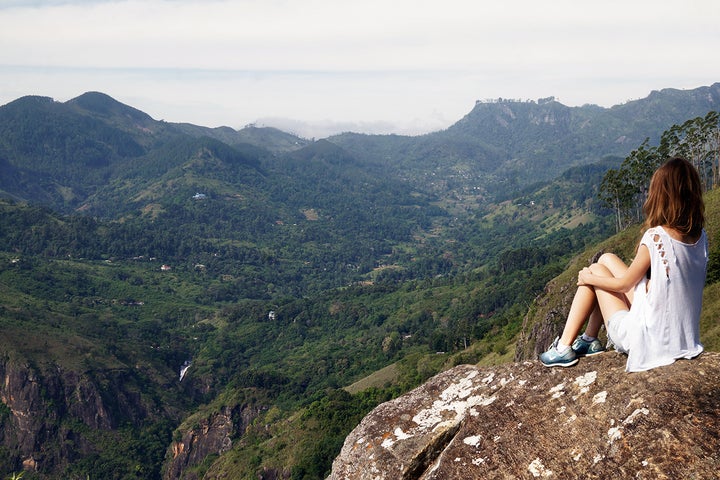 In the past four years we traveled to the world's most beautiful and exotic locations, from Machu Picchu in Peru to the Himalayas in Nepal, Wadi Rum desert in Jordan and Java island in Indonesia. So it's no surprise that "How do you afford to travel so much?" is a question I often get asked both in person and through my Instagram. Most people assume, that I am either living off a trust fund, or have saved tons of money before starting this adventure. But to be honest, we had no stream of income and very little money saved when we decided to travel the world. At that moment, I had no idea how the hell we could afford it, but I'm so glad that my fears didn't stop us from following our dream.
We traveled across the United States for almost a year and spent virtually nothing. We never paid for any accommodation during that time (though we always had a very nice ― and often quite luxurious ― place to stay) and spent very little money on transportation. We also were starting our own business at that time - yes, it is possible to work on the road ― and actually managed to save some money while traveling. I have written many posts regarding budget travel and recently released a "How To Travel On A Shoestring Budget" guide to inspire more people to step out of their comfort zone and pursuit a dream of traveling the world. I love to show people, that it is possible to travel the world with little money or even for free!
As for me, I got what I wanted. I'm now traveling the world six months a year and living in the tropics the rest of the time. Of course, it's not always perfect and like everyone else I have my bad days sometimes. But do I regret leaving New York or do I miss my life back then? No, I never do. Traveling has opened so many doors for me. I'm finally doing what I really love every single day of my life and I wouldn't have it any other way. I'm not saying that this lifestyle fits everyone. Traveling full-time is nothing like going on vacation, it requires a lot of work and a mind that is open to everything. But this is something you truly want to do, then don't let anything or anyone stop you. If I could do it, so can you!