Dominique Moceanu, a member of the 1996 gold-medal-winning US women's gymnastics team, received the biggest bombshell of her life as her father was dying -- and weeks before giving birth to her first child.
Moceanu received a letter in 2007 from Jen Bricker, saying that she was the Olympic gymnast's biological sister, ABC's 20/20 reported. Their parents, Bricker wrote, gave her up for adoption when they found out that she had no legs.
The news had been equally shocking to Bricker, who grew up idolizing Moceanu, the youngest member of the US Olympic-champion "Magnificent Seven." "I wouldn't shut up about her. Dominique!," said Bricker, who didn't know at the time that the champion was her sister. "I knew she was Romanian. I knew we looked alike. Her biggest fan!"
Amazingly, Bricker, now 24, is a gymnast herself. Having no legs didn't stop her from excelling in volleyball, basketball and softball in her youth. But, just like her sister, her passion is gymnastics. She even made it all the way to the Junior Olympics as a power tumbler.
When Bricker was 16, her parents -- an Illinois couple who adopted her as a baby -- revealed to her that the gymnast she had been idolizing was actually her older sister. Four years later, Bricker sent a letter to Moceanu.
Published in Moceanu's new memoir "Off Balance," the letter included photos and Bricker's adoptive papers. Bricker wrote to her sister: "I feel that I have one chance to show you and prove to you that I'm not some crazy person, but I'm sure after seeing all of the papers, you'll see that I'm serious," the New York Daily reports.
Moceanu, now 30, recounted to ABC her reaction to the letter, "It was the biggest bombshell of my life. Rage was my first emotion, had my life been a lie? I had this sister that was born who was given up for adoption, and I never knew it."
When she confronted her parents, they told her that Bricker was born the day after Moceanu's sixth birthday. Moceanu's mother, Camelia, said that her husband, Dmitry, forced her to give up the baby, saying that they couldn't afford the medical care that would be necessary.
"I never saw my baby. I never held her, never touched her, never even smelled her. I desperately wanted to, but your father told me we had to give her up and that was that," Camelia said.
Moceanu had had a tumultuous relationship for years with her parents, who had been athletes and put her in gymnastics at age three. At 17, Moceanu legally emancipated herself from her parents, whom she claimed had repressed her and squandered her fortune, the Daily Mail reports. She also had a restraining order against her father, who had stalked her and who she feared had hired someone to kill two of her close friends. They later reconciled and Dmitry walked Moceanu down the aisle at her 2006 wedding before he passed away in 2008.
The sisters now have a close bond and continue to marvel at their similarities. "The tones in our voices, our handwriting, the way we laugh and chuckle. It's mind-blowing," Moceanu told ABC.
Bricker enjoys a strong career as an acrobat and aerialist and has even toured the world with Britney Spears. Click through photos and videos of sisters Bricker and Moceanu.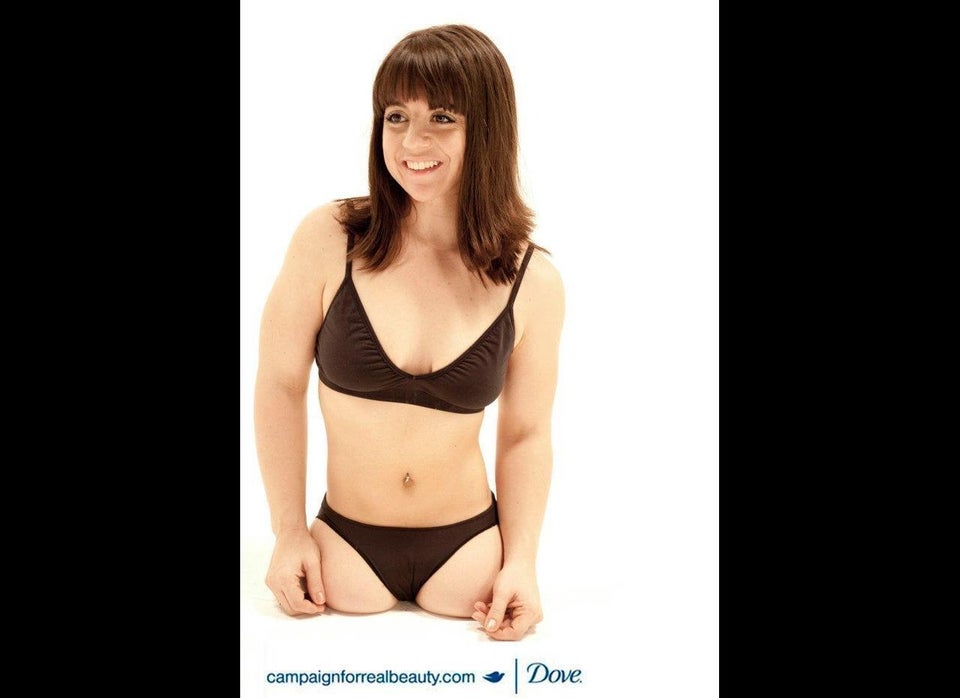 Dominique Moceanu & Jennifer Bricker
CORRECTION: A previous version of this article had incorrectly spelled Britney Spears' name. We apologize for the error.
Popular in the Community