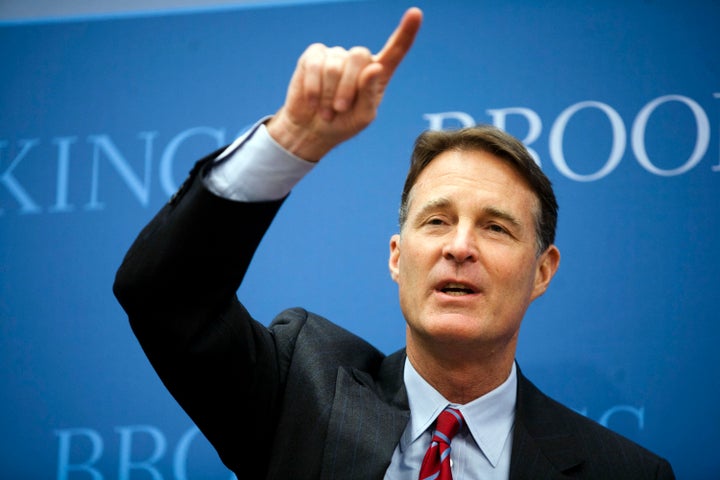 A new Monmouth University poll out Wednesday shows Republican nominee Donald Trump keeping a safe distance from Democratic nominee Hillary Clinton in Indiana ― something that shouldn't come as a surprise since 54 percent of the state's likely voters surveyed approve of the job Gov. Mike Pence, Trump's running mate, is doing in office.
Among likely voters, Trump leads Clinton 47-36 percent in a three-way race, with Libertarian candidate Gary Johnson securing 10 percent of the vote. Another 6 percent say they would vote for someone else or are unsure about who they would support in November.
"Pence is likely boosting the GOP ticket's prospects here, as Indiana voters really don't like either of the two presidential nominees," said Patrick Murray, director of the Monmouth University Polling Institute in the poll release. "In fact, their favorability ratings are among the lowest the Monmouth University Poll has found anywhere we've polled."
In this poll, only 33 percent of Indiana voters admitted to having a favorable view of Trump while 54 percent hold an unfavorable opinion of him. Clinton's ratings are slightly worse at 28 percent favorable and 62 percent unfavorable. 
But while the presidential race numbers might not be shocking, the races for both Senate and gubernatorial elections are a reason to take a closer look at Indiana this year.
There's good news for the Democrats in the Senate race. The new poll shows former Democratic Sen. Evan Bayh has a 7-point lead over Republican candidate Todd Young in the race to succeed retiring Republican Sen. Dan Coats. While Bayh takes 48 percent of those surveyed, Young claims 41 percent and Libertarian Lucy Brenton wins 4 percent. Another 7 percent are reportedly undecided.
After Bayh announced his intention to re-enter the political ring in July, Democratic nominee Baron Hill decided to drop out of the race, reportedly to give Democrats a better chance of winning the Senate seat up for grabs in November. Bayh served as governor of Indiana from 1989-1997 and spent two terms as an Indiana Senator between 1999 and 2011.
The Monmouth poll finds that 46 percent of likely Indiana voters have a favorable opinion of Bayh, while only 19 percent have an unfavorable opinion and 35 percent say they have no opinion.
Despite having represented Indiana's 9th District in the U.S. House of Representatives since 2011, Bayh's Republican challenger, Todd Young, seems to be less well-known than the former Senator. Only 29 percent report having a favorable opinion of Young and 15 percent say they have an unfavorable opinion of him. However, the majority of likely voters ― 55 percent ― say they have no opinion of Young.  
As Pence takes the stage with Trump, the race to fill his seat is closer than ever, according to the Monmouth poll. This most recent statewide poll, the third in a series of Monmouth surveys, shows Republican Lt. Gov. Eric Holcomb nearly tied with Democratic former legislator and 2012 gubernatorial candidate John Gregg. With Holcomb at 42 percent and Gregg at 41 percent, Libertarian Rex Bell takes 4 percent while 13 percent remain undecided.
The Monmouth University Poll was conducted from Aug. 13-16, 2016, and has a margin of error of +4.9  percent.
Calling all HuffPost superfans!
Sign up for membership to become a founding member and help shape HuffPost's next chapter
BEFORE YOU GO
PHOTO GALLERY
6 Reasons Mike Pence Is Terrible For LGBTQ People