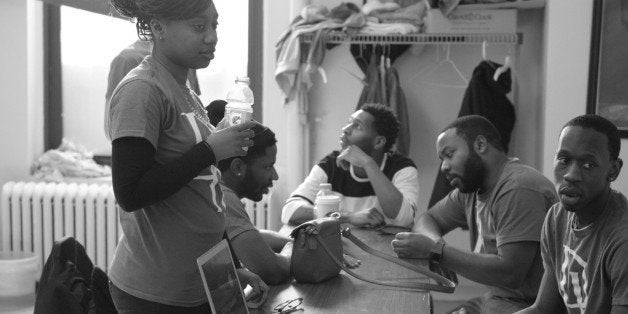 On a Tuesday late last month on Chicago's South Side, the staff of Donda's House, a unique artist development program for at-risk youth that was co-founded by Kanye West, gathered around a table to discuss an upcoming application period. They were ready to launch their young program's fourth semester.
Two days later, they — along with administrators of about 30 other youth employment and development programs across the state of Illinois — received an email informing them that the grants they'd been awarded through the Illinois Department of Human Services under previous Gov. Pat Quinn (D) had been completely nullified, effective immediately.
The funds -- about $8 million in total -- were gone. That includes $10,000 that was earmarked for Donda's House's spring semester through a grant for "out of school" initiatives at The Ark, a community center at St. Sabina Church where Donda's House programs are held. The letters from the state instructed organizations to "cease any and all operations" supported by the rescinded grants; a spokesman for incoming Gov. Bruce Rauner (R) blamed an "inherited budget hole" for the need to yank funding.
Donnie Smith, the executive director of Donda's House, was devastated -- and worried about funding for the rest of the year, too.
"This isn't like [a grant] that was supposed to be raised. Essentially the money was taken away and moved somewhere else and the agencies didn't receive a phone call, no meeting, no notice," Smith told The Huffington Post. "The contracts had been signed."
Undeterred, however, the group is moving forward with its application process for the spring semester. Last week, they launched an ambitious Indiegogo crowdfunding campaign -- the goal is $100,000 in 60 days -- aimed at replenishing the funding they were expecting from the state and securing future programming as well.
Donda's House's Indiegogo video for its crowdfunding campaign.
Smith was one of three co-founders of Donda's House, along with her Grammy-winning rapper husband Che "Rhymefest" Smith, who serves as the program's creative director. Rap superstar West, who was raised on Chicago's South Side, also helped found the organization and remains on its board of directors. It's named after his mother, Donda West.
Launched in August of 2013, the program accepts applications each semester from 14- to 24-year-olds in the immediate Chicago area who are interested in working in the arts, particularly the music industry. Each semester, they receive over 500 applications, almost entirely from low-income, minority youth, for what had been just 30 available spots in the program. Beginning last fall, they were able to expand their program to accept 60 applicants per semester thanks to a new partnership with the After School Matters initiative, but availability is still falling far short of demand.
The 12-week program — titled "Got Bars" — is intensive, meeting three times a week. The curriculum consists of classes in creative writing, studio recording and health and wellness. The program also demystifies how the music business works, such as how a song becomes available on iTunes or Spotify and how ASCAP licenses songs. It also offers a hands-on look at the industry through behind-the-scenes opportunities at concerts, such as the Dave Chapelle-headlined Aaah! Fest in Chicago and Jay-Z's Made in America festival in Philadelphia last year.
The program also brings in industry superstars like rapper Big Sean and producer No I.D. to speak with the students about how they found success.
Smith explained that the program aims to offer access similar to what's available to youth interested in athletics, who are sometimes scouted at high school sporting events and offered academic scholarships. Young people who are more creatively-oriented, she pointed out, don't have the same opportunities.
"The impact we're having is essentially creating that pipeline and that infrastructure for young people who are creative but don't have the resources to get them from point A to point B, point B being college, employment and any one of those things," Smith said.

K-Ron Harbin told HuffPost his favorite part of the program was bonding with fellow participants, who became like a second family to him.
The lessons in confidence and networking sunk in for 24-year-old K-Ron Harbin, who completed the program last spring.
Living in the suburb of Bellwood, Harbin commuted two hours via bus and train both ways to take part in classes, which he credits for convincing him not to give up his rap aspirations. Raised in a single-parent home with three siblings on the West Side of Chicago, he stayed in high school and graduated, then attended Southern Illinois University for three years before dropping out.
"A year ago, I was ready to quit, ready to hang it up, which is sad because it was the only thing I ever wanted to do, even in college," Harbin told HuffPost. "I didn't feel like a lot of the stuff we were doing [in college classes] fit me. Getting into the program gave me the extra boost and put the batteries in my pack. It took the world I was dreaming about and put it within my fingertips' reach. All of us have limited resources, but together we have a lot."
Harbin is currently working on an EP and a clothing business under his brand Dreamseekas, while he also holds down a job as a restaurant server to pay the bills.
As for Smith, she says she and her colleagues, none of whom work full-time on Donda's House, are "pulling out all our resources" to get the funding to launch the spring semester next month.
Their aspirations are, too, only limited by the question of funding. Some day, Smith would like to build a physical headquarters and expand the program to young people interested in film, fashion, acting and improv; they've already partnered with the famed Second City comedy troupe to offer workshops. Smith also wants to work with Big Sean, who was raised in Detroit, to start a similar program in the Motor City.
Such programs, Smith says, can have a lasting impact on the communities the program serves. And she notes they already have.
"We've been able to get young people who dropped out of high school re-enrolled. We've gotten young people to stop being involved in gangs. You name it, we've seen the positive impact," Smith said. "It's disappointing that the individuals who make those decisions don't have to deal directly with the consequences of those decisions."
The Illinois Department of Human Services did not immediately respond to The Huffington Post's request for comment.