written by Bekah Stallworth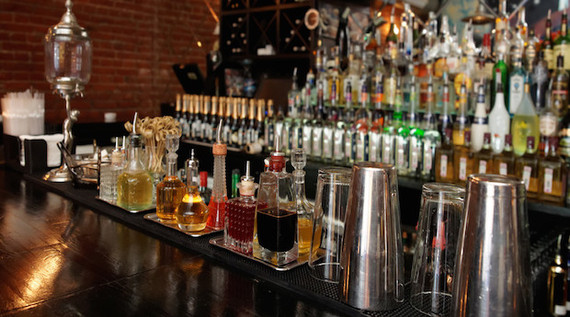 This week's cold front is an unfortunate signal that outdoor drinking season has officially come to an end. And as the temperature continues to drop, we'll inevitably find ourselves in a stretch of days (or, realistically, weeks) where it seems like the only thing to do -- besides Netflix -- is booze. But we know a few spots that offer more entertainment than just our friends Jack Daniels and Evan Williams.
Union Hall, Park Slope
With a functioning fireplace, plus two bocce courts and plenty of cozy seating, Union Hall more closely resembles a stately library than a bar in the heart of Park Slope. Plus, the stage downstairs serves as a venue for comedy shows, musical performances and DJ sets, making it the perfect place for marathon day drinking.
Royal Palms Shuffleboard Club, Gowanus
Leave it to a bar in Gowanus to make a geriatric game all the rage. At Royal Palm, you'll find mason jar cocktails, an ever-changing lineup of food trucks, like Snowday, Papaya King and Absolute Greek, and 10 shuffleboard courts. Oh, and wallpaper that'll transport you to your grandmother's house in Sarasota.
The Whiskey, Williamsburg
When the weather is miserable, The Whiskey in Williamsburg is the perfect place to escape to. Located underneath Mable's Smokehouse, the windowless cellar-turned-bar is outfitted with several arcade games (including skee ball) and two shuffleboard tables. Plus, they have two types of pickle backs. Need we say more?
Fat Cat, West Village
At Fat Cat, you'll not only find daily jazz performances, but 10 pool tables, 10 ping pong tables, three shuffleboard tables and three foosball tables. There's also checkers, chess, backgammon, Scrabble and plenty of inexpensive draft beer options--perfect for whiling away the many hours until spring arrives.
Beecher's Handmade Cheese, Flatiron
At this popular Flatiron cheese shop and restaurant, drinking becomes an educational experience. Here, you'll find classes that teach you how to pair Beecher's delicious, homemade selections with your favorite beers, whiskys and wines. There's even a mozzarella-making class, where you'll learn how to whip up your own mozz at home. Plus, the cozy cellar is perfect for grabbing a round (or two) after class.