Duesseldorf and Munich are among the most popular cities for expats around the world, attracting foreign nationals with a high quality of life and outstanding job opportunities
Melbourne, Houston, and Madrid top the list of the best cities to live abroad according to previously unreleased data from the third annual InterNations Expat Insider 2016 survey. With more than 14,000 respondents, it is one of the most extensive studies ever conducted to explore the general living situation of expatriates. The latest InterNations survey finds that the most popular German destination for foreign residents is Duesseldorf on 4th position of the global ranking, with Munich following closely on 7th rank. The least favorite German city among expats is Hamburg, which lands on a rather mediocre 19th position out of 35 cities ranked. Expats in Hamburg are especially unsatisfied with the weather, with 57 percent finding it unpleasant. In Munich, only three out of ten say the same (31 percent).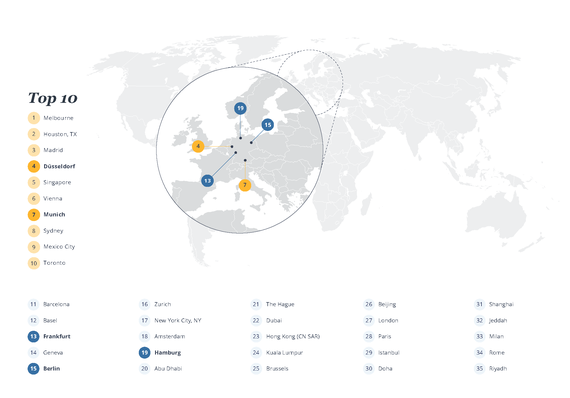 Frankfurt Number One for Working Abroad
Eight out of the ten most popular cities for working abroad are located in Germany, Austria, or Switzerland. The top 5 positions go to German cities Frankfurt, Duesseldorf, Munich, and Hamburg, with Melbourne on 4th position being the only exception to the rule. Frankfurt also ranks first for career opportunities while Duesseldorf comes in second for work-life-balance. Interestingly, satisfaction with the latter does not necessarily go hand in hand with actual working hours among expats in Germany: Foreign residents in Duesseldorf have the longest work week (44.1 hours) while expats from the other German cities featured in the survey work one or even two hours less. For those who are seeking a secure job, Munich is the place to go -- not only does it rank first for job security, but expats also consider it to be safe in general: an astounding 96 percent of foreign nationals living in Munich feel safe in their new home, which is about ten percentage points higher than among their counterparts in Hamburg, Berlin, and Frankfurt (87, 87, and 84 percent respectively).
Cheap Living in Berlin
Expats living on a tight budget do fairly well in Germany. Two out of the five most affordable cities for expatriates are located in Germany, with Berlin ranking first and Duesseldorf fourth worldwide. Frankfurt, Hamburg, and Munich have a rather mediocre rating in this category, with a 10th, 11th, and 14th place, respectively. While expats in Duesseldorf are also satisfied with their financial situation -- eight out of ten give it a positive rating -- expats living in Berlin do not quite agree. The German capital comes 23rd out of 35 cities in this index, following behind Frankfurt (15th), Munich (18th), and Hamburg (19th).
When asked whether their household income is more than enough to cover what they need in their daily life, expats in Duesseldorf express the highest degree of satisfaction, with 60 percent agreeing with this statement. Those who are less than pleased with this aspect of their life abroad are expats in Hamburg and Berlin, where only 35 and 37 percent, respectively, think their income is more than what they need. Munich, which has a reputation for being the most expensive city in Germany, actually does better here: almost half of the expats living there feel that they have more money than is necessary to afford everything they need (49 percent).
Germany -- Not for the Tender-Hearted
Whereas Germany is extremely popular for its career prospects, its local residents seem to be just as unpopular for their attitude towards foreign nationals. Of all German cities in the survey, Frankfurt ranks lowest for the ease of settling in and ends up on 30th place out of 35 cities overall. The only cities doing worse than Frankfurt in this index are Jeddah, Shanghai, Riyadh, Zurich, and Basel. Duesseldorf, on the other hand, is the only German destination to reach above-average results in the subcategories for Feeling Welcome and Friendliness, where it ranks 12th and 14th, respectively. Moreover, Berlin makes it to a solid 14th place for finding friends.
The category that German cities really lose out in, though, is language: five out of the ten worst cities in this subcategory of the Ease of Settling In Index are located in Germany, and another one in the German-speaking part of Switzerland. Only Shanghai and Beijing, where foreigners struggle to get by with their Chinese language skills, do worse. A closer look at the results reveals that a mere two to six percent of expats would completely agree that learning German (or Swiss German) is an easy task. At the same time, up to three out of ten respondents find it very difficult to get by in Germany without speaking the local language. Things seem to be worst in Hamburg, where 29 percent of survey participants agree with this statement, 12 percentage points more than in Berlin, Duesseldorf, Frankfurt, or Munich.
Related