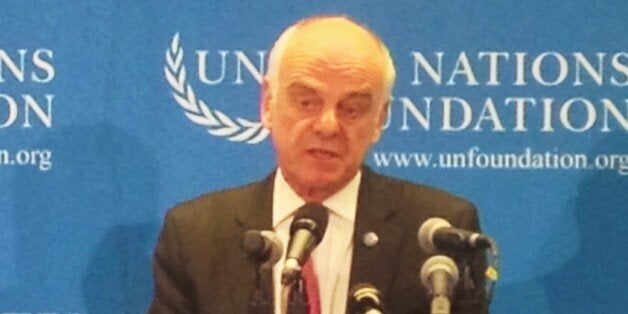 WASHINGTON -- The cost estimate to combat the Ebola outbreak ravaging West Africa has increased by $529 million since July 31 to $600 million, according to Dr. David Nabarro, the United Nations system coordinator for the dangerous epidemic.
"We are not in a position where we can afford to lose a day, because this outbreak is currently moving ahead of efforts to control it," Nabarro said.
Speaking at a Washington press conference on Wednesday, U.N. experts discussed the World Health Organization's Ebola response road map, released late last week. Nabarro also described a 12-point plan for containment, which Dr. Margaret Chan, director-general of the WHO, said could stop transmission of the virus in the next six to nine months.
The experts said that at least 3,500 cases have been confirmed in Guinea, Sierra Leone and Liberia and that a minimum of 1,900 people have succumbed to the deadly virus. The latest estimates show that more than 20,000 people could become infected before the current outbreak is stopped.
The outbreak is "the largest and most severe and most complex that we've ever seen in the nearly 40-year history of this disease," said Chan. "This is an international issue, a global threat, and that requires global coordination to get it done. ... We can and we will bring the Ebola epidemic under control."
The experts warned that international efforts to send health care workers and aid materials are being hampered by limited air access -- a result of multiple airlines canceling flights to affected countries and some neighboring states banning flights to and from those countries from entering their airspace. According to Dr. Keiji Fukuda, assistant director-general for health security at the WHO, approximately 200 to 250 health workers are needed to adequately care for each 80 cases of Ebola.
Meanwhile, the severe shortages of trained health workers, ambulances, supplies and hospital beds, as well as a lack of understanding about the disease, often leads those infected to stay at home, where they may spread Ebola to family members and local caregivers. "Many [of the infected] are unwilling to be identified as having an illness as there are no real benefits to that," Fukuda said.
Chan noted several times that the U.N. is working closely with the governments of the affected countries and their neighbors. Asked about the potential for an international military or peacekeeping intervention, she said, "I don't think any government in this world would accept a takeover by others. ... Would your country like to be taken over?"
According to Fukuda, some of the most important help currently being offered to the affected nations is coming from other African countries.
"We are seeking to ensure that all governments and professional groups with an interest in involvement not just in public health, but in the security of our world, own this issue as their problem," Nabarro said. "We're seeking to ensure that they commit to working to end the problem. This is really vital and it has to be done, as we have said, in a coordinated way. Otherwise, there is great danger."
Members of the scientific community will gather in Geneva on Thursday to evaluate potential Ebola therapies and vaccines.
Related
Popular in the Community