With the situation in Syria now the worst refugee crisis since World War II, it should come as no surprise that education for children in emergencies is a critical problem. More than 2.8 million Syrian children inside and outside Syria are currently out of school, putting them at greater risk for serious forms of exploitation like child labour and child marriage. But the educational crisis goes far beyond Syria, impacting millions of other children around the world who have also been forced out of school by emergencies. In fact, globally the state of education for children in emergency and crisis environments is much worse than even I initially imagined.
This week, A World at School released a new scorecard on education in emergencies, providing a quick outline of the educational situation in 28 countries in emergency situations and the growing funding gap exacerbating the education crisis. Our scorecard reveals that 80 million children and adolescents around the globe have had their education directly affected by emergencies and 37 million have been completely forced out of school. Syrian children make up only a portion of this enormous number, leaving more than 30 million others excluded from school due to less-visible crises.
I've said this before, but the new scorecard proves its worth repeating: despite the obviously immense need, education in emergencies is continually underfunded and under prioritised, receiving less than 2% of all humanitarian funding every year since 2010. Last year, only 12% of the children and youth in need of education were reached through humanitarian appeals, leaving millions living through crises without the life-saving benefits school can offer. And although the need for funding has grown year after year, rising 21% since 2010, donor funding has dropped 41% in the same period. We now have an annual $9 BILLION funding gap in humanitarian funding for education!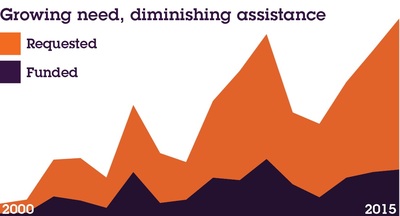 Funding for education in emergencies is also extremely uneven, leaving some countries - and too many children -- completely unsupported. 133 education appeals have been made since 2010, but just SIX received almost half of the total funding. Four of those were directly related to the crisis in Syria. The Democratic Republic of the Congo, for example, only got 13.6% of its requested education funds in 2015, reaching a mere 78,000 of the 3.2 million children and youth in need. Another four education appeals received absolutely zero funding this year, abandoning thousands of children to the dangerous alternatives to education. This is clearly unacceptable.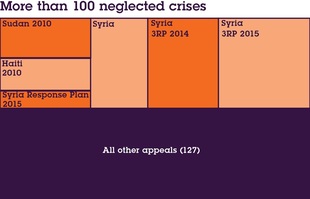 We know that education in emergencies is a life-saving measure for children both in the short and the long term, but this knowledge has so far failed to transform into sufficient action. If we ever hope to achieve the goal of universal quality education for all, we cannot afford to continue underfunding education appeals and ignoring millions of children in need. A World At School is now calling on the global leaders meeting at the World Humanitarian Summit in May to do three things:
Launch the new Common Platform for Education in Emergencies and Protracted Crises with an ambitious commitment of at least 2 billion and a plan to reach all children by 2030
Urgently publish the schedule and scale of donors' humanitarian commitments to education so countries can plan accordingly
Above all, prioritise education for children and youth in all emergency and conflict settings
These are not small tasks, but the state of education in emergencies demands urgent and ambitious action. The time to commit to providing education for children in all emergencies and protracted crises is now.
Calling all HuffPost superfans!
Sign up for membership to become a founding member and help shape HuffPost's next chapter