 We've got a problem on our hands. Or, as it were, between her legs: she, the lissome beauty whose lovemaking appears, at the moment, wholly unrequited. Dispensing with the dulcet moans, the brunette demands of her slumbering lover (as if he needed the introduction)...
"Hank?" ... "Hank!" Moody, that is. Aroused now, he's waxing poetic on, of all things, her nether regions. "Warm and cozy, inviting, capacious, yet accommodating; it's cheeky, but not impudent, you know what I'm saying? It's a lovely place to curl up inside."
So is Californication, returning tonight for its third season on Showtime. David Duchovny reprises the role of Moody, the bawdy, cocksure and terminally lovesick belletrist transplanted from his native New York to Venice Beach. When last we saw him, Hank and daughter Becca (Madeleine Martin) were bidding goodbye to Karen (Natasha McElhone), as she decamped to the East Coast. And bidding goodbye to the plot line that propels most of the series' action. In spite of everything that's been thrown our way—aborted marriages, statutory rapes, ménages à trois, prostitutes, pornographers, mistaken cunnilingus, ambiguous pregnancies, and pilfered novels, to hit the high points—a star-crossed love affair undergirds and animates the whole operation.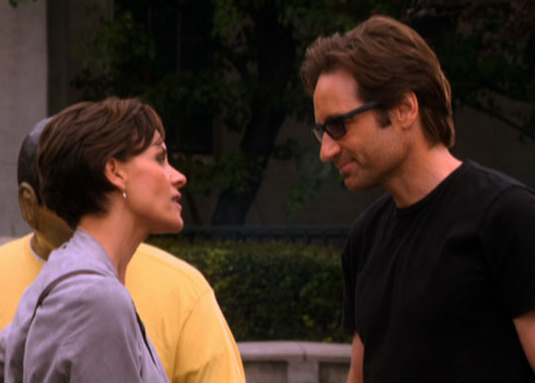 In Karen's place, an ensemble guest cast alights around Hank's latest soapbox. A lectern, actually. After a dinner invitation from English professor Felicia Koontz (In Treatment's Embeth Davidtz) goes awry, the local university is short a visiting lecturer. Felicia doesn't have to look far for another "bad boy novelist looking for a teaching gig," as she puts it. Enter Professor Moody. Dean Kootz (Peter Gallagher), Felicia's husband, is none too happy about the appointment. But another Josh Schwartz alumni, Ed Westwick, couldn't be happier. As Balt, a gay student with a thing for vampires, and a bigger thing for Hank Moody, Westwick is Chuck Bass without the trust fund, but with the same underlying frailties. And instead of Leighton Meister, he's got Eva Amurri—daughter of HuffPost blogger Susan Sarandon—student by day, and stripper by night. Rounding out this season's triad of love interests (Felicia, not Balt, being the first) is Dianne Farr, from CBS' Numb3rs, as Hank's teaching assistant.
Evan Handler (also a HuffPost blogger) and Pamela Adlon return as Hank's agent, Charlie Runkle, and wife Marcy. Last season saw Charlie ditch Marcy for a stripper, only to be dropped himself. Having fallen on hard times, Runkle is working on commission for a new boss, Sue Collini (the inimitable and vaguely androgynous Kathleen Turner). Even by Californication's crass standards, Sue's got a foul mouth, employed mostly in pursuit of Charlie. As she assures us, "Collini always gets the weenie." In the meantime, Charlie and Marcy can't find a buyer for their home, and so become reluctant housemates.
It's a steady lineup of distractions for Hank, not to mention a steady paycheck. But gone with the muse is Hank's inspiration. He's penned a new novel, but it won't sell. He's raising Becca alone, and she's smoking pot. He's a known quantity to Felicia—but only, as she says, because she Googled him. And on top of all that, Becca allows that "mom's certainly not keeping pure for" him in New York.
In spite of it all, this season's Hank is characteristically insouciant, upbeat even. Then, the surnominal pun never stood in for saturnine. All evidence to the contrary—the mangy black wardrobe, black and battered Porsche, black sense of humor—there's rarely a dark cloud over his head. Hank is moody because he swings. From love to lust, in an interminable game of pong. Hank and Karen are the gas in the narrative engine. Everything else is a monkey wrench.
That's a tenuous spot for this series. As an audience, we can suffer only so many diversions before Californication jumps the shark. And at the same time, only so many permutations before the love story rings hollow. In the first season, Karen admits she dug Hank because he bucked the trend. "Imagine my fucking disappointment," she says, "when you turned out to be the biggest cliché of all, sitting there Googling yourself."
Imagine Hank's—and our—disappointment at having to be Googled.
Popular in the Community