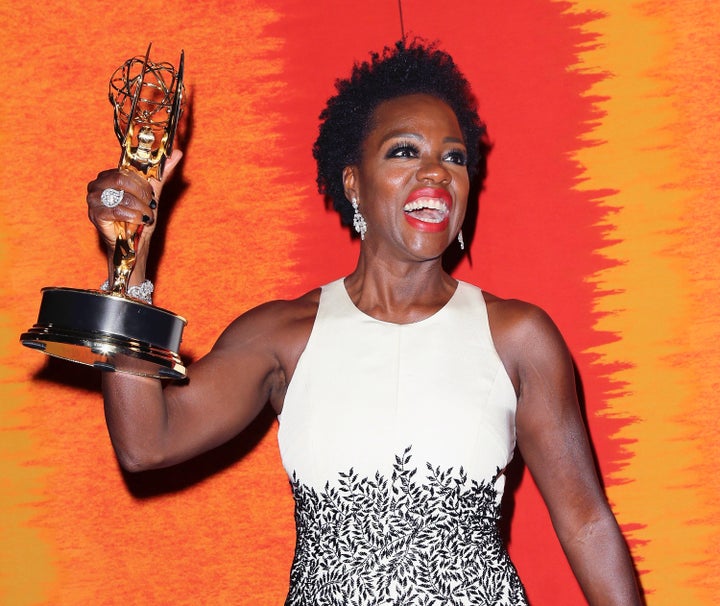 Last night's Emmy Awards show was full of amazing moments, but the moment was when Viola Davis took the stage to accept her Outstanding Lead Actress Drama award.
There were many things that made her win so profound. It was Davis's first Emmy win, ever (bringing her one step closer to EGOT status). But more importantly, Davis made history, becoming the first black woman to win a lead actress drama award at the Emmys. 
Davis's win was the culmination of an evening full of #BlackGirlMagic. It began on the red carpet, where black women like Laverne Cox, Angela Bassett, Danielle Brooks, Queen Latifah, Uzo Aduba, and Teyonah Parris slayed in floor-length gowns. It continued when Regina King shared a warm sisterly embrace with presenter Taraji P. Henson upon winning her supporting actress award, her first Emmy ever in the course of a stellar and underrated acting career that began on the 1985  sitcom "227." 
When Uzo Aduba won her Outstanding Supporting Actress Comedy award and said she loved her team because "you let me be me," that was black girl magic. When an Ava Duvernay-directed Apple music ad featuring Henson, Kerry Washington, and Mary J. Blige jamming to old school hits aired during commercial breaks, that was black girl magic. When Andy Samberg and Seth Meyers declared Shonda Rhimes the "Greatest Boss in the World," that was black girl magic. 
And then there was Viola Davis's acceptance speech, moving and powerful and unapologetic in a way only she could master. Before she even got to the stage, she shared a hug with Henson, the other black woman nominated in the lead actress category (two black woman being nominated in this category is unprecedented), and in their embrace was an obvious common understanding about the importance of the moment: The fact that it was so much bigger than them.  
In just a few brief, but eloquent words Davis was able to convey that importance. She used her moment and her platform to powerfully speak to the realities of being a black woman in Hollywood, sating, "The only thing that separates women of color from anyone else is opportunity. You cannot win an Emmy for a role that isn't there." 
But what made Davis's speech such an exuberant reflection of black sisterhood and solidarity was the fact that she also gave honor to not only "How to Get Away With Murder" creator Shonda Rhimes, but also all the black women on television who are changing what it means "to be beautiful, to be sexy, to be a leading woman, to be black." 
"And to the Taraji P Hensons and Kerry Washingtons, the Halle Berrys, the Nicole Beharies, the Meagan Goods, to Gabrielle Union. Thank you for taking us over that line." 
Davis's words were the catalyst for an avalanche of praise and solidarity from fellow black actresses and creators. As "Sleepy Hollow" star Nicole Beharie later pointed out on Twitter, Davis didn't have to mention the other black female leads on television in her speech. She could have made the moment solely about her own triumph, her own success. By including these other actresses, she was acknowledging a special, sacred sisterhood. 
Last night's Emmy's were a prime example of what support amongst black women looks like. Davis's words were not created to exclude (as actress Nancy Lee Grahn seemed to think), but simply to highlight the obstacles she and her fellow black actresses have faced while also celebrating the strides black women have made in television and film thus far. And yes, her words were a kind of magic, speaking into existence a future in which more women who look like her will also one day get the opportunity to stand on that stage.  
And, just a quick reminder:
Calling all HuffPost superfans!
Sign up for membership to become a founding member and help shape HuffPost's next chapter