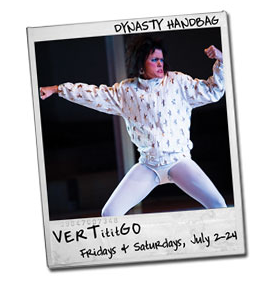 The hilarious and extraordinarily original performance artist Dynasty Handbag, a.k.a Jibz Cameron, has been steadily fulfilling her promise as a 2008 PAPER Beautiful Person. She performs often, in diverse music venues as well as performance spaces, and her fan base has grown. VERTititGO is her first full-length piece, commissioned by Dixon Place for their annual HOT! Festival. The show's press release describes her as "everyone's favorite schizophrenic nut ball." The schizophrenic part comes from the fact that she often plays with - and against - a pre-recorded, inner, second persona. The "nut ball" part is likely because of her unusual facial and body movements, or her song lyrics, or her sense of humor that can only be described as "out there." In this show, she plays a sleuth called Detective Bags and is hunting for a missing woman, or every woman, or maybe herself. I spoke recently with Jibz.
TOM MURRIN: First, can you explain the title?
JIBZ CAMERON: It's sort of like vertigo, but more like (said with a Scandinavian accent) "ver-did-it-go?" That kind of thing. I live with someone who has hilarious ESL, and she says things like ver-did-it-go?
TM: So you're a detective in this show?
JC: It's a mystery of sorts, but it's more about the mystery of looking for things. It's also about 'where did all the women go?' The women of my mother's generation. Where did their dreams go? A lot of them went crazy. Like they got married and never followed through with what their spirit wanted. However, also, the show is really ridiculous. It's not some heavy meditation on women. There are two parallel stories: looking for things, and how do we look for things; and the reality of the searching for something, thinking that you're going to fix things, almost like violently pursuing our answers.
TM: You play the detective.
JC: I also play the femme fatale, and the waitress with the broken dreams of Broadway. I play a phony hippie, a flower that's a masochist and a very nice gentle bear. The difference with this show is they are all Dynasty Handbag, all are versions of Dynasty Handbag, so all of them looked fucked up.
TM: Maybe you could explain that a little.
JC: Usually I perform as Dynasty Handbag, and I meet up with characters that are voices in my head. But in this show I get to perform as the characters as well.
TM: You'll do your usual audio recording thing won't you?
JC: Yes, but here I perform all the characters, and the detective is the audio recording. You will get to see the detective, but it's mostly not seeing the detective.
TM: Can I ask you: how do you rehearse these shows of yours? There's the audio recording, supposedly a character in your head, that you respond to with uncanny timing. At the same time you're doing a lot of strange face and body movements; it's like a dance, but a pretty crazy dance.
JC: Usually I sit down and I write and record and rehearse all at the same time. I can time things out really well in my head. Sometimes I'll record the whole dialogue between the voices, and then I'll edit out the voice that I'm going to perform. And when I do a sound piece I know I'm going to move around to, I imagine it in my head, and I can see the whole movement happening to the sound. Sometimes I get up and work it out on my feet, and go back and edit if the timing isn't quite right.
TM: You have a particularly goofy and physical sense of humor. I've been in audiences where some people get it immediately and laugh hysterically, and others, maybe seeing you for the first time, are confused. They laugh, but they laugh later.
JC: I think part of what makes performance exciting is anticipation. If you're familiar with a performer and their abilities or style or something, they can give you that, and you can get it. You can wait, and it makes you very happy when it comes. It's so satisfying, it doesn't get old.
TM: Who is someone like that for you?
JC: Whenever I see a John Waters movie, I know his jokes, his politics, his sense of what's funny. I know what he's saying and I love it. I know where he's coming from and I know his work.
TM: Yes, I understand. I have that same feeling when I go to his art gallery shows. It's a different medium but it's the same sensibility.
JC: He's so great. He always brings it. He's always in there.
Dixon Place, 161-A Chrystie St., (212) 219-0736, hotfestival.org, July 9, 10, 16, 17, 23, & 24, Fri. & Sat., 7:30 P.M., $10 (adv.), $15 (door).
Related
Popular in the Community