From tending the family's Thai grocery store -- the first in the United States -- to challenging Masaharu Morimoto on "Iron Chef America," Chef Jet Tila has become an integral part of LA's hot restaurant scene. He was appointed the inaugural Culinary Ambassador of Thai Cuisine by the Royal Thai Consul-General, Los Angeles, and recently partnered with iPic Theatres on a special Asian-inspired food and cocktail promotion for May, 2015 -- Spicy Tuna on Crispy Rice Cake and Tokyo Iced Tea, a jasmine tea-infused vodka, Balsam, riesling, honey-pineapple-yuzu-lychee salsa. (Get it before it runs out!)
If he's not traveling, consulting, or filming Food Network "Cutthroat Kitchen", the 39-year-old celebrity chef is likely at Stir Market, a restaurant/food hall he and executive chef Chris Barnett opened in LA in late 2014. This is the 10th installment of Growing Up and Doing Business With...
What kind of kid were you growing up?
Like a lot chefs, I was the black sheep. Got in trouble and had terrible grades but always learned a lot from school. I was a good kid at home but not the best.
What did you want to be? (Profession)
For a long time I wanted to join the police department and probably would have if the kitchen didn't pull me in!
Who were/are the major influences in your life?
Grandmother was my culinary influence. She was my first cooking instructor. My parents taught me work ethic and to be tough. Russ Parsons, editor of the LA Times food section, encouraged me to write. Marc Zammit with Bon Appetit Management. Barbara Hansen taught me how to write about food. Neal Fraser was my first restaurant chef. They all had a major hand in my career!
Tell me about why you started your own brand.
I knew cooking wasn't going to be enough. I knew as a brand I could diversify and find multiple revenue streams. I could be a restaurant. media, product, frozen food, & chef brand but still be me.
What were the most challenging aspects of going into business?
Learning all the aspects I didn't know. And learning that cooking was only 1/3 of the game, maybe half. I know had to write biz plans, pro formas, marketing plans, and learn the FOH. All those took time.
Who is/are your mentor/s? How have they helped you?
See above. But working at Wynn Las Vegas for 4 years was game changer. I now had mentors who were the top of there game! From Tim Poster and Tom Brietling to Mr. Wynn himself was amazing! It's such a dynamic environment that we could never fear immediate changes. We'd ID an opportunity, vet it, try the change and see results. Business happens at light speed. I also had immediate access to P.R., Marketing, Accounting, , H.R. & other world class chefs. It really felt like an equivalent to an MBA.
What qualities do you most admire in people?
Talent first and foremost. I've been fortunate to work with so many talented people in my day. Being humble is just as important. So I've tried to model myself after very talented humble people. I think the mind stays open when humble.
What skill do you wish you possessed?
The ability to more detail oriented. I feel I have a good macro-view in business. I can see all the moving parts and manage them and I am decent at strategy. But I really suck at the details.
What has been your greatest work achievement?
I still see it all as a work in process. I can talk about restaurants, concepts, world records or products but honestly I'm still very hungry and my best is still yet to come!
How do you find balance in your life?
My family is my #1 priority. And that gives me perspective which automatically makes me find the balance.
Where do you see yourself in 20 years?
Hopefully passing on my accomplishments to my kids and finally retiring. I'd like to teach when I retire and pass on what I've learned in life.
Twitter, Facebook, Pinterest, or Instagram?
All the above! But I'm trying to work my Pinterest page...I've been lagging!
This one! It's an amazing time in food, science, & life. I can't wait to see what the last half of the decade has in store!
Kale Chips or Potato Crisps?
L.A. I'll never live anywhere else!
What advice would you give to your younger self?
Dude, it'll all be ok....just keep doing what you are doing.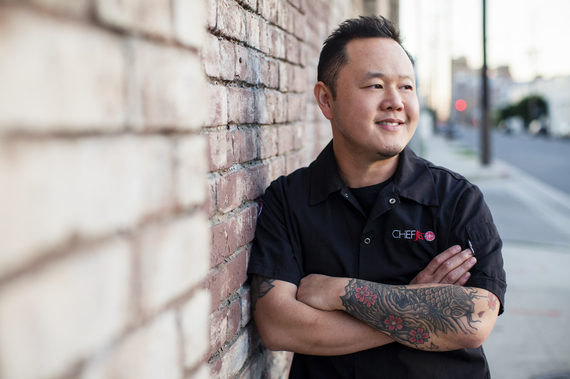 Popular in the Community