It was a sunny December day and we were posted up on the corner of Lafayette and Prince watching Meres One in action. In the midst of curious city crawlers and fans, Meres One was totally immersed within his zone as he slowly reached for his spray can. Every few minutes he paused, stepped back and viewed his art in progress from a fresh perspective.
Meres One is a graffiti legend, best known for creating and curating what used to be 5 Pointz, an outdoor museum located in Long Island City. Since its closing almost a year ago, Meres now works as a freelance artists who does everything from artwork in magazines to video shoots.
Global denim brand G-Star has partnered with 5Pointz artist Meres One to re-create the brand's name in the artist's signature wild-style tags across its flagship store's window located in Soho, NY. Starting December 9th, 2015 the mural will live on the store's window for one month, inspired by the stitching of our 3-D Elwood denim.
II had the chance to sit down with Meres and talk about the graffiti scene, life after 5 Pointz and G-Star! Check out the interview below.
KC: You have been in the graffiti scene since the age of 13...tell me about how you started and how that world has changed over time.
Meres One: I was always drawing and sketching and when i took notice of graff, around my house and school, it was a must do for me, I liked the thrill the risk taking and the never ending canvas which was NY at the time. Once I, started 5 pointz the thrill in the challenge became more in technique complexity and pushing myself , which is possible on a legal outlet where you are not pressed for time.
Meres One: As experienced as I am, I want to stay ever changing and ever experimenting. The excitement comes from the new visions, techniques and mediums.
KC: Can you walk us through your creative process?
Meres One: I'm old school in sketch the old fashion way with a pencil on a sketch book which Icarry everywhere. As much as I appreciate more advanced technology, I believe in the craft of pen and paper... ideas, notes and sketch influences all lay on that piece of paper and it builds from there.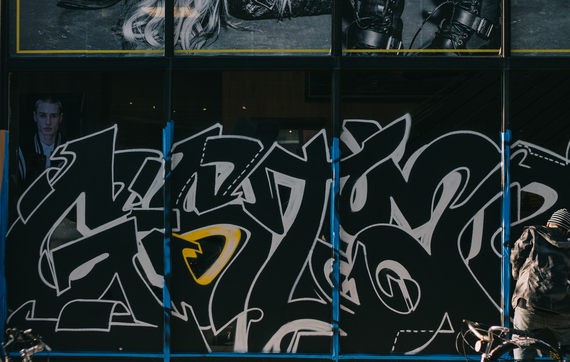 KC: Can you tell us about your signature lightbulbs? Why the lightbulb? What inspired that?
Meres One: Well, it seems like my bright idea! Lol, when I first started I wanted a character to execute and something that was distinct and visible. I came up with the bulb and they are reflection of my moods feelings state of mind.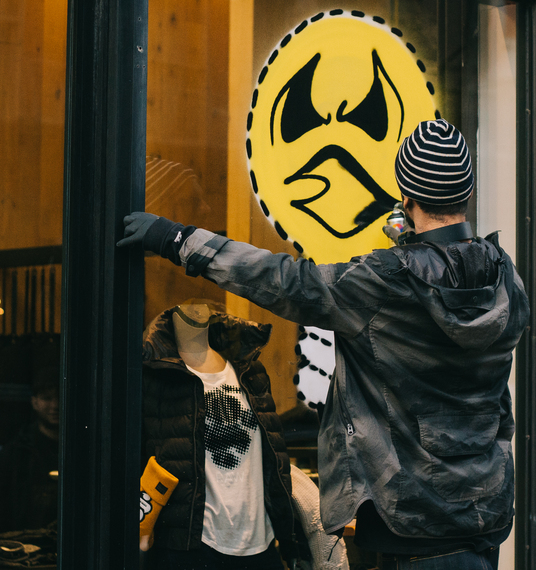 KC: As co-founder and curator of 5Pointz, how has life been since the closing of the "Graffiti Mecca?"
Meres One: At first I didn't know what to do with myself, 11 years at that building almost everyday... I'm adjusting fairly well and I enjoy having time to work on projects and not being rushed.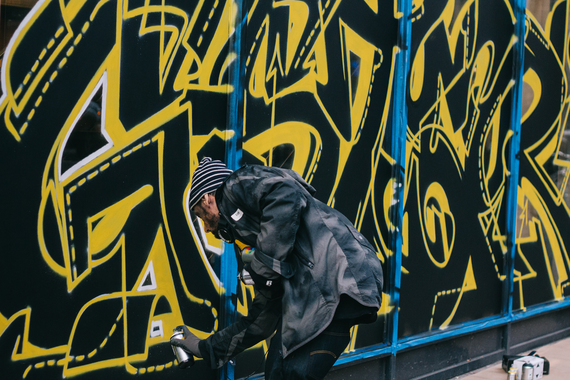 KC: If you could handpick one memory of 5pointz, what would that be?
Meres One: Faces for sure, the 80 year old grand mothers showing up and bugging out, to couples getting engaged or even married... the fans and their reaction and many ways to relate to the work.
KC: There seems to be so much synergy with you and G-Star. I love the connection with them being the first brand to create 3-D denim and your using the 3-D effect in you artwork. Tell us about partnering with G-Star?
Meres One: From the first email, to our creative meeting, it was easy and exciting... the stich and 3D elements echoed my work so well and I loved sketching and developing the concept.
As a brand I love their aesthetic but also the Raw For The Oceans initiative was such as unique way of giving back. So I guess we can say it seems a match made in heaven!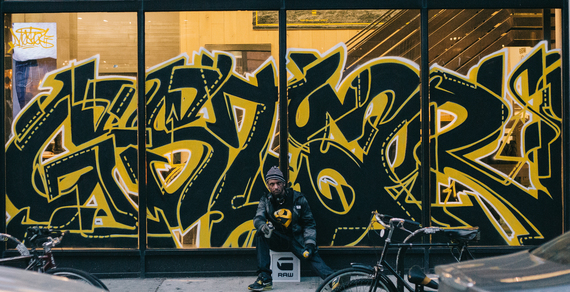 KC: How was it being able to graffiti freely in soho?
Meres One: It was amazing! Painting in such an iconic location, being given able to take my time, seeing so many familiar faces walking by, making new friends, meeting fans...It feels good to bring a little of the old NYC back. The old soho back on such iconic corner. I mean also super grateful that G-Star gets graffiti, and embraced my letters and style.
KC: What's next for Meres One?
Meres One: More projects with G-Star for sure..lol... Gallery shows in 2016, design project, and walls walls walls ... as long as I wake up every morning and get to do art, I am happy and blessed .