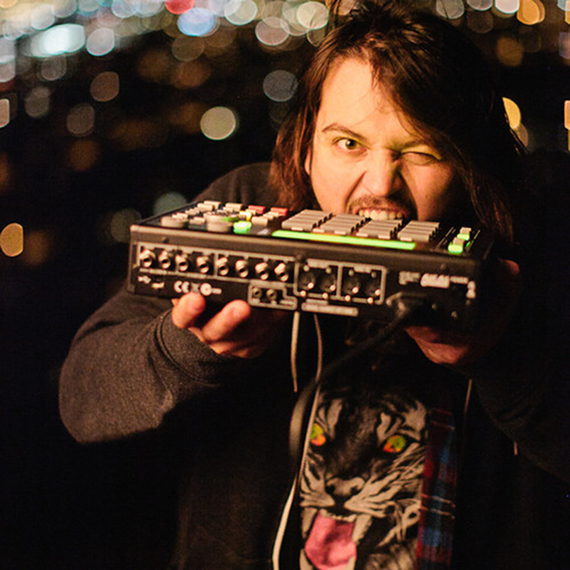 Electronic music is evolving from the soundtrack of a party to the soundtrack of a generation. Producer and DJ, Michal Menert, creates tracks that take you on a journey where a colorful story unfolds. His passion for music was passed to him from his father who played drums in a small Polish psych-rock band. Born in Poland but growing up in Colorado with Derek Vincent Smith of Pretty Lights, the two recognized their musical chemistry and have been creating ever since. There is no doubt that Michal Menert is bending genres, fusing elements of funk, trip hop, hip hop, soul and space jazz with his sparkling electronic beats. In this exclusive interview, we learn about Michal's goals, projects, record label, hobbies, and even his favorite color:
Morena: Your sonic landscapes tell a story. If your inspirations were the characters and you were the omniscient narrator, how would you tell this story?

Michal: I would send the characters on an emotional rollercoaster ride through misadventure, pushing them to the brink of giving up before bringing out the sun from behind the clouds.
Morena: Word of a Michal Menert Trio has been spreading. Who comprises this trio and how was this project formed?
Michal: The trio is comprised of AC Lao on drums, Marcelo Moxy on electric and synth bass, and myself on MPC and musical accompaniment. This trio evolved from my live shows with AC and my long standing friendship with Marcelo. It was a natural fit and feels great when we're together.
Morena: Your newest album Space Jazz is coming out in March of this year. What can we expect from this album?

Michal: A dense album with a lot of emotion and magic packed into it. I'm excited because it's the most I've ever evolved a set of songs, over the course of 2 years, adding and replacing pieces and building it as cohesive as I can.
Morena: What is your favorite shape and color right now?
Michal: Circle and neon grey.
Morena: You have become deeply immersed in the ever-growing festival community. Do you have any upcoming shows you are excited about? What is your favorite festival to play and are there any that you wish to play?

Michal: I'm very excited about Gem & Jam, and my run through Colorado in March playing intimate rooms. There's a handful of festivals I would love to be at, like Electric Forest, Sonic Bloom, and CounterPoint. In general I love festivals because of the opportunity to reach a new audience and pull them into my world.
Morena: Tell me about your label, Super Best Records. What are your goals for 2015?
Michal: My goals for this year are to continue the push into challenging territory, to build and overcome obstacles and have fun making music with friends. Super Best is set to have a great year of back to back great releases. I'm excited to build with the people I love.
Morena: Your meteoric musical success is taking you on a grand adventure. Aside from music, do you have any other hobbies, passions or fantasies?

Michal: I love painting, cooking, and biking. Great releases of frustration and stress that pair well with the long and winding path of working on a song.
Check out Michal's music and learn more about the brain behind the sounds:
REAL LIFE. REAL NEWS. REAL VOICES.
Help us tell more of the stories that matter from voices that too often remain unheard.