Considering that 75% of men shave every day, it's probably something that we should know how to do properly, right? But frequent shaver or not, if you haven't studied the craft, chances are there's still a lot that you can do to improve your technique.
That's why we've teamed-up with The Art of Shaving and their entertainment partner Kingsman: The Golden Circle to bring you the best tips and advice from a real Master Barber. We sent our bearded-friend Benjamin Powers, men's lifestyle writer and all-around smart dude, to The Art of Shaving to find out what makes a professional shaving experience stand apart. Even smart guys—and bearded guys—have a thing or two to learn about shaving from a pro.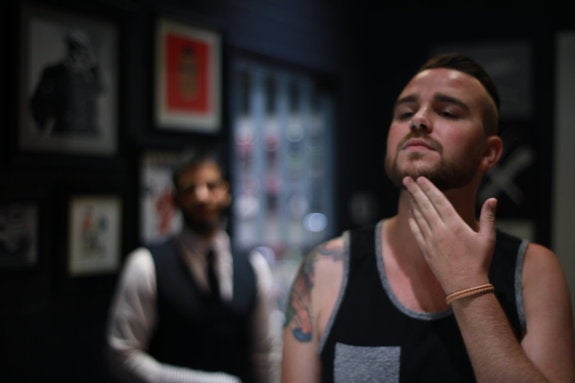 At best, shaving can feel like a nice way to clean yourself up in the morning; at worst, it can feel like a waste of time. Who is going to realize if you've gone a day without shaving, right? I have a beard so (occasionally) I edge my neck line and I (try to) edge the lines on my cheeks. Sometimes this effort is successful and sometimes it's not. But I never knew just how wrong (and scruffy) I looked until I consulted a Master Barber at The Art of Shaving. It was a shaving experience unlike any I'd had before.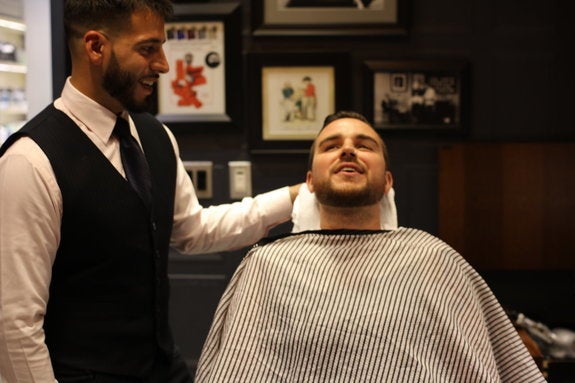 The softly-lit room in the rear of The Art of Shaving's store on the upper-west side of Manhattan recalled the old school feel of barbershops from bygone times with hand-carved chairs and Sinatra playing in the background. I sat down in John Rivera's barber's chair to talk to him about his trade while getting a shave.
Rivera says that he became a barber after suffering through a childhood with poor haircuts from his mom. Inspired by the difference of a professional haircut, his fascination with cutting hair led him on his path to becoming a Master Barber with The Art of Shaving.
"A Master Barber is not defined by their title, or passing a test," Rivera tells me. "Rather, they are defined by their daily devotion to the craft, fueled by the underlying theme of continual learning." A Master Barber develops skills beyond that of the traditional barber he says. They are all at once an unofficial therapist, a grooming specialist, and a host, among other things.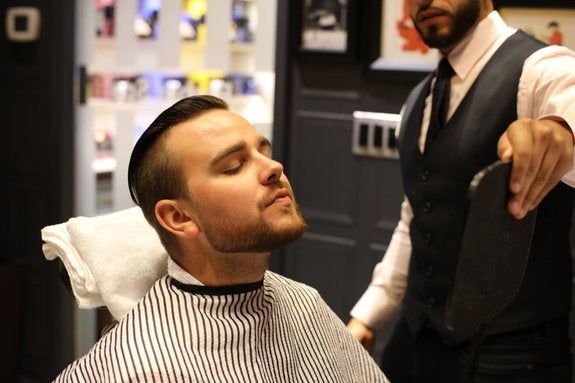 Before my shaving experience with Rivera, I didn't know how wrong my shaving habits had been. I was about to find out.
Our fast-paced culture can be a man's enemy when it comes to looking sharp. Like most people, I'm generally on the go, rushing from one place to another, and that frenetic pace can permeate our shaving habits, according to Rivera. "One of the biggest misconceptions is that shaving should be an on-the-go experience," he says. "As a result, it becomes rushed, and can cause damage to the skin." Cartridge razors can promote this behavior as well, which is why The Art of Shaving Master Barbers use a straight razor with a carefully weighted handle. Rivera believes a shave should be an experience that is enjoyed. It is critical to take one's time, something we often forget as we stumble out the door for a coffee.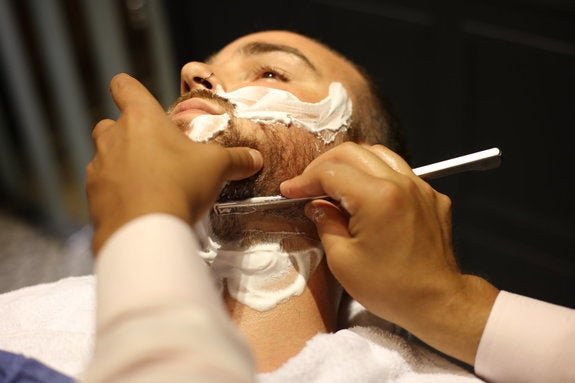 Another misconception of the layman, is that shaving consists of strokes going up and down. But, according to Rivera, on the first pass one should shave in the direction in which the hair grows. This serves multiple purposes because hair patterns are generally unpredictable. Ever notice that one part of your facial hair grows in a different way than another? This affects the quality of the shave, and may damage your skin or the hair if you start off shaving in the wrong direction. A first pass going in the direction the hair grows lets you get a better idea of where these problem areas might be to better address them with a second pass that goes against the grain.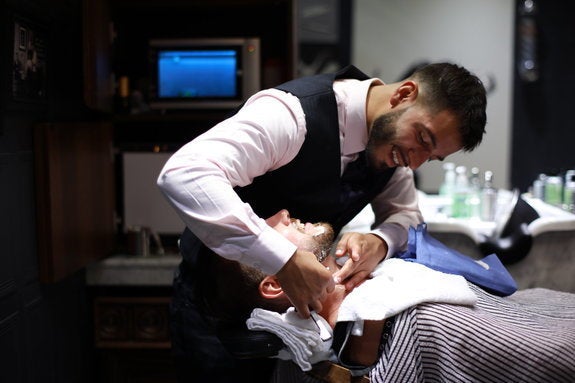 When it comes to shaving, and how to do it right, Rivera lays out six simple steps men should adhere to:
Soften the beard hair with either a hot towel or a hot shower (or immediately after one).
Prep the skin with pre-shave oil, and gently massage in an upward motion to discover the hair patterns.
Ideally, start with a fresh razor, to always have the smoothest glide possible.
Stretch the skin to create a smooth surface for the blade to pass over.
Apply shaving cream with a badger hair shaving brush for a rich foamy lather.
After the shave, always splash the face with cold water, and apply either an after shave balm or an SPF moisturizer, or both.
This allows you to get the closest shave, and one that's healthy for your skin and hair as well. Otherwise, well... we've all seen razor bumps and would prefer not to get them.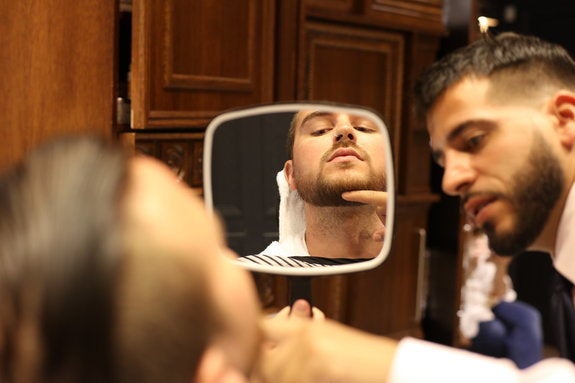 For those of you that have a beard, like me, things may work slightly differently. Always try to even out the denser areas of hair with the lighter areas, using a comb and clippers to make them similar lengths. Rivera also has a go to secret when it comes to shaving your neckline when you have a beard. "To indicate the line underneath the chin," he says, "measure it by one finger length." By this he means start your neckline about a fingers width length from the back of your chin, and then adjust accordingly based on your personal preference.
You may think that going for a professional shave when you have a beard is a waste of time, but men who have beards or facial hair can visit the Master Barber for guidance on creating the best shape and lines for your face. Once the Master Barber has mapped the appropriate edging, you can more easily follow the lines. No more crooked spots under your chin.
The shave took about 45 minutes, and included multiple hot towels with lemon and lavender essential oils, as well as an aftershave mask (yeah I didn't know it existed either, but it's' great), which helped remove toxins and dirt, amongst other things, from the pores.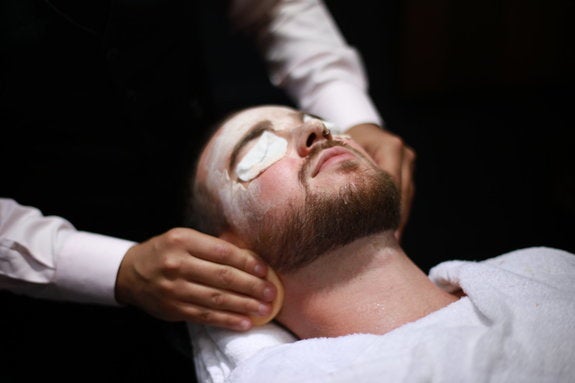 Regardless of how often or how long you've been shaving, it's high time that you did it right. Rivera recommends getting at least one shave from a Master Barber, who can line everything up and give you specific tips for your facial hair. His clients generally come back to him once a month for a serious shave treatment, and do maintenance in the interim.
I was certainly thankful for my experience in Rivera's chair. As Hemingway said, "There is nothing noble in being superior to your fellow man; true nobility is being superior to your former self."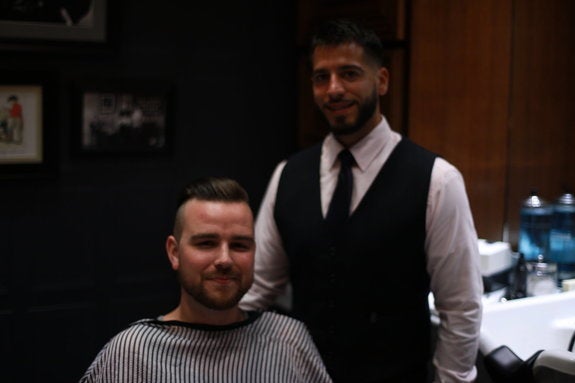 Using proper technique and tools can have a profound difference on your manscaping! If you want to make sure that you are getting your closest shave, it's a good idea to consult an expert. Visit the master barbers at The Art Of Shaving for best practices that you can take home.
And to help you take home the experience, The Art of Shaving is launching a limited-edition Kingsman: The Golden Circle Bourbon Shave Collection that features Bourbon Amber scented shaving products. Catch these luxurious shaving products launching in celebration of the upcoming release of Kingsman: The Golden Circle. The collection is well suited for the modern gentleman looking to elevate his grooming routine to a grooming ritual.