Any parent who has attempted to eat out with a kid knows what a challenge it can be ― especially when it comes to getting the kid to tell you what they want.
But one restaurant in Ocean City, Maryland, is proving it understands a child's mind better than the child based on its new kiddie menu.
Fager's Island's printed menu for the little ones translates their non-answers and cranky gripes into actual food items.
An "I don't know" response becomes a triple-layer peanut butter and jelly sandwich, while "I don't care" is a grilled peanut butter and banana sandwich.
The "What?" turns out to be a cheese quesadilla, while the "I don't want that" is an order of kids' fries.
Ironically, the "I'm not hungry" ― a basket of chicken tenders ― is the most expensive item on the kids menu.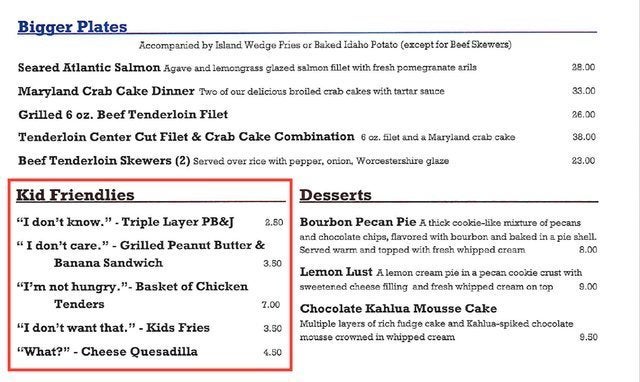 Fager's Island owner John Fager told Today.com the inspiration for the exceptionally insightful menu came from his daughter, Malorie, who has a 4-year-old girl.
It's possible he was also inspired by the Deli at Mansion Park in Altoona, Pennsylvania, which released a similar menu last year that included the "I Don't Know" (a hot dog with fries), the "I Don't Care" (chicken tenders with fries) and the "I Don't Want That" (fish sticks with fries).
Regardless, we just got a real craving for some "I'm not hungry."