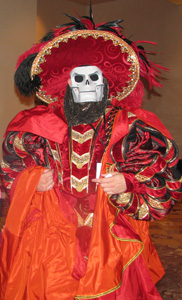 We've heard about the Deadheads who followed the Grateful Dead hither and yon. We've seen people line up for days before the opening of a new Star Wars film, before tickets to the World Series or Super Bowl go on sale or show up at a bookstore at midnight awaiting the release of a new book. If we've walked past the stage door of a theater after the curtain falls, we've probably seen throngs of people waiting for the star to emerge. Have you stood and waited, or traveled, yourself?
If the answer to any of these questions is "yes," then you are acquainted with the world of fans.
Fans come in all shapes and sizes, in all ages and from all backgrounds. There is, in short, no demographic profile of the "typical" fan because such an animal doesn't exist.
Now, here in Las Vegas fandom probably plays a significant part in the economy. People come to town just to bet on the big game. When Jimmy Buffet plays the MGM Grand Garden Arena, the hotel is wall-to-wall parrotheads in full plumage. Just as I know people from the east coast who travel to Ireland to see U2 and New Jersey to see Bruuuuuuce, when a major act plays here, their fans come, too. When there's a title fight here, the place is jammed. If a British fighter is on the card against an American, the UK fans turn out in force. They jam the local "British pubs" and have even been known to boo our national anthem.
Yes, there are lots of fans passing through Las Vegas. And, they can do some things the rest of us wouldn't do -- not because we don't have the nerve but because these things wouldn't occur to us. Take the guy in the photo above.
He calls himself "Phantom Fett" (he clearly likes Star Wars, too) and he was dressed here for the Masquerade Ball that was held at The Venetian to kick off Phantom Fan Week. People who love Phantom: The Las Vegas Spectacular and all the other Phantom incarnations over the years, came here last month from just about every corner of the world to celebrate the show. The gentleman in costume here -- dressed in a replica of the Phantom's costume for the big masquerade ball scene -- is from Nebraska. Even for a fan from relatively close by (it's 1,000 miles or so from Nebraska to Las Vegas) the trip can be pricey -- hotel, transport, food and that costume -- and of course the price goes up exponentially the farther away one has to travel.
Then there are the "Fanilows." These are Barry Manilow fans who will pay $1,000 for a front-row ticket to his show. They also get a meet-and-greet, photo with their star, a glass of champagne and the satisfaction of knowing that most of the money goes to his not-for-profit, the Manilow Fund for Health and Hope that supports grassroots educational and health care projects. And, last I checked, each fan is allowed one such ticket. Records are kept and no repeat buyers are allowed.
If you find yourself at an Engelbert Humperdinck show, you'll find yourself surrounded by people who have been fans and have been following "Enge" (or "Humpy"), as they call him, for 40+ years. You have the same at a Tony Bennett show or when you see any of the legacy acts that pass through Las Vegas. Here, as it is a major destination, one might find people from almost anywhere one can imagine at a show paying tribute to the entertainer they love.
Now, I'm a Tom Jones fan and I've gotten to know others who are each part of an eclectic group of women (and men) ranging in age from 18 to 80. There are some who have been buying Sir Tom Dom Perignon since way before he was a "Sir." Others have given him much more pricey gifts and, if you ask, they'll tell you they do it to "thank" him or "pay him back" for the years he's given on stage. (When Joe Calzaghe fights or Tom Jones sings, in fact, the city turns into a Welsh suburb, with flags waving and Welsh greetings and farewells being tossed around with abandon.)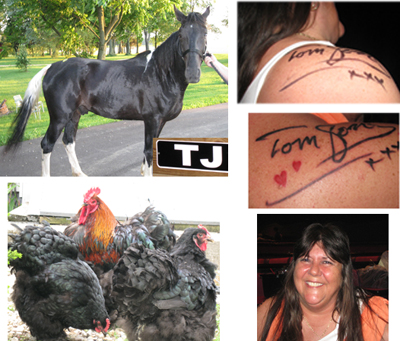 This brings us to the photo at left. That lady with the wonderful smile is named Portia. She lives on a farm in Indiana and is employed at a nearby prison. Clearly, she's a devoted Tom Jones fan. In August she asked him sign her shoulder and, as you can see in the inset at the top right of the picture, he did. The next day she went and had that signature tattooed. On the left of the photo is her horse. He's called "TJ" for short but his registered, or full, name is "Tom Jones Is A Real Stud." The late rooster, pictured below surrounded by admiring hens, was called Mr. Jones.
(For the record, Portia says her husband just smiles at her fandom. He even occasionally goes to a show with her.)
If you look it up in reference books there are all sorts of attempts to explain such extreme fans. There are also constant reminders that the very word "fan" is a short form of "fanatic." But under normal circumstances (when everyone behaves) that probably doesn't matter.
What does matter is:
1. The fan, in his or her element, is happy.
2. As long as things are kept under control in a non-threatening situation, the performer, or athlete, or team, must be happy that people care enough to be fans.
3. Here in Las Vegas even the economy wins. These days, that's an especially good thing.
Calling all HuffPost superfans!
Sign up for membership to become a founding member and help shape HuffPost's next chapter