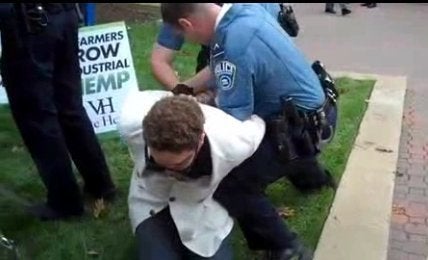 UPDATE: Scroll down for a video of the arrests.
A group of civilly-disobedient hemp farmers and business leaders were arrested Tuesday morning while digging up the lawn to plant industrial hemp seeds at the headquarters of the Drug Enforcement Administration.
David Bronner, the president of Dr. Bronner's Magic Soaps, a more than 60-year-old company that does tens of millions of dollars of business annually, was among those arrested.
Bronner buys the hemp used in his soaps from Canadian farmers. He was arrested outside the DEA museum, which shares space with the headquarters.
"Our kids are going to come to this museum and say, 'My God. Your generation was crazy. What the hell is wrong with you people?'" he said as Arlington County Police handcuffed him and walked him to a waiting car.
The group was arrested for trespassing.
A DEA spokeswoman referred comment to the Department of Justice "because they're the people who set the policy for drugs." A DOJ spokeswoman declined to comment.
Hemp, however, is not a drug and has no capacity to get someone stoned, the farmers pointed out. Wayne Hauge and Will Allen, farmers from North Dakota and Vermont respectively, brought shovels and seeds to the protest, where they were joined by representatives of Vote Hemp, which advocates for federal legislation that would allow states to craft their own hemp policies.
Currently eight states -- Hawaii, Kentucky, Maine, Maryland, Montana, North Dakota, Vermont, and West Virginia -- allow industrial hemp production or research, but federal law, which requires nearly-impossible-to-obtain-permits to grow hemp, trumps those state laws. A bill introduced by Rep. Ron Paul (R-Texas) and Rep. Barney Frank (D-Mass.) would allow states to craft their own policies.
Isaac Nichelson, head of LiViTY Outernatioanl, a hemp clothing company, was also planting seeds, telling the officers and a handful of reporters that he'd rather buy his raw material domestically than from China.
"Who's got a permit?" asked David Smith, DEA security supervisor, when he spotted the collection of farmers volunteering their agricultural services to his agency.
"As far as I know, we applied for the permit a long time ago," Nichelson told him.
The farmers asked the next DEA official to arrive if he knew the difference between hemp and marijuana.
He wasn't sure. "It's a cousin, right? Or is it an uncle?"
Hauge is one of two farmers licensed by the state of North Dakota to grow hemp, but he can't do so because of the federal ban. Mother Nature is apparently unaware of the federal restriction: Hemp grows wild through the United States.
President Reagan invested significant resources going after hemp, uprooting millions of plants of what it calls "ditchweed." Reagan's effort against ditchweed steadily increased and by 1989 the DEA was able to claim it had uprooted 120 million ditchweed plants. By 2001, that number reached half a billion.
The farmers argued that Instead of uprooting hemp, the government should allow American farmers to grow it, especially since American companies can already legally sell hemp products. "We've got a billion dollar industry we're sleeping on," said Hauge, who is suing the DEA for the right to raise hemp.
Hauge traces his interest in growing hemp back to the founding fathers, and one particularly famous hemp farmer. "The DEA would have arrested George Washington," he said.

UPDATE:
The Huffington Post has obtained a video of the arrests. The first protester collared - the one taken down pretty hard -- is Adam Eidinger, communications director for Vote Hemp, a hemp clothing store owner and a veteran arrestee. Next comes David Bronner, he of the magic soap. Then goes Will Allen, a Vermont organic farmer, followed by Isaac Nichelson, the hemp clothing company owner. Steve Levine, president of the Hemp Industries Association, is taken in last. Wayne Hauge, the North Dakota farmer, was also arrested but isn't in the video.

WATCH:
Support HuffPost
The Stakes Have Never Been Higher
Related
Popular in the Community