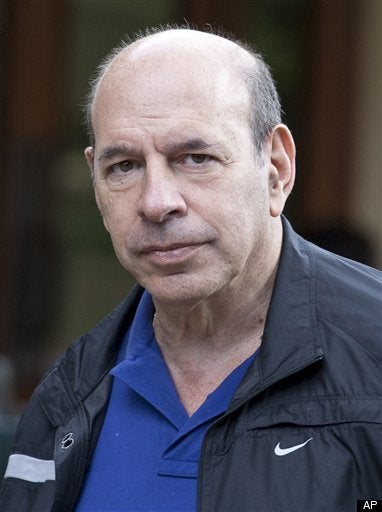 Kenneth I. Starr played a game of hide-and-go-seek with prosecutors Thursday morning. Accused of stealing $30 million from clients like Wesley Snipes, Sylvester Stallone, and Martin Scorsese, the financial adviser to the stars was found crouched behind coats in the closet of his Upper East side apartment and yanked out by his collar, according to the AP.
(This Kenneth Starr is not the prosecutor who investigated former President Bill Clinton.)
Mr. Starr, 65, had a number of hiding places to choose from in his $7.5 million condominium, which included 5 bedrooms, 6.5 baths and a 1,500 square foot garden on the main floor, says Dealbreaker. (Pictures of Starr's condo can be viewed here.)
Starr's alleged fraud is "characteristic of a Ponzi scheme," said Robert Beranger, a special agent for the Internal Revenue Service. The investment adviser illegally held clients' assets at the offices of Starr & Company in midtown Manhattan, reports Daily Finance, just blocks away from the old office of Bernard L. Madoff Investment Securities.
Much like Bernard L. Madoff, who is serving a 150-year sentence for bilking tens of billions of dollars from his closely knit network of clients, prosecutors say, Kenneth I. Starr of Manhattan cultivated business at charity events and lavish parties, bridging the worlds of New York and Hollywood to build a star-studded client list of socialites, financiers, philanthropists, A-list actors and Hall of Fame athletes.
Also charged is former president of the New York City Council and New York State assemblyman Andrew Stein, who regulators describe as an "associate" of Starr's. Stein allegedly used money from "shell corporations" funded by Starr's clients to pay for personal expenses like a summer home in the Hamptons. The Wall Street Journal notes, "For long time New Yorkers, the real celebrity in the SEC's fraud case against Kenneth I. Starr, an investment and tax adviser, is Andrew Stein."
Related
Popular in the Community