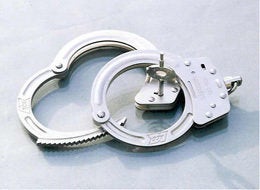 The Chicago Tribune reports that LaShanda Smith filed the lawsuit in Cook County Circuit Court on behalf of her son, who she claims was one of several 6 and-7-year olds excessively punished by a security guard at Carver Primary School on the South Side.
The school allegedly authorized on-campus security to discipline disruptive first graders, Fox Chicago reports. The children who were considered disruptive were then allegedly handcuffed for an hour and sent to an office, where they were told "they were going to prison and would never see their parents again," attorney Michael Carin told the Tribune.
"There appears to be no reason for an officer to isolate 6- and 7-year-old children, place them in handcuffs and threaten them for hours during a school day, or any other day," Carin wrote to the paper in an email.
The lawsuit is seeking more than $100,000 in damages from CPS and the Board of Education.
"Unfortunately, we had to file a lawsuit because the Chicago Board of Education ignored my client on the day of the imprisonment and every day thereafter," Carin continued, according to the Tribune. "We hope the Chicago Board of Education acknowledges its responsibility and resolves the matter quickly."
Read more about the alleged incident here.

Popular in the Community