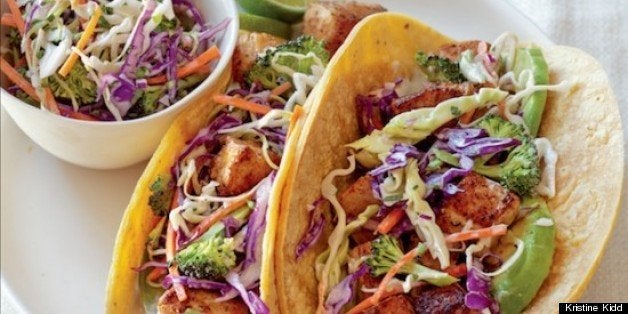 This is my gluten-free take on fish tacos: Spice-coated tuna sautéed until crisp on the outside but slightly pink inside, and a slaw made with sweet shredded broccoli, all topped with a creamy sauce spiked with fresh lime.
Prepared broccoli coleslaw, 4 cups(8 oz/250 g), about half of a 16 oz (500 g) bag
Red onion, 1⁄4 cup (11⁄2 oz/45 g) minced
Fresh cilantro, 1⁄4 cup (1⁄3 oz/10 g) minced
Fresh lime juice, 1 tablespoon plus 21⁄2 teaspoons
Serrano chile, 1, seeded and minced
Kosher salt and freshly ground black pepper
Gluten-free mayonnaise, 6 tablespoons (3 fl oz/90 ml)
Plain Greek-style yogurt, 6 tablespoons (3 oz/90 g)
Lime zest, 11⁄2 teaspoon finely grated
Albacore tuna, 1 lb (500 g), cut into 3⁄4-inch (2 cm) cubes
Ancho chile powder, 3⁄4 teaspoon
Ground cumin, 1⁄4 teaspoon
Ground coriander, 1⁄4 teaspoon
Olive oil, 2 tablespoons
Large avocado, 1, peeled and sliced
Gluten-free corn tortillas, 8-10 (51⁄2-6 inches/14-15 cm in diameter), heated
1.In a large bowl, combine the broccoli slaw, onion, cilantro, one tablespoon plus one teaspoon of the lime juice, and the minced serrano chile. Toss to combine. Season to taste with salt and black pepper. Let the slaw stand while preparing the sauce and fish.
2 In a small bowl, mix together the mayonnaise, yogurt, lime zest and the remaining 11⁄2 teaspoons lime juice. Mix a pinch of salt into the sauce.
3 In a medium bowl, mix the tuna cubes, chile powder, cumin and coriander. Sprinkle with salt and black pepper. In a large frying pan over medium-high heat, warm the oil. Add the fish and sauté until brown on the outside but still pink inside, about two minutes. Transfer the fish to a warmed bowl.
4 Set out on the table the fish, slaw, sauce, avocado and tortillas and allow diners to assemble their own tacos.
Related