Pizza chains try to outdo each with flavored pizza crusts and burgers could be in for a similar competition, this one involving flavored burger buns.
Wayback Burgers' latest LTO (available through year-end) is the Crispy Chicken Sriracha Sandwich that boasts chicken tenders topped with a creamy Sriracha sauce, sriracha grilled onions, pepper-Jack cheese, lettuce and tomato. Fire Fries dusted with sriracha seasoning accompany. But the notable difference is the burger bun, which the chain says has been infused with sriracha.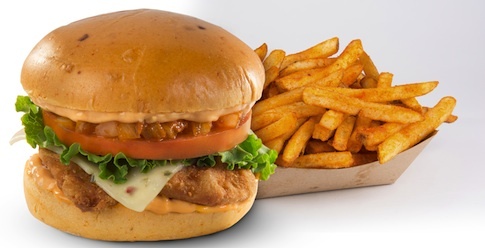 In a statement announcing the launch, Wayback Burgers President John Eucalitto said, "Our research has shown that America's palate is hungry for hot sauce and spicier foods. As we are always looking to add another dimension to our extensive menu boards, we decided to turn up the heat in a creative way with the first-ever sriracha-infused bun. We hope our guests are as fired up about these tasty additions as we are."
It's likely the first sriracha-infused bun but it arrives shortly after Burger King's A.1. Halloween Whopper with a black bun infused with A.1. Sauce. The question to be answered in the coming months is whether burger chains (and suppliers) will be able to resist the temptation to turn other sauces into bun flavorings. Who will have the first ranch-flavored bun?
Meanwhile the colored-bun craze in Asia continues with McDonald's new grey bun in China (below). Or is that cement?