Food Informants is a week-in-the-life series profiling fascinating people in the food world. We hope it will give you a first-hand look at the many different corners of the food industry. Know someone who would make a great Food Informant? Tell us why.
Gregory Hall, a craft brewer, is now at the helm of Virtue Brands, the new Chicago-based branch-to-bottle cider venture that uses Midwestern heirloom apples to produce a series of ciders. In his new role as ciderist, Hall hopes to bring craft cider to the level where craft beer is today in America in terms of quality, variety and accessibility to the consumer.

Known for his 20-year tenure as brewmaster at the Goose Island Beer Company, Hall began his brewing career in 1988, the year his father, John Hall, opened the brewery. Greg attended Chicago's brewing school, the Siebel Institute, graduating in 1989. In 1992, Hall become the brewmaster of Goose Island Beer Company and under his direction, the brewery flourished and expanded its draft and bottle beer lines. Hall stepped down as Brewmaster of Goose Island in May 2011 to pursue cider making. He maintains his ties to Goose Island as a consultant.
Greg Hall is a long-time supporter Chicago food community and many local organizations such as Slow Food Chicago, Chicago's Green City Market and the Chicago Rarities Orchard Project. He is an avid cyclist and currently resides in Chicago with his two children –- Sofie and Henry.
Read more about how Greg is growing his young cider business.
Monday, October 29
Roscoe Village, Chicago
6:00am: Alarm goes off, check email, and catch up on all my news sites NY Times, Slate, Huffpo(!), while eating goat yogurt with almonds and local honey (after reading about Greek Centarians in NYT), and drink Intelligentsia coffee.
7:00am: I have my kids on Mondays and Tuesdays. Wake them up (Sofie 13, Henry 11) and make breakfast -- smoothies -- and pack their lunches (something warm in a thermos) and shoo them off to AG Bell Chicago Public School.
10:00am: Walk downstairs to the office; I have a very short commute as my apartment is on the third floor of the same building as Virtue's headquarters. The dogs join me, Bella and Byron. Put on the first of many records for the day, Sonny Rollins or Charles Erland's Black Talk and begin day of meetings with the Virtue staff: Michelle Foik, GM of Sales & Marketing, Emilia Joucys, my assistant, Ryan Burke, Assistant Cider Maker and Stephen Schmakel, my business partner.
We spend the day planning events, getting updated on cider accounts, the construction of the cider house on our farm in Fennville, Michigan, finances, legal, etc. And of course, taste some cider.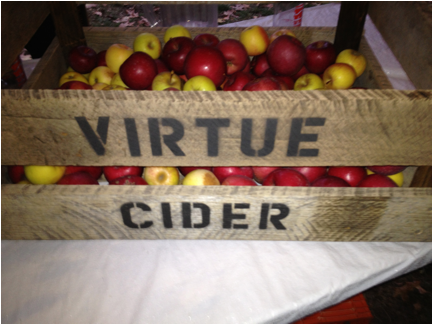 Tuesday, October 30
Roscoe Village, Chicago
8:00am: Ride my bike to the last Lincoln Square Farmer's Market of the season -- about two miles. I have close to 15 bikes. For this ride I choose the Civia Halsted -- it's my cargo bike that has a big basket. I pick up apples, carrots and potatoes for dinner.
10:00am: Meet with Michelle re: events. We do on average four events a week at bars and restaurants in Chicago to introduce our product to new drinkers.
10:30am: Quick meeting with Jeni's Splendid Ice Cream rep who picks up cider for their test kitchen. They reached out to us about making a flavor based on our first cider, RedStreak, an English-style dry.
12:00pm: Lunch at Publican Quality Meats, buy a 70-day dry aged-ribeye to cook with market veggies for dinner.
1:00pm: Meet with River North (our Chicago distributor) to review sales, and plan the Lapinette release. Lapinette is our second cider that we will release in December. It's a Norman-style cidre brut, aged in French oak barrels.
Wednesday, October 31
Roscoe Village, Chicago
7:00am: Get Halloween costumes ready -- Sofie is an 80's girl and Henry wears a Chucky mask.
8:30am: Kids head off to school. I have an office day. Lots of phone calls with our lawyers, bankers, apple brokers and farmers. Touch base with our contractor about the cider house in Michigan and QTS (our tank manufacturer) about the delivery of tanks. Give final approval on the Lapintte Tap Handle built by Heritage Bikes, a locally handcrafted bike company here in Chicago. The tap handle is awesome, it's fashioned from an aluminum bike head tube with our custom Lapinette head badge.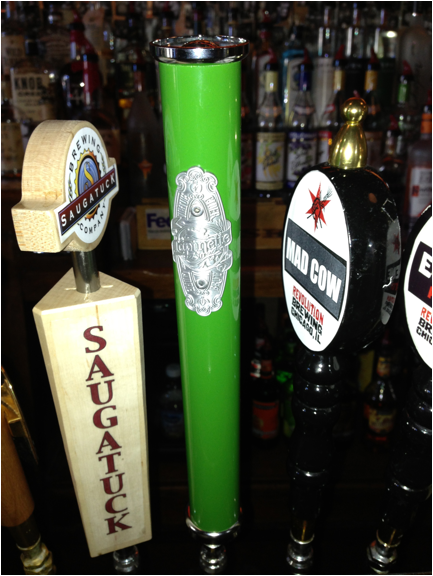 5:00pm: Meet with a potential investor at Shaw's Crabhouse for dinner. Eat oysters with Goose Island Sofie. Shaw's was the first Goose Island account in 1989. And Sofie was one of the beers we created when I was the brewmaster at Goose. It's a Belgian Saison -- it won a Silver Medal at the Great American Brew Festival in 2011. And it also happens to be named after my daughter. It looks like he's in for 100K, good dinner!
7:30pm: Start the two-hour drive to my house Fennville, Michigan which is also the location of the 43-acre farm and cider house we're building.
Thursday, November 1
Fennville, Michigan
9:00am: Nice day, ride bike (my Seven Axiom SL) to Virtue Farms, about five miles. I meet with our contractor, Mark Schrock. He also owns Salt of the Earth restaurant in Fennville, which is probably the best farm-to-table restaurant in SW Michigan. He is also a bluegrass musician -- a man of many talents.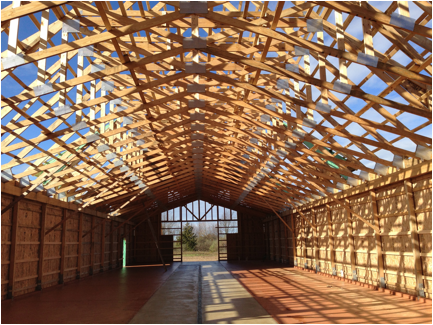 1:00pm: Meet with SBA banker at Huntington Bank in Holland, MI.
3:00pm: Stop by Velo Cycle in Holland and talk to owner about Virtue sponsoring a bike ride, decide on a couple of rides that go right by our farm, check out their selection of Salsa Fat bikes, discuss carving a fatbike course into the woods at Virtue Farm.
4:00pm: Beers at New Holland brewpub.
5:00pm: Order 2 beef and 1 pork freezer packs at Montello Meat Market in Holland, getting ready for winter (that's a couple hundred pounds of animal parts). Get 3 pounds of thick cut bacon, and 2 chickens for dinner.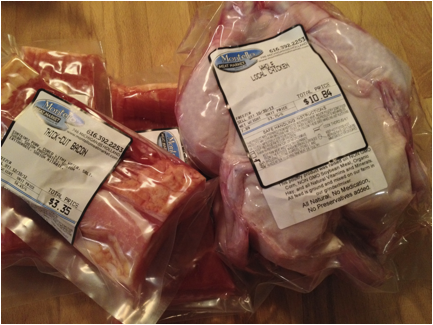 Friday, November 2
Fennville, Michigan
9:00am: Throw my Pugsley fat bike in the Xterra and drive to Virtue Farm to meet with contactors and ride Pugsley around farm.
11:00am: Bring Puglsey to Pier Cove, ride on beach.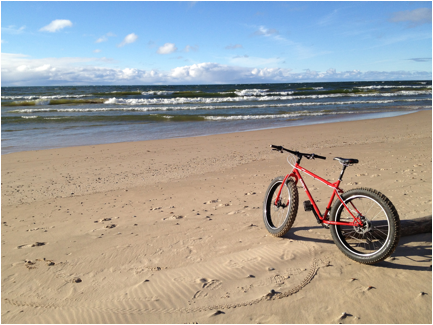 1:00pm: Meet with Fenn Valley winery about "Plan B" if we don't get our building completed in time to press apples and our TTB approval (Tax and Trade Bureau) to keg cider at our farm.
3:30pm: Meet with local apple farmer. We drive through his barren orchard and shake our collective heads in despair regarding the 2012 apple harvest. We make an agreement that Virtue will buy all apples from this 20 acre orchard in 2013.
4:30pm: Visit Fernwood farm (who makes our ceramic mugs), check on our Virtue Mug order. 150 will be ready next week.
6:00pm: Pre-birthday dinner (my bday is November 5th) at Salt of the Earth, drink Founders Breakfast stout, eat another ribeye, with Steve, Jimmy and Ryan, all of of Virtue.
10:00pm: Head back to my house in Fennville with the boys, drink cider, Ryan's homebrew, bottle of Bulliet Rye, more assorted bourbon, listen to music very loud on fancy hifi, including Pink Floyd's The Wall, complete. Not stoned, but still in awe. Did I mention it was very, very loud?
See more Food Informants below:
PHOTO GALLERY
Food Informants
REAL LIFE. REAL NEWS. REAL VOICES.
Help us tell more of the stories that matter from voices that too often remain unheard.