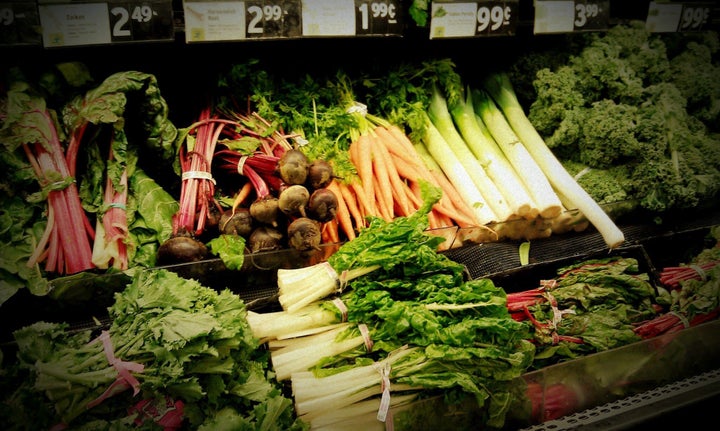 Gallup has released new poll results on how much Americans spend on food per week. The last time Gallup asked this question was 1987, in which the average amount spent per week on food was $108. Over 20 years later, that number has climbed to $151. To give some perspective, in 1943 an average of $15 was spent on food per week (not adjusted for inflation).
Interestingly enough, Americans used to spend more on food in the 1960s, with an all-time high at $234 in 1966 and 1967.
The chart below illustrates that spending does vary significantly among respondents, with eight percent of the respondents spending less than $50 per week on food and 10 percent spending $300 or more.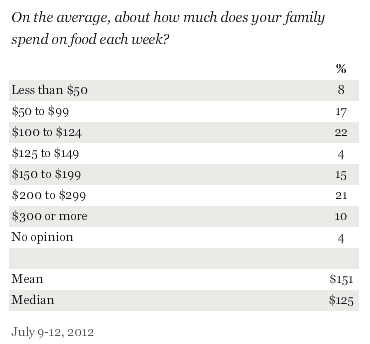 Gallup also found that 77 percent of Americans ate at home the day before the survey, 10 percent at a restaurant, six percent at someone else's home, two percent at work or school and one percent somewhere else. Four percent did not eat dinner.
So far, the company found that "concerns about food prices do not appear to be affecting consumer spending in general yet. However, spending may follow suit and take a hit in the near future."
The survey was conducted July 9-12, 2012, with a random sample of 1,014 adults, aged 18 and older, living in all 50 U.S. states and the District of Columbia. See the full results over at Gallup.com.
Related