For the past year, Food52.com readers have been voting in weekly showdowns of reader-submitted recipes on a given theme. The winning recipes of each week will end up in Food52's upcoming cookbook, along with bios of the people who submitted them (Food52 explains the process in simple detail here).
Food52 and its co-founders Amanda Hesser and Merrill Stubbs have invited HuffPost Food readers to vote on the contest for week 4 (of the second year, and the second book).
Week 4's showdown is for the best chicken wing recipe.
Check the finalists out below, and vote for your favorite here.
* * *
KFC: Korean Fried Chicken Wings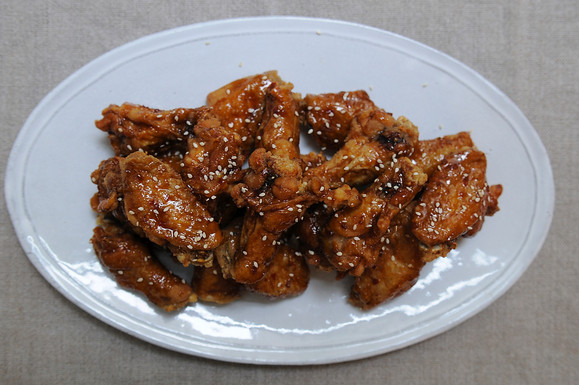 Photo: Melanie Einzig
Amanda and Merrill's notes on KFC: Korean Fried Chicken Wings on Food52.com:
Honeyed and fragrant with a fiery kick, ravenouscouple's chicken wings encapsulate the word "addictive." The ingenious combination of coating the wings in Wondra and then double-frying them renders the fat and then crisps the skin to the point that it essentially becomes a shell encasing the succulent meat. We're pleasantly reminded of the best version of General Tso's chicken we've ever had -- only better. Fry up a mess of these for your friends, and they'll love you forever. - A&M
View the KFC: Korean Fried Chicken Wings recipe here.
* * *
Dip Included Buffalo Wings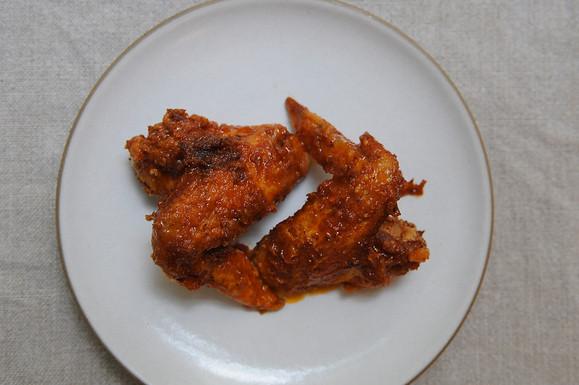 Photo: Melanie Einzig
Amanda and Merrill's notes on Dip Included Buffalo Wings on Food52.com:
Foodfighter, a Buffalo native, knows wings. When we said we were open to the best version of a traditional favorite, a recipe like this one was what we were driving at. The glaze -- butter, hot sauce, honey and a spritz of lemon -- is classic and perfectly proportioned, and the technique of smearing the wings with a blue cheese "dip" before coating them in flour and cornstarch is sheer brilliance. With every bite, you get tangy heat, a satisfying crunch, tender meat and a seductive hint of blue cheese. Trust us: even your non cheese-eating friends will happily tuck into these. - A&M
View the Dip Included Buffalo Wings recipe here.
Calling all HuffPost superfans!
Sign up for membership to become a founding member and help shape HuffPost's next chapter