When you put Dan Gilbert, founder and chairman of Quicken Loans and Rock Ventures and majority owner of the winning Cleveland Cavaliers basketball team, into a Forbes think tank exploring the complexities of attracting and retaining talent in the workforce and set this Forbes Reinventing America Summit in Detroit, you have set the bar, expectations, and even the irony very high.
Recruiting top talent is challenging in general. How is this accomplished in an area known for its urban blight?
Gilbert, a resident of Detroit and a featured businessman on the Forbes World's Billionaires list, is self-made. With monies earned delivering pizza, he founded Quicken, now the nation's second largest mortgage lender, and he currently presides over 12,500 Rock Ventures team members working in downtown Detroit. He is also known as the de facto CEO of Detroit, and his rules for attracting top talent to Detroit's workforce and retaining them are myriad. Gilbert has invested more than $1.6 billion to purchase and renovate 70 downtown Detroit commercial properties and champions the Detroit Blight Removal Force, the M-1 Rail, urban parks and festivals, hi-speed Internet, security measures, all of which are ramping up downtown livability and attempting to attract an elite workforce that might otherwise head to Silicon Valley or New York. He and his companies and philanthropic initiatives have built substantively on the vision of transforming Detroit into a premier 21st century metropolis. Ultimately, Gilbert is a businessman. He acknowledges that by doing well for Detroit, he is bolstering his businesses. "We call it doing well by doing good," he says.
And to the 400 participants at the Forbes Summit-- irony eradicated.
Mary Barra, Chief Executive Officer of General Motors, referring to herself as the "car guy," is a huge supporter of STEM (science , technology, engineering and math) and celebrates technical talent in educating and retaining a workforce. The day that she spoke to the Forbes Summit she had just come from celebrating GM's 500 millionth unit (auto). The daughter of an automotive die maker, whose youthfulness belies a 30-plus year career at GM "in practically every silo" beginning with Human Resources, has emerged as the car company's driving force and been in that seat following GM's positive emergence from bankruptcy. Indeed, Mary Barra is a product of a "trade school" education at General Motor's Institute (Kettering University) as a co-op student at Pontiac Motor Division. Barra sees the new workforce coming in and wanting to live in the city, stressing the importance of technology skills for the hiring process.
The importance of STEM was a sentiment echoed by Google's top human resources executive Laszlo Bock. "Take something quantitative because it will differentiate you in the labor market. A 'B' or 'C' grade in computer science or physics or calculus or anything--like it or not--is going to carry more weight with employers than an A in History," Bock said in his advice to young people wanting to enter the Google Workforce.
Steve Forbes, Chairman and Editor-in-Chief Forbes Media, interviewed Andrew N. Liveris and Gov. Rick Snyder of Michigan in a brilliant discussion on what it takes to make a great workforce. Liveris, Chairman and CEO of Dow, reminded the audience of business leaders and educators that "Dow is an Innovation company, not just a chemical company," and discussed his efforts to make science sexy. "It's really cool to be a nerd and an engineer." Dow employees, for example, bring in running shoes to schools to explain how they have discovered a new molecule that major shoe manufacturers are using to make lighter athletic shoes. Gov. Snyder criticized the U.S. Immigration policy for not guaranteeing a way for foreign graduates of American universities to stay and work in the country after graduation. "That's dumb," Snyder said. "They're job creators. The evidence shows that."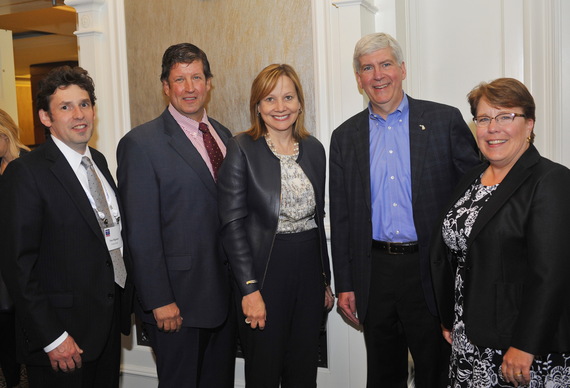 Dan Bigman, Managing Editor & Editorial Director, Forbes Reinventing America Project, Paul Noglows, Executive Producer, Forbes Reinventing America Project, Forbes Media, Mary Barra, Chief Executive Officer, General Motors, The Honorable Rick Snyder, Governor, State of Michigan, and Joann Muller, Detroit Bureau Chief, Forbes Media. Photo courtesy of Forbes
Paul Noglows, the executive producer of the Forbes Reinventing America Project, brought together all the ideas, personalities, innovations, corporate cultures, and solutions in an opinion-packed summit to a city that is convinced it is a new frontier. He managed to inspire, provoke, and dazzle Forbes' participating audience. And while it is getting more difficult to attend these popular conferences bent on bolstering the economic development of America's heartland and showcase the wealth of talent and innovation as persons of substance queue up to participate, it is well worth the effort to step into the pages of Forbes Magazine and dialogue with the featured game changers and newsmakers.
Related
Popular in the Community