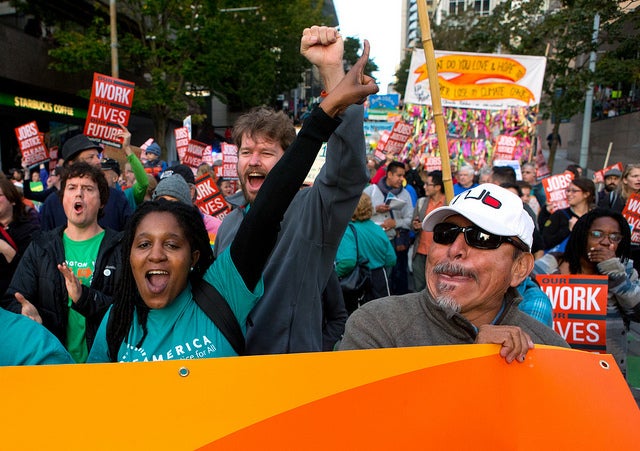 But here's the catch – Trump also opposes NAFTA. Does this mean that progressives and Trump share a surprisingly common vision for trade?
In fact, progressives and Trump form two opposing sides in a battle that's currently underway for the future of U.S. trade policy. The stakes are high, as resulting trade deals could impact everything from the wages we earn to the health of our families to the depth of the climate crisis.
There are actually three competing visions for the future of trade deals:
The corporate vision: more NAFTA deals that prioritize the profits of multinational corporations over the stability of our jobs, communities, and climate – under the guise of "free trade"
Trump's vision: replacing NAFTA with deals that prioritize the profits of U.S. corporations that Trump happens to like, including the Big Oil and Wall Street firms running his cabinet – under the guise of putting "America first"
Our people-centered vision: replacing NAFTA with an entirely new approach to trade that prioritizes the needs of people and our planet over corporate profits
Last year, a movement of millions, motivated by the people-centered vision for trade, defeated the Trans-Pacific Partnership (TPP) – an embodiment of the corporate vision. As the TPP's demise opened a trade policy vacuum, Trump stepped in to try and fill it. He claimed credit for the death of the TPP and promised an "America first" alternative that would benefit U.S. workers.
But thus far, Trump's "alternative" trade agenda looks more like an attempt to dust off the defunct TPP and wrap it in Trump-branded nationalist packaging. Trump's draft plan for renegotiating NAFTA recently emerged, revealing an intent to copy and paste many of the TPP's corporate handouts. Meanwhile, Trump has stocked his cabinet with billionaires from ExxonMobil and Goldman Sachs who are no friends to workers or the environment.
Currently the administration is divided on the path forward, with some of Trump's billionaire advisors pushing for trade deals that expand the corporate model of NAFTA and the TPP, while others push for a more isolationist approach that would boost the profits of a narrower set of the Trump administration's corporate insiders.
As the administration fights over which corporations will reap the benefits of Trump trade, the movement that defeated the TPP offers a fundamentally different alternative: rewriting trade as if people and our planet actually mattered more than corporations.
Stitched together, such proposals offer a people-centered vision for trade that will contrast sharply, in four ways, from any self-serving corporate agenda that emerges from Trump. All indications are that Trump's trade agenda will be:
With so much at stake, we cannot allow Trump to fill the post-TPP void with his backwards trade agenda. Now is our moment to build broad support for a new approach centered on people and planet. To that end, the Sierra Club is talking with communities across the country – asking what they want to see in a new trade model, refining our proposals, and building power across diverse constituencies that have common cause in seeking change.
Through such engagement, we can build a movement for a new trade agenda that's even broader and larger than the one that defeated the TPP. You can help by taking action today. If we do our work, when Trump and his self-serving corporate trade vision are gone, our people-powered vision will be ready to go.
Related
Popular in the Community