When my husband was diagnosed with Stage IV recurrent colon cancer, a dear friend told me about this amazing place for people affected by cancer. "Harmony Hill. It's in the lush forests of Washington," she said. "You can go together; caregiver and patient. They give you full support for the things you're dealing with in your cancer battle by means of meditation, conversation, compassion, healthy meals and a view of Hood Canal that will flood you with tranquility. And it's free." "It's what?" I said stunned, as I'd believed this kind of generosity was extinct in the modern world. "Yes. It's free. They are a non profit organization and they provide this for free because they know that families affected by cancer have so many stresses, they want this to be one place that only lessens stress, it doesn't add to it."

I asked Dan if he wanted to go, but he didn't. He's not much of a groupie. The environment sounded good, and the price was right up his 99-cent store alley, but he didn't seek the counsel or the community of other cancer patients. His temple was the wilderness and its solitude gave him comfort. I, on the other hand, find peace in conversation and a common bond. I learn so much from the wisdom and experience of others. I filed the information away.
The day after my husband died, I attempted to cope by staying busy. I started planning the memorial and dealing with the myriad of logistics. I wondered if this retreat center would have a workshop to support me in my new and extraordinary grief. They did. It was to start 15 days from when I called. They had space. I wondered if it was too soon for me to go, if my loss was too fresh. They assured me that if I had the inkling that I was ready, they would be ready to hold my hand and guide me in whatever way I needed. My need was great. And don't forget, they don't stand to profit from my pain. This is altruism. I booked a flight.
The days just after Dan's death streamed by in a river of blur. Countless people reached out to me to mourn, to offer help, cry their sorrows on my shoulder, and bring food. The memorial was a fitting tribute, and both wonderful and painful. I wrapped myself in Dan's sweaters and grieved in those few moments when I could be alone. It was heart shattering. But then it was time to board the plane and go to Harmony Hill, this sanctuary of care.
From the moment I set foot in the great lodge, I felt like a cradled soul. The counselors and house Moms took my symbolic hand and led me. Over the course of three days, I joined with other people who had lost their spouses. (There was another group who grieved the loss of a parent, sibling or child.) We were a ragged group, who after months, years, or (in my case) weeks, could barely hold our heads above our necks. Such loss can make you want to roll up into a ball, shut away all joy and weep and weep for days. This place had Kleenex by every blanket-strewn chair. With a warm and wise facilitator prompting us to tell our stories, and to accept all manner of feeling, we grew both bolder and more passionate. The common thread we found, the ribbon of our shared experience, wove our individual loss into a carpet of universality. Our sorrow bonded us. And with the acceptance and the commonality we were able to take steps toward healing. The retreat center truly gifted us all with a feeling of renewed hope for how we could move forward. By honoring the depth of our shared loss, we shored each other up. No diminishment of pain but a collective embrace to carry us on.
There is a little rainbow in the dark cloud of loss. It's called Harmony Hill.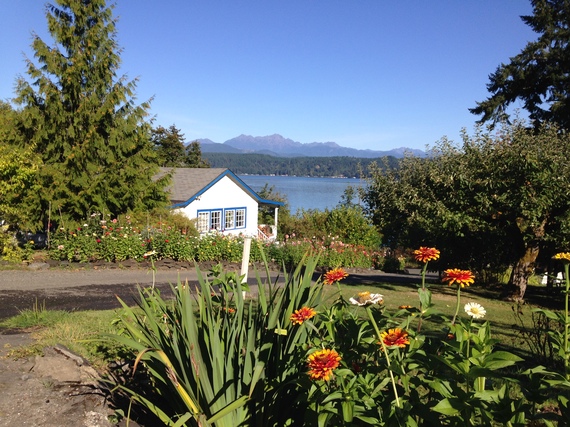 Calling all HuffPost superfans!
Sign up for membership to become a founding member and help shape HuffPost's next chapter