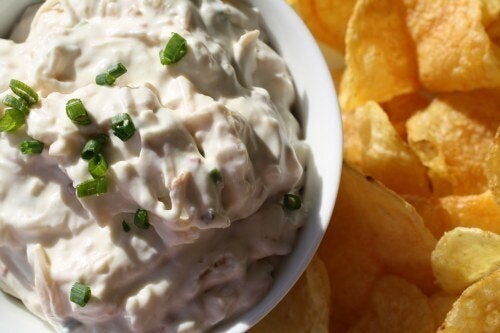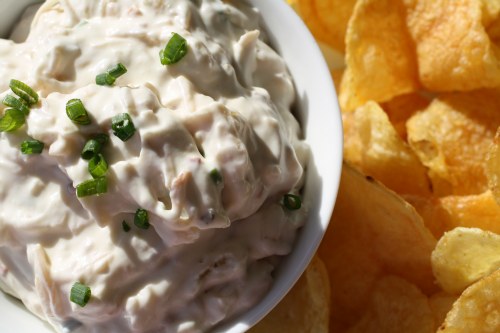 Names are tricky. They are supposed to be the roadmap to a person. You hear their name, and you assume you can know a little bit about them. Not so. Names are misleading. Misnomers even. For instance, my name. Kerry is a masculine, in the best of times gender-neutral, Irish name. And yet, there is probably no one less Irish or more girly, than me. So, I don't put too much stock in names.
French Onion Dip is another name that is a complete misnomer. Never, ever, have I seen French Onion Dip in France. I can only assume the "French" part comes from caramelized onions, which might bear some resemblance to those in French onion soup. But there's really nothing French about it. It is the ultimate American food, with maybe just a hint of what we wish were behind it: sweet bistro onions, and the Paris skyline. Maybe my parents named me Kerry because they wished I were an Irish boy. Who can say, really?
So, to add a bit of France back into this Franglais classic, I cream fresh chèvre, or goat cheese, into a simple dip composed of caramelized shallots, chives, and sour cream. The goat cheese not only acts as a stabilizer for the consistency of the dip, but it also adds this luscious tang that counteracts the sweetness of the shallots. I serve it with some gourmet Yukon Gold potato chips, but if you want to make fresh ones, that would make this a seriously gourmet version of a Sunday gametime classic.
So what's in a name? Not that much. In the end, it's the true flavor of the person, or the food, that makes them who they are. And French Onion Dip, by any other name, would taste just as sweet and savory and creamy and delicious. Bon app.
1 tablespoon unsalted butter
2 tablespoons vegetable oil
6 shallots, thinly sliced on a mandoline
1 8-ounce package of sour cream
2 ounces fresh goat cheese, room temperature
1 tablespoon finely snipped chives, plus more for garnish
⅛ teaspoon granulated sugar
Fine sea salt
Freshly cracked black pepper
1 8-ounce bag kettle-cooked potato chips, preferably Yukon Gold
Heat the butter and oil together in a large sauté pan over medium heat. Add the shallots and cook on medium-low to medium heat, stirring almost constantly, for 7 to 10 minutes, until the shallots are mostly golden-brown, but not burnt. Spoon into a bowl, and cool to room temperature. Then, place the shallots in 2 paper towels, and ring out the excess fat.
In a large bowl, whisk together the sour cream and goat cheese until smoothly combined. Add shallots, chives, sugar, and salt and pepper to taste. Mix until thoroughly combined, and spoon into a serving bowl. Serve with chips. If you want to reserve the dip and serve later, cover it with plastic wrap and refrigerate, but be sure to let it sit out for 30 minutes before serving, or it will be too firm to dip.

Related